History of Ligue 1
The current version of Ligue 1 was trademarked only in 2002. Before, the top flight of French football, from 1932 to 2001, was named National or Division 1. The sport became professional during the 30s, with Gabriel Hanot being considered responsible for introducing the championship of French football.
Gabriel Hanot, as some football fans might recall, was also the founder of the UEFA Champions League and the Ballon D'Or (that rewards the best football player of the year). He was a football player, but following an aviation accident, he quit playing the sport and became editor of L'Equipe.
Alongside Georges Bayrou and Emmanuel Gambardella, Hanot implemented a league that started with 20 teams. The starting teams were Antibes, CA Paris, Cannes, Club Français, Excelsior AC Roubaix, Fives, Hyères, Marseille, Metz, and Mulhouse.
Also Nice, Nîmes, Olympique Alès, Olympique Lillois, Racing Club de France, Red Star Olympique, Rennes, Sochaux, Sète, and Montpellier.
During World War II, the championship was obviously suspended, but the people passionate about the sport still organized tournaments. The regional leagues were called "war championships".
Currently, the Ligue 1 table still has a total of 20 teams, playing between August and May in games home and away. A total of 38 games make a full season of the Ligue 1 schedule.
The Trophy
Designed by Pablo Reinoso in 2007, the current winners of Ligue 1 each season receives the trophy called 'Hexagoal'. The previous trophy, named "le Trophée de Ligue 1", was designed by d'Andrée Putman.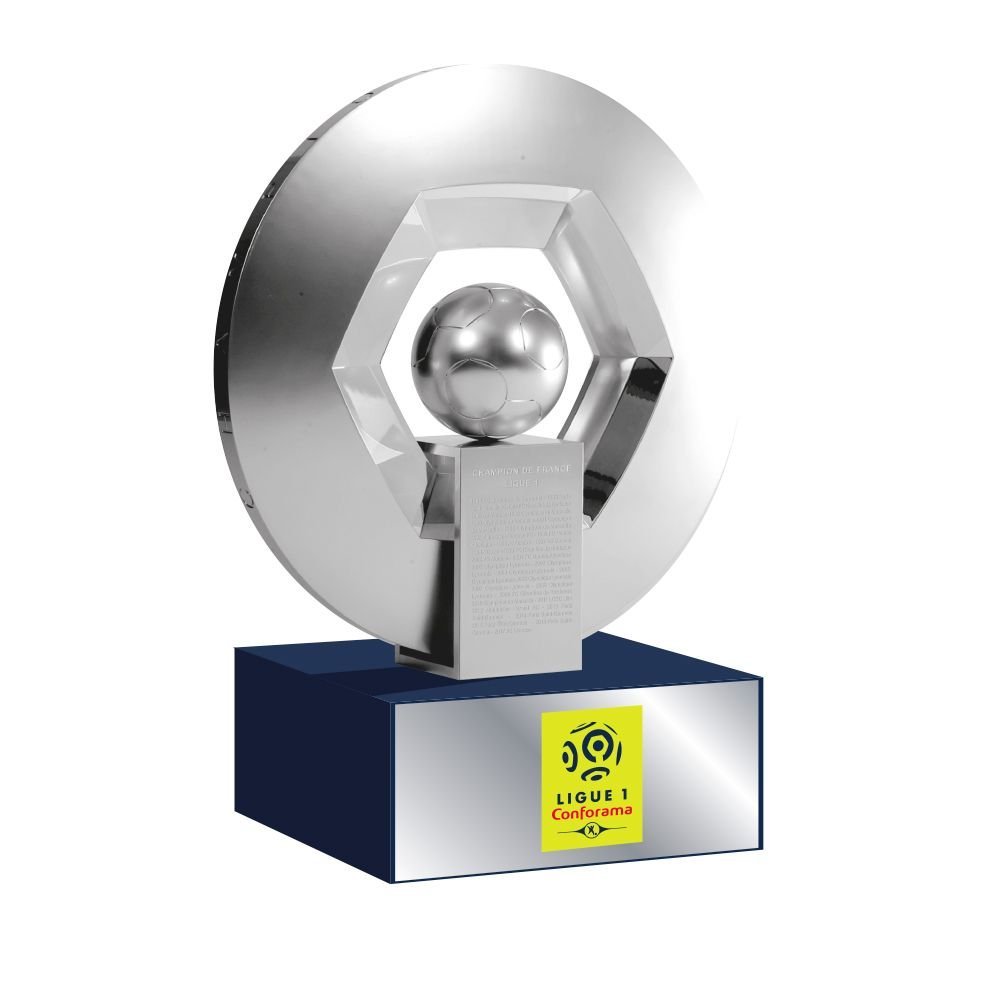 Which team has the most titles?
Nowadays some people refer to Ligue 1 as a 'farmers league', firstly because it is a source of young talents to look out for the big teams in other championships. It might also because of Paris Saint Germain winning the tournament constantly in the last decade.
They won the league 5 times between 2012 and 2019, with the only exception being 2016-17, when Mbappe's Monaco was victorious.
However, previous to 2012, Ligue 1 had 5 different champions in 5 consecutive years. Montpellier in 2011/12, Lille in 2010/11, Olympique Marseille in 2009/10, Bordeaux in 2008/09 and Lyon in 2007/08.
Nonetheless, the club with more victories in Ligue 1 is none of the previously mentioned. It is Saint Etienne, with 10, although they keep failing to win the Ligue since 1981. Marseille, the only French club to ever win the Champions League (in 1993), comes second, with 9.
What about PSG?
PSG comes third in the Ligue 1 history, tied with Monaco (8), but judging by their current form (top of the table with 5 points distance to second), it is likely they will soon be surpassing the rivals.
A noteworthy achievement considered they were actually only founded in 1970. PSG was founded by 20 000 fans who demanded one of the main metropoles of Europe had a big club, making a partnership with newly promoted side Saint-Germain-en-Laye.
They only gained notoriety in 2011, when Nasser Al-Khelaïfi, a millionaire investor from Qatar injected a big sum into the club.