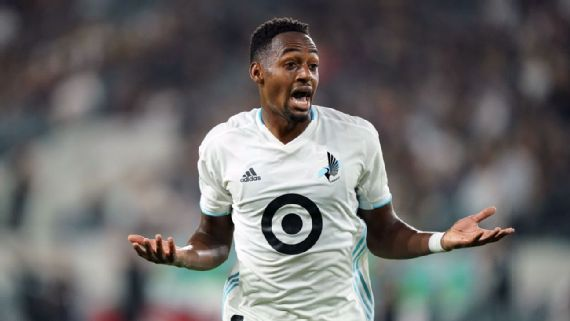 The MLS provided us this week with some great drama, and as every great soccer league, a lot of unexpected wins and losses. Most surprising are probably the two defeats of the LA clubs, with Minnesota United FC stunning LAFC and giving them their first home loss of the season, Seattle Sounders winning guests LA Galaxy, DC United with an impressive win without Wayne Rooney, and much more on Week 26 of the MLS.
LAFC 0 – 2 Minnesota United FC
Supporters' Shield and MLS Western Conference leaders Los Angeles Football Club were certainly not prepared for the Minnesota guests to hand them such a defeat at home, and certainly not a show orchestrated by one 20 year-old Mason Toye. The Minnesota forward scored the first goal of the match on the 25th minute, with a pass from the left side of midfield to teammate Jan Gregus who returned the ball to Toye who skilfully erupted into the right side of the penalty area behind LA's defense and curled a scoring ball into the far left side of the goal.
Only four minutes later, Toye doubled Minnesota's lead ('29) with a long-distance, scoring shot from 25 yards out.
LAFC played without top scorer Carlos Vela who is suffering from a hamstring injury, and although dominating with a 77% possession, did not manage to score. Notably, due to Minnesota United's Italian goalkeeper Vito Mannone, who impressively blocked LAFC's scoring efforts with eight saves on the night.
Seattle Sounders FC 4 – 3 LA Galaxy
Things didn't go as planned for the other side of Los Angeles either, with Seattle Sounders beating LA Galaxy at in a crazy finish with five goals scored in the last 25 minutes of the match.
Right before halftime, Seattle's Raul Ruidiaz put the first point on the board from an assist off Nicolas Lodeiro, giving the hosts a halftime lead (45+2').
Christian Roldan doubled Seattle's advantage on the 55th minute, taking a corner-kick clearance, dribbling past Galaxy's defense and scoring from 15 yards.
Galaxy's Zlatan Ibrahimovic came back with a response ten minutes later, heading in a corner kick (60'). And visitors' Uriel Antuna equalized with a ball deflected off teammate Christian Pavon, and scored from the top left of the 6-yard box (75').
Two minutes later the hosts regained the lead, with Sounders' Jordan Morris scoring off a breakaway pass from Ruidiaz (77'). Seattle's joy was short lived, with LA's Jorgen Skjelvik scoring his first MLS career goal (81').
However Christian Roldan came to the rescue and scored the winning goal for Seattle Sounders (89'), extending LA Galaxy's winless streak to 6 games.
San Jose Earthquakes 3 – 0 Orlando City
San Jose sailed pretty comfortably through a 3-0 win over Orlando. Hosts opened with a lead early in the match with Magnus Eriksson scoring the night's first goal for the Quakes (3').
This followed by two goals scored by San Jose forward Chris Wondolowski, starting with a great finish from the left side of the box into the right side of goal, keeping his composure impressively and staying onside (20').
Proving to be a versatile player, Wondolowski then scores his second goal (and third for his team) of the match, this time from the right side of the box, straight into the right side of goal (33')
This win did leave San Jose in second place for a short while in the MLS Western Conference, however being a very tight conference, and with recent wins by Minnesota and Seattle this weekend, the Quakes are down to fourth place with 44 points, they are just one point over Real Salt Lake and FC Dallas (ranked fifth and sixth respectively). Still, on a positive and hopeful note, only one point below third place Minnesota FC.
Vancouver Whitecaps 1 – 3 NYCFC
The visitors from New York City got right to work, and minutes after the opening whistle in BC Place begun their fantastic night of soccer.
Visitors' forward Heber scored a goal from the center of the box into the right side of the goal (10'), putting NYCFC into an early lead. Unfortunately for Heber though, he was replaced seven minutes later by Gary Mackay-Steven due to injury.
Mackay-Steven didn't wait too long to prove his own worth, and took a left footed shot from close range into the center of goal, doubling NYC's lead (26').
The Canadian hosts came back with a late reply, with Yordy Reyna scoring from the right side of the box off an assist by teammate Tosaint Ricketts (64'). However, that wasn't enough as eight minutes later New York's Alexandru Mitrita's brilliant free kick from outside the box finds the net (72').
This victory puts NYCFC in second place in the MLS Eastern Conference with 50 points, only 1 point below Conference leaders Philadelphia Union. It also secures their position in the Audi Cup Playoffs, especially in light of conference rivals Orlando City's loss to San Jose.
Philadelphia Union 3 – 1 Atlanta United FC
In front of a sold-out Talen Energy Stadium, the Philadelphia Union gave a great battle whilst facing strong opponent Atlanta United FC that is looking to make establish itself as an American soccer powerhouse, and win some trophies and respect whilst at it.
Although a good effort on the Atlanta side that earned them a goal on the first half and sent them to the dressing room with a 1-0 lead, the Union came back strong to the second half and bolted their lead of the Eastern Conference.
After a goalless first half, Atlanta's Josef Martinez scored the first point of the match in stoppage time (45+2') working a give-and-go with teammate Darlington Nagbe that ended in Philadelphia's Andre Blake's net.
Philadelphia Union tied in the second half, with Brenden Aaronson taking a long pass and getting to the right side of the box to shoot and find the net (61'). Kacper Przybylko, who's contract with Philly was extended this week, showed exactly why, as he doubled the Union's lead, with a great left-footed shot from the left corner (86').
Two minutes later, Sergio Santos, who came in as substitute sealed the deal for the hosts with a beautiful goal from the left-hand side of the box (88').
The second-half comeback was one of Philadelphia Union's biggest wins ever, especially without their Captain and leader Alejandro Beyoda who was suspended due to yellow-card accumulation. Atlanta came on the back of winning the Open Cup title a few days before, and the Campeones Cup in mid-August, so they did come to an away game with tired legs, but still failed to build on the momentum.
Montreal Impact 0 – 3 DC United
The game in Montreal's Stade Saputo on Saturday was a show of strength for the visitors from the Capital. Beside the big DC United names that were absent from the pitch, it was actually all about those who were playing, namely Ola Kamara.
Kamara played for several Columbus Crew and LA Galaxy before transferring to Shenzhen of the Chinese Super League. He returned to DC United this year and has proven to be one of the best signings of the MLS Secondary Transfer Window, and this value sure showed on the night.
Norwegian Striker Kamara gave DC the advantage 20 minutes into the match, wisely positioning himself behind the wall of Montreal defenders whilst his team took a free kick. He then took a ball that was deflected off the Montreal players and scored from the right side of the box to the right side of the goal.
A few minutes later, teammate Paul Arriola snatches a header-clearance attempt by Montreal from midfield, and skilfully passing through Montreal's defense scored from the center of the box (23').
Still within the first half, Kamara came up with the insurance, tapping a second header from a corner kick into Montreal's net. These were Kamara's 50th and 51st MLS-Career goals.
DC United is proven to be a solid team with a strong foundation of younger players, giving a very good performance with the notable absence of Wayne Rooney (due to red-card suspension) and Luciano Acosta who also wasn't in the starting XI.
More Week 26 Action
A Missile strike by Diego Valeri keeps the Portland Timbers in the running for the playoffs with a 1-0 win over Real Salt Lake.
Johnny Russell scored for hosts Sporting Kansas City 12 minutes into the game, giving his team a 1-0 win over the Huston Dynamo on Saturday.
FC Dallas kept their strong pace towards the MLS Western Conference Playoffs, beating MLS expansion side FC Cincinnati 3-1 at home on Saturday. Ryan Hollingshead scored early on for Dallas (12'), to be followed by goals of teammates Michael Barrios (49') and two minutes later Zdenek Ondrasek (51'). Cincinnati's Emmanuel Ledesma retaliated with a single goal for his team (64'), but that was far from enough.
It seemed that New England Revolution were headed for a loss against Toronto FC, as Toronto's Nicolas Benezet scored and gave his team the lead (74'), but Revolution's Gustavo Bou's supplied his team with a valuable 1-1 draw when scoring the tie on the 86th minute.
Columbus Crew also thought they are headed for a win whilst scoring against guests Chicago Fire in the first half (Pedro Santos, 27'). However, failing to widen the gap costed the crew, as Chicago's Przemyslaw Frankowski equalized to 1-1 on the last minute of stoppage time (94').
Goalkeeper Tim Howard made three great saves for Colorado Rapids as his team went to New Jersey to face his former team, the New York Red Bulls. Howard begun his career with the MetroStars, which then became known as the Red Bulls. Rapid's Jonathan Lewis scored twice (14', 87') and together with Howard's saves gave Colorado a 2-0 win.
Tim Howard made three great saves as the visiting Colorado Rapids beat the host New York Red Bulls 2-0 on Saturday. Noah K. Murray – USA TODAY Sports