After a couple weeks of speculation, following Unai Emery's departure, Arsenal has finally appointed a new head coach. Former club player, Mikel Arteta, will be the manager, having signed a contract until 2024.
This will be the first experience for Arteta has leading manager, although he has served as assistant manager to Pep Guardiola in Manchester City.
The Gunners announced Arteta will join the team on Sunday, meaning interim manager Freddie Ljungberg will be the coach in Saturday's Premier League fixture with Everton. Arteta's first game in charge should be the Boxing Day clash against Bournemouth.
Who is Mikel Arteta?
Although some fans were keen on a more experienced coach, like Carlo Ancelotti or Mauricio Pochettino, Arteta brings identity to Arsenal as he played for the team, under Wenger. Born in San Sebastian, Spain, Arteta started his career playing as a defensive midfielder for Barcelona C and B squads.
He then played for a season on loan at Paris Saint Germain, following a two seasons spell in Glasgow Rangers. Returning to Spain in 2004, he stayed for a year in Real Sociedad, in his home town of San Sebastian.
His must successful spells began after that, when he was loaned to Everton in 2005. The coach at the time of the Toffees, David Moyes, was impressed with the player's performances and they activated his buyout clause.
In the following season Arteta immediatelly picked up the award for Everton's Player of the Season. He stayed in Merseyside until 2011, when he was 29 years old and Arsenal recruited him.
He joined the Gunners as a played in August of 2011, for an estimated fee of £10 million. In North London he made 149 appearances, scoring 16 goals and winning the FA Cup on two occasions.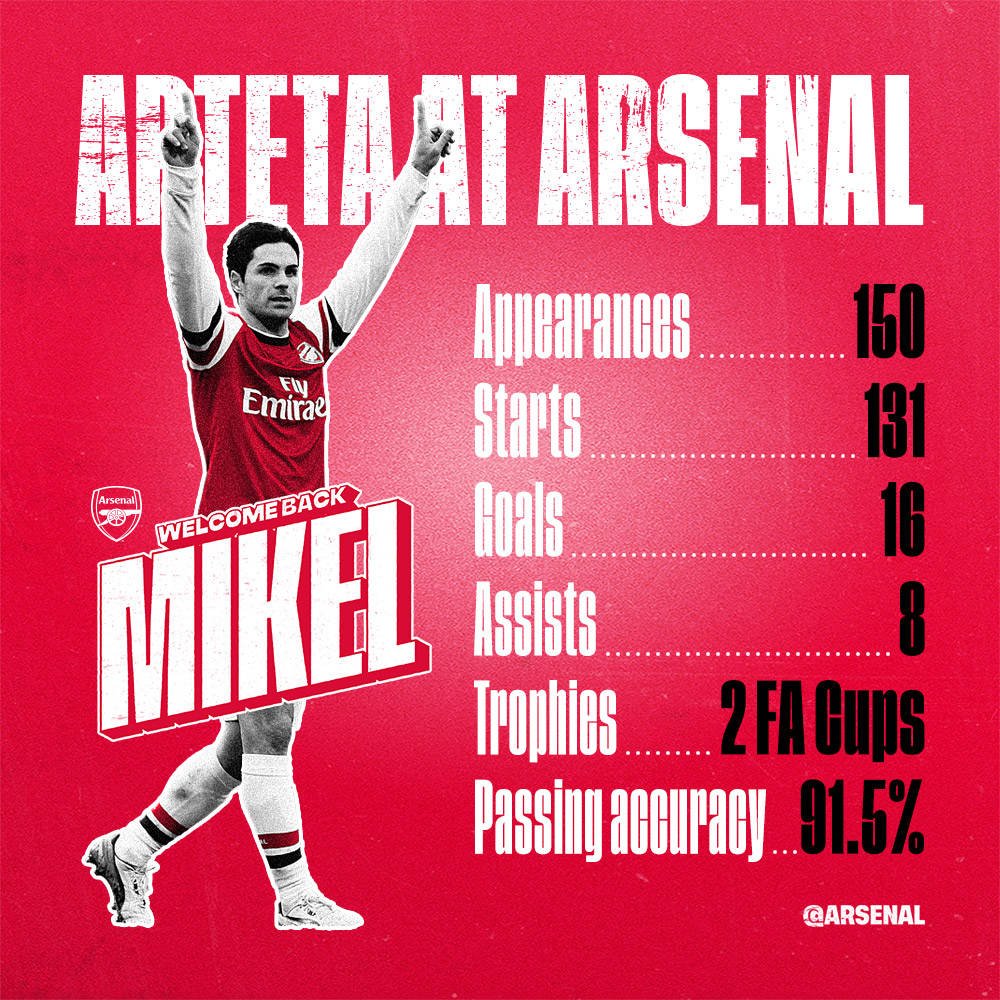 Unfortunately, Arteta did not have a very successful international career as he was never called to play for Spain's already stacked midfield. In 2010, Fabio Capello tried to bring Arteta into the English national squad, but FIFA ruled out that possibility.
He retired in 2016, after receiving an invitation from Pep Guardiola to join his coaching staff at Manchester City.
What can Arteta bring to Arsenal?
As a played, the defensive midfielder was often compared to Guardiola, in the role of 'pivot', although he was capable of making the attacking position too. He played in the number 10 role during his short spell at PSG, although he was moved back to deeper positions at Arsenal.
His appointment also brings the hopes of a 'Guardiola-esque' team at the Emirates, as the former assistant manager is a 'student' from the Catalan's training techniques. Arsenal expects a possession-based side, with more wide through passes.
The club is currently at 10th, having one only once in the league in the last 10 games. They are also in the Europa League round of 32, where they will play Olympiakos.