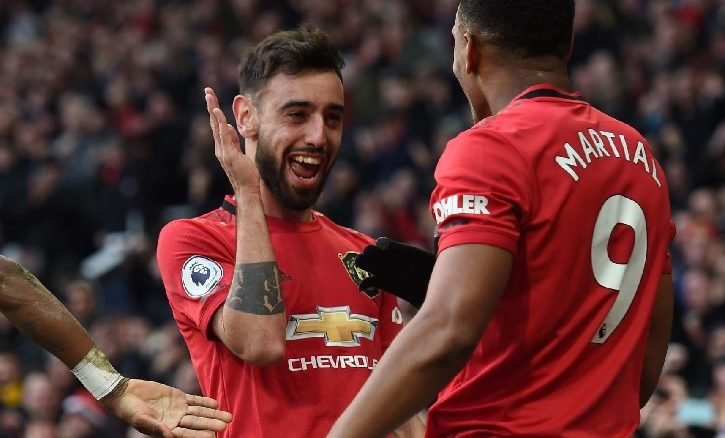 The Premier League is moving to its final chapter, as Liverpool is edging every weekend closer to the title. Although their last weekend's surprise loss, plus the FA Cup defeat to Chelsea midweek, Klopp's men just need 2 more victories to secure their Premier League title.
Liverpool had unexpected help from their rival Manchester United, as Ole Solksjaer led the Reds to a victory in Old Trafford over Manchester City. Bruno Fernandes was once again vital, as the Portuguese confirmed his season-changing role in United's team chemistry.
Here are the complete highlights of this weekend.
Liverpool 2 x 1 Bournemouth
After an amazing season, Liverpool has hit quite a bumpy road. First the defeat to Atletico in the first leg of the Champions League, then the 3×0 loss to Watford and later on getting knockout out of the FA Cup by Chelsea.
However, the dream of conquering the Premier League for the first time in 30 years seems to be alive and by now it is almost impossible it does not come true. Still, when the Reds hosted Bournemouth this past weekend they had another early misfortune.
Just 9 minutes into the game Callum Wilson opened the scoresheet. The bad luck series for Klopp looked set to continue, but this time Liverpool turned it around.
Without Alisson, as the goalkeeper suffered an injury, Adrian had to step in and stop Nathan Ake's header to avoid the second. Then, Bournemouth did what can not be done against Liverpool: lost the ball near the box.
Sadio Mane took charge, square to Salah, who clipped it into the net. Then Mane again got the ball after another misplaced pass by Bournemouth and turned the game around.
Bournemouth still could have got 1 point out of this game if Callum Wilson had not missed a golden chance in the last minute.
Two more games remaining and if Liverpool beats both Everton and Crystal Palace they can be crowned champions still this month.
Manchester United 2 x 0 Manchester City
All eyes were on the Manchester derby this weekend, as United hosted their neighbors for a match that had different ambitions for each side. City hoped to postpone Liverpool's party as much as possible, while United tried to capitalize on their recent positive form, as they did not lose any of their last 5 games.
De Gea was the first protagonist, as he stopped an attempt from Sterling with a brilliant save. Minutes later United would take the lead, after Bruno Fernandes combined with Martial during a free-kick, with the Frenchman embarrassing goalkeeper Ederson.
City equalized in the second half, but Aguero's goal was ruled out offside by the VAR technology.
As De Gea kept shining with game-winning saves, Ederson crowned a nightmare of a performance with a misplaced hand pass. McTominay collected it and almost from the midfield line score a beautiful goal.
United is now 5th and edges closer to Chelsea on the run for Champions League places. Meanwhile, Manchester City sees Leicester City closer than 1st place Liverpool, who is already an unattainable objective.
Chelsea 4 x 0 Everton
Carlo Ancelotti came back to Stamford Bridge, where he won the league as a Chelsea coach almost a decade ago. Everton's current coach could not expect such an unwelcoming gift, as his team was trashed 4×0.
Motivated by the defeat imposed in the FA Cup fixture, on soon-to-be Premier League champions Liverpool, Chelsea showed confidence and destroyed Everton's hopes.
Mason Mount broke the deadlock on the 14 minute and Pedro doubled it instants later.
After the halftime break it got worse for Everton as Willian made it 3 and Giroud's clumsy finishing was enough to complete the scoresheet.
Chelsea secures their 4th place in the Premier League table, as they hope to make it into the Champions League top 4.
Leicester City 4 x 0 Aston Villa
Following 4 games without a victory, Leicester finally got back into the Champions League race with a confident win over Aston Villa.
Harvey Barnes opened the score in the first half before Jamie Vardy converted a penalty in the 63 minutes to make it 2×0. Vardy would score another, making it 99 goals for him the Premier League and returning to the lead of the top scorers.
Meanwhile, Barnes completed the score, with yet another goal. The Foxes roar once again and hold on to the 3rd place, 5 points away from 4th place Chelsea.
Arsenal 1 x 0 West Ham
Even though their dramatic exit at the Europa League round of 32 still echoes in the supporters' memories, Arsenal has been having a confident run in the Premier League. Mikel Arteta seems to have grabbed hold of the Gunners, as they have not lost a single game in the league in 2020.
Last week they defeated Everton with a 3×2 victory and now they received relegation contenders West Ham at home. The Hammers, however, won over Southampton last weekend and held a chance of jumping out of danger zone.
Bernd Leno and Fabianski were mostly the protagonists throughout the game as both keepers kept a clean sheet until the 70 minutes. It was at that point that Lacazette finished a goal, after Ozil's assist to put Arsenal in front.
Arsenal is still 9th though, but their gap to Chelsea is only 8 points.
Wolverhampton 0 x 0 Brighton & Hove Albion
Wolves' aspirations for a top 4 finish got postponed as they were held to a stalemate draw against Brighton.
The hosts seem uninspired, especially Raul Jimenez who lacked composure in front of the goal. There were no major goal occasions, as both keepers were barely called into play.
Burnley 1 x 1 Tottenham Hotspurs
Jose Mourinho continues to struggle at the helm of Spurs, as his team was kicked out of the FA Cup by Norwich City midweek. Spurs have also lost the two previous Premier League games and the criticism on the Portuguese manager already begun.
Burnley was the host this time and The Clarets opened the score early in the game, as Chris Wood caught a loose ball after Lloris incomplete save.
In the second half, Erik Lamela invented a penalty, with a clear dive that fooled the referee. Dele Alli converted the punishment, but Burnley deserved more than the draw.
Sheffield United 1 x 0 Norwich City
The Blades continue a tremendous Premier League campaign as they managed to get 3 victories in the last 4 games.
Billy Sharp's bullet header proved the winner, but the protagonist was Dean Henderson. The Manchester United loanee got an heroic triple save to rescue the full 3 points to Sheffield.
Sheffield who is currently in the 7th place still hopes for a top 6 and European place next season.
Southampton 0 x 1 Newcastle United
After four matches without a victory, Newcastle got back into victorious ways. They snatched 3 points during a visit to Southampton's, although the Saint were reduced to 10 men early on.
Djenepo stepped on an opponent's feet and received immediate sent off. Maybe too harsh of a punishment, as the athlete seems to have done it accidentally.
The referee was under the spotlight again as he pointed to the penalty spot. Matt Ritchie's effort was saved by McCarthy and Newcastle had to wait until the second half for the opener. Southampton's defensive mistakes were punished by Saint Maximin's incredible pace.
With these 3 points Newcastle edges further from relegation and Southampton drops to 14th.
Crystal Palace 1 x 0 Watford
Watford had a shocking display last weekend, as they broke Liverpool's invincibility. However, they did not hold onto the momentum and they come again close to relegation places, as Crystal Palace defeated them by the minimal margin.
A curled finish from Jordan Ayew was enough to give Palace the whole 3 points and leave Watford edging on the 17th place, tied on points with Bournemouth.