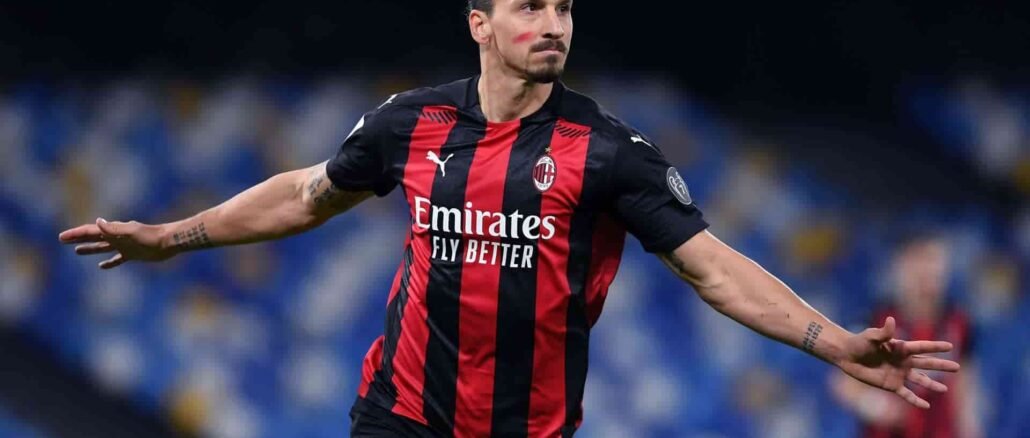 Let's face it unless you've lived under a rock for the past 15 years or so, you'll be well aware of Zlatan Ibrahimovic.
Although there's a lot of mystique and memes surrounding the Swedish talisman, the fact remains that he is an incredible footballer. In fact, had he not played in an era with Cristiano Ronaldo and Lionel Messi, his stock would arguably be even higher. 
To put things into perspective, he's scored over 400 league goals in a little over 600 games and he's just turned 40 years old. Furthermore, since his career began, he has won trophies at practically every single club he's been with, bar his debut club Malmo and a stint in the MLS with LA Galaxy which still saw him score a whopping 53 goals in 58 league games.
In short, we've never seen someone stay so dominant into their 40s in the modern era. This is good news for his current club AC Milan, as he shows no signs of slowing down either. 
Last season, the giant Swede scored an impressive 15 goals in 19 games. However, Milan fell nearly 20 points short of winning Serie A. This year, it's different though. With 12 games played and the international break in full swing, AC Milan is joint top with Napoli on 32 points.
It looks to be a two-horse race but importantly, Milan has form on their side and has better momentum. 
Zlatan Ibrahimovic – The Renaissance Man 
There is another key factor – the return of Zlatan Ibrahimovic. It's an ask, but if he stays fit for the remainder of the season, you would expect it to be a big enough factor to spur AC Milan onto winning the league. Ironically, this would mark 10 years since their last Serie A title where a certain player scored 14 goals in 29 matches. Guess who? Ibrahimovic of course.
Although Zlatan is still playing at age 40, his time on the pitch has declined slightly over the past few seasons which came after a knee injury suffered at Manchester United in his mid-30s. Since then, he's still played a respectable amount of games but his game time has slowed a little. This means that he's also missed most of the current Italian season, playing only 3 matches. 
However, the good news is that he's just returned from injury and just days after his 40th birthday scored yet again, taking his tally to the season to 2 in 3. Although this is a small sample size, it shows that Ibrahimovic is capable of returning from injuries again and again as if nothing happened.
The Man, The Myth: Zlatan Ibrahimovic 
Since his earlier years on the pitch, there's always been an air of arrogance surrounding Zlatan. Whilst this has been blown up over the years due to internet sensationalism, it's still fair to say that he leads a very colorful life off the pitch.
In fact, you could argue that his lifestyle away from football has only led to his rise as a footballer where he quickly became one of the best in the world. 
For instance, in his earlier life, Ibrahimovic was born into a poor immigrant neighborhood in Sweden, where he had to steal to get by. This may not be morally correct, but it shows how a tough upbringing taught him about survival and potentially unleashed his ruthless streak.
Years later, he even learned Taekwondo and actually has a black belt in it. This physical streak has been noted in his game where his style is known to be incredibly athletic. It seems that Zlatan isn't afraid of dishing out his physicality.
Back in 2004 whilst playing for Ajax, he is said to have hurt teammate Rafael van der Vaart, later claiming he would break both his legs. With his martial arts background and 6'4 foot frame, this is entirely possible. 
Throughout his career, he's also been accused of being overly cocky too. From clashes with his former boss Pep Guardiola, to even claiming the following after leaving PSG:
Having said this, you could argue that without these attributes that Ibrahimovic would not be the same player on the pitch, so his fiery temperament may actually be for the greater good.
Besides, it seems as though AC Milan has got the best of both worlds, which includes a mellowed Zlatan who has still kept all of his footballing qualities. 
Aside From Zlatan, What Else is Going On at AC Milan? 
Whilst Ibrahimovic's influence is clear to see, it's also unfair on his teammates to neglect their own accomplishments this season. For instance, the signing of French forward Olivier Giroud has also been inspired.
Giroud himself is no spring chicken and has scored a solid 4 in 7 goals this season. Although he was a decent player for Chelsea in his last season, it's said that Serie A is also suited to older forwards where he may have found his place. 
You've then got another key signing in Sandro Tonali who is at the other end of the spectrum. Aged 21 years old, Tonali is seen as one of the brightest prospects in Italian football who has also contributed massively to the side this season, providing key assists and creativity which was missing in the side last year. 
Promising Times for AC Milan 
Lastly, there's also the Croatian ace Ante Rebic, who is a powerful left-winger. Combining with the aforementioned, these players all show that Milan is not short on attacking options, whilst Ibrahimovic acts as the cherry on the cake. 
In short, for the first time in over 10 seasons, it seems as though AC Milan could genuinely win a Serie A title. With a weakened Juventus side, Inter Milan being on the decline, and Napoli being known for being choke artists, it seems that a Serie A trophy is highly realistic.
Time will tell, but the fitness of Zlatan Ibrahimovic could play a huge part and it's fair to say that he shows no signs of slowing down even into his 40s.