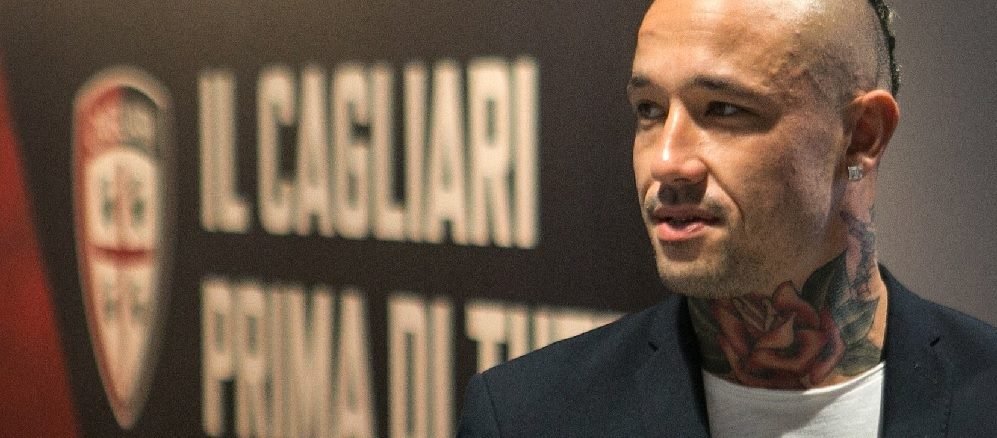 It's official. The Ninja is back to Sardinia. Radja Nainggolan, the eccentric Belgian midfielder, will play in Cagliari this season, on loan from Internazionale. The player returns to Sardegna Arena, where he played between 2010 and 2014 before he moved to AS Roma.
The Antwerp born midfielder made a surprise move last Summer, from Roma to Internazionale Milano for an estimated fee of €38 million. However, things did not go as plan and, although Inter qualified for Champions League, the player seems to have fallen out of grace at the Giuseppe Meazza.
After the departure of Spalletti, Antonio Conte has arrived and told the player that he was not in the plans for next season. Being suggested to find a new club soon, Radja moved to a place that he knows well and unfortunately, there are some other unpleasant reasons to justify the move.

Reasons of the heart
The 31-year-old athlete has told the fans that he moved back to Cagliari for 'reasons of the heart'. It could be interpreted as a simple love confession to the Sardinia club, but sadly Radja is moving to the Mediterranean island also to be closer to his wife.
Claudia Nainggolan, who is originally from Cagliari, is battling cancer and she has reportedly asked her partner to move closer to her family. Radja did not hesitate and decided to make a move back to the club where he started his career in Italy, to be on the side of Claudia.
Nainggolan made 36 appearances for Inter last season, scoring 7 goals and assisting 3. If his work rate was questionable by Conte, his numbers clearly say he could have been an asset. Radja is a midfielder who can attack and defend and who is closely acquainted with Serie A.


Radja, Rog and… Nandez?
More than 300 supporters were waiting for the 'Ninja' at the airport. The midfielder is expected to partner with the new acquisition Marko Rog, on loan from Napoli and Cagliari might also receive Nahitan Nandez from Boca Juniors.
With the prolific Argentinian, pairing with Radja and Marko, Cagliari might have one of the strongest midfield in their league. Will they improve their Serie A table placement, after finishing 15th last season?
It might not be enough to challenge the depth of Juventus squad, for a scudetto, but a top 10 place would be already something to look forward to Rolando Maran's men.
The Serie A schedule starts only in late August. Keep up with the transfer news in SoccerAntenna.