Last updated on 8/4/2020
Here is the final table of the Liga NOS table in 2019/20. The season ended on July 26th, with F.C. Porto as champions and cup winners.
CD Aves and Portimonense were relegated, although the Portuguese Federation ordered Vitoria FC to be relegated instead, due to financial breaches. This decision is still pending confirmation, as Vitoria FC has presented an appeal to the Supreme Court.
Origins of the Liga NOS
The Portuguese decided to create a professional league in 1921, after a humiliating defeat against Spain by the national team. Before that time the country was divided into regional championships – between Porto and Lisbon.

From 1921 to 1938 it happened a competition that opposed all district leaders, called Championship of Portugal. Later, this competition would become the Portuguese Cup.
However, in 1934 the professional clubs decided to organize a national division, thus creating the first season of the Portuguese League. This new model of competition was, once again, associated with another heavy defeat against Spain (9×0) that raised numerous voices about the lack of competitivity in the Portuguese Championship.
The first edition had only 8 teams, but the competition got larger over the years and became a two-round robin league. In 1938, after five successful seasons of the Portuguese First Division, the Portuguese Federation legislated two different competitions: the national league and the national cup.
Who has more Liga NOS titles in history?
There are only 5 teams that have lifted the Liga NOS title. They are Benfica, FC Porto, Sporting Clube de Portugal, Belenenses and Boavista.
Benfica has a record of leagues with 37, while Porto has 29. Sporting CP has 18, while Belenenses and Boavista won the title only once. The first one in 1945-46 and Boavista in 2000-01.
One of the several criticisms that have been pointed to the Portuguese League is exactly how divided it is between the 3 richest clubs. As titles show, it appears there is a lack of competition so high that in almost 100 years of competition only 5 teams won it.
Most Portuguese people are fans of one of those teams – Benfica, Sporting, and Porto – which are commonly referenced as the '3 Grandes' (Big 3). To accentuate this difference, it is important to mention that only 3 teams got to be runner-up and only once each – Vitória Setubal FC, Academica de Coimbra, and SC Braga.
Despite the division and lack of competition for the title, the Portuguese teams have won the Champions League 4 times (Benfica twice and Porto also twice). Besides, they were behind 3 Balon D'Or winners: Eusebio, Luis Figo, and Cristiano Ronaldo.
The league might be overlooked by soccer fans, but it continues to develop some of the best passers in soccer and other great talents in football.
Bruno Fernandes was recently bought by Manchester United, as the most recent example.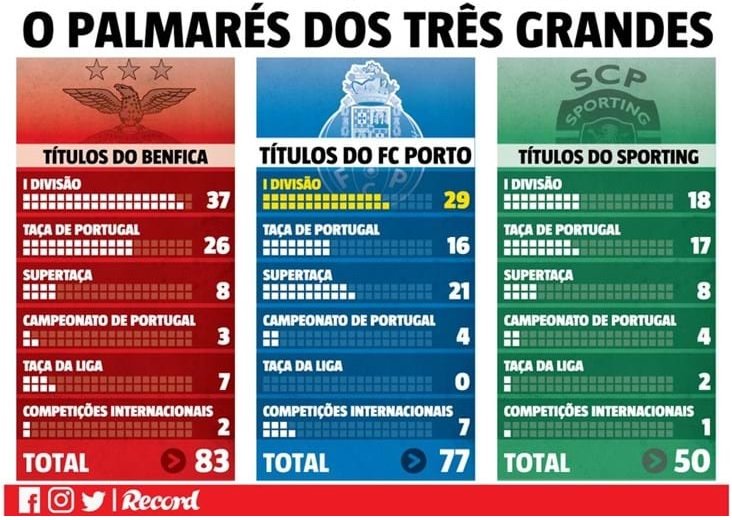 Updated on 8/4/2020: Porto conquered the Portuguese Cup (Taça de Portugal) on the 1st of August (2×1 versus Benfica) and has a total of 78 titles now.
Why the name Liga NOS?
The Portuguese League had several names, most of the time related to sponsoring. Although it is more known among its peers as Primeira Liga (First League), the official name is Liga NOS right now. NOS is a Portuguese entertainment and communications brand.
Previously, the Portuguese League was named Sagres, in honor of a beer brand that is famous in the country.
Who are the current LigaNOS champions?
As per the end of the 2019/20 season, Porto claimed their 29th title, with a 2×0 victory over Sporting CP. The season lasted until July, due to the COVID-19 pandemic.
They received their trophy in the following match, following a 6×1 reception win to Moreirense.
Porto has a place secure in next season's Champions League group stages. They missed this season's competition after a defeat to Krasnodar in the playoff of the competition.
Click here to know how it happened: https://www.soccerantenna.com/portuguese-league/fc-porto-are-liga-nos-2019-20-champions
Meanwhile, Benfica finished second, thus qualifying for Champions League playoff. Sporting, SC Braga and Famalicao qualified for Europa League.
Check out individual stats of players in this detailed image to see who were the outstanding players from LigaNOS table season 2019/20.
Finally, Aves CD and Vitoria FC were relegated. Portimonense finished below Vitoria FC, but due to non-complying with financial rules, the Portuguese League decided that Vitoria would get demoted to the 3rd division. Decision pending an appeal.
Nacional da Madeira and Farense will join the Liga NOS table next season.
SoccerAntenna is a product of FortisMedia.com. Click here to know more about how to improve the SEO rankings on your sports website.