Following weeks and weeks of speculation, Manchester United resisted the harassment of other clubs and signed midfielder Bruno Fernandes. The Portuguese midfielder moved from Liga NOS table and will sign with the Premier League club this Wednesday.
The club has confirmed in their official page the agreement with Sporting CP, for the Liga NOS player. Bruno, 25 years old, was Sporting's captain since 2018/19.
According to Portuguese media, the business was closed settling on €55M, plus €20M in objectives. The midfielder will sign a contract valid for 4 and a half seasons, until 2024.
The player will earn around £150.000 per week (€177.000), which will make him the 7th player with the highest salary in the club. The highest-paid Manchester United star is goalkeeper David De Gea (£375.000 weekly).
It is still unsure which number will the Portuguese wear, but it is likely that he chooses the former Cristiano Ronaldo's 7 shirt.
Who is Bruno Fernandes?
Born in Maia, a small city in the suburbs of Porto, Bruno started his youth career at the academy of Infesta. He then moved to Boavista, where he stayed until 2012. In 2012, he moved to Italy, where he joined the youth team of Serie B side Novara.
He finally had his senior debut in 2012 and only one season in Novara was enough for other Italian clubs to come calling. Udinese signed the Portuguese midfielder in 2013 and he played regularly in the Serie A team for 3 seasons.
In Udinese he made 95 appearances, scoring 11 goals. Sampdoria decided to move for the youngster in August 2016, signing with on a loan deal with an obligatory buying clause.
In just one season, he made 33 appearances for the club and scored 5 times. In 2017 he moved back to Portugal, joining Sporting Clube de Portugal, one of Liga NOS historical teams.
The value was €8.5 million-plus bonuses and Bruno was an immediate success at the club. Despite the lack of titles (only one Portuguese Cup and two League Cups), he carried the team on his shoulders, with important goals and later captaincy.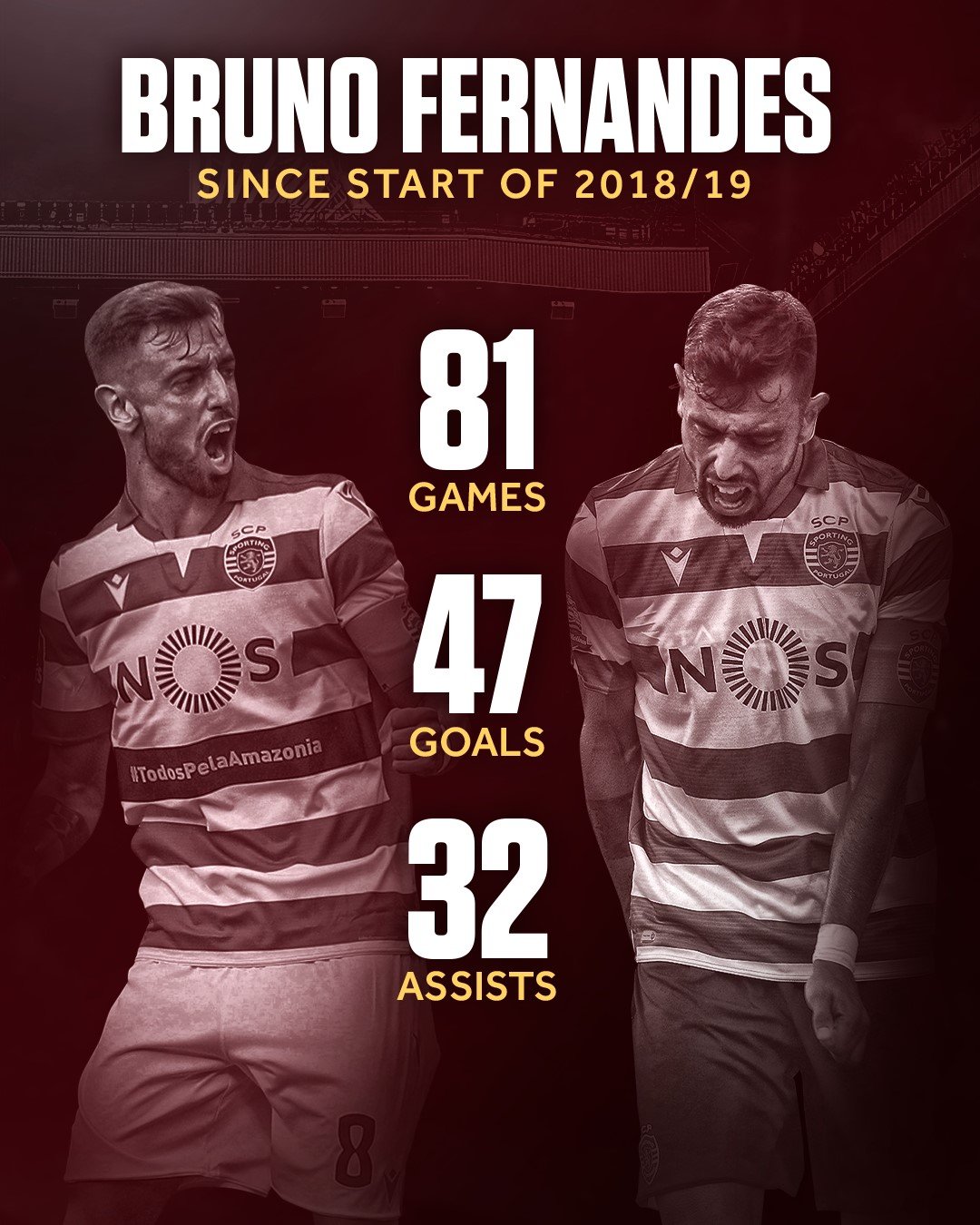 During 137 appearances for Sporting, he scored 63 goals and made 52 assists (bear in mind he is a midfielder!). Last season he became the midfielder with most goals in a season, overcoming Frank Lampard's record, scoring 33 goals.
Currently, his record ain't that bad either. 8 goals in 17 Liga NOS table games and 5 goals in 5 Europa League games. He averages 3.7 shots on target per game and makes 3.1 key passes. Defensively, he also contributes making 1.7 tackles per game.
Capped 19 games for Portugal national team, Bruno was part of the Euro Nations League winning side. He scored his first official goal on a match against Luxembourg, during the Euro 2020 qualification.
Manchester United is a team eager for leadership and for a player that takes initiative. Ole Solksjaer's side is 5th in the Premier League table and Bruno Fernandes will have to prove he can draft the team away from boredom. Can he do it?
And finally … @manchesterunited ✍️🏼💪🏼 @brunofernandes.10 @positionumber
A post shared by Miguel Pinho (@miguelrubenpinho) on Jan 30, 2020 at 6:57am PST