La Liga was once known as the home of Tiki-Taka, since the days of Johan Cruyff, to the era of Guardiola's Barcelona. Even with Pep now managing Manchester City, in the Premier League table, there are still some traces of this playing style in some teams of the Spanish topflight.
The tiki-taka style did not make fans all over Europe though, with some teams obtaining success from playing defensive football and fast counter-attacks. Still, the ability to hold possession and not being dispossessed often is one of the most relished ones in top football.
So we thought about looking up about who are currently the top 5 best passers in soccer in each of the top 5 leagues.
We focus on this thread on the stats of passing accuracy and not the number of passes: choosing quality, instead of quantity. We also only take into account players' passes who have more than 200 minutes played in this season.
All stats are taken from WhoScored, so we retract from any incorrect information. Still, the players passes that we highlight in this article are noteworthy of your attention and some of them will definitely surprise you.
La Liga
The player with the highest passing accuracy in La Liga is Anuah Mohamed from Real Valladolid, with a stunning 94%. However, he only played 47 minutes and was never a starter for his team (he probably should?).
Next is Franco Vasquez, from Sevilla, but the forward falls under the same category. He played only 99 minutes in this campaign, but with his passing and 2 goals already scored, maybe Lopetegui should use him more.
However, the real leader in passing accuracy is Toni Kroos. The German midfielder continues to be a discreet maestro in Real Madrid's midfield, and he might be one of the main reasons for 'Los Blancos' staying at the top of La Liga table. He holds a record of 93.1% with his precise football passing routes for 656 minutes, with 3.5 being decisive ones.
He also distributes 2.5 effective crosses per match and is only dispossessed 0.3 times. Add to this the fact that
Frenkie de Jong comes right after Kroos, with the new Barcelona maestro holding a record of 92.9% of right passes in 629 minutes. Signed to Ajax last Summer, De Jong is already proving to be a worthy successor of Busquets.
The surprising names came right after, as there are two Celta de Vigo players who boast a passing accuracy of over 90%. Fran Beltran, who is just 20 years old, with 92.5% and Ghanaian centreback Aidoo with 92.3%. Aidoo also makes 5.1 clearances per match, making him the 4th player with more clearance percentage in the league.
Kiko Olivas, a 31-year-old center-back, from Real Valladolid completes the top 5, also with 92.3% passing accuracy.
Premier League
There some teams, like Burnley, who are still fans of long passes and showering crosses to the box, many teams in Premier League are fan of short quick pass. Still, it is easy to know which team has the highest number of consecutive passes per match. 3 players in this top 5 that come from Manchester City.
The leader is Gabriel Jesus, who despite having played only 208 minutes, is still accountable to our ranking. He has made 92.7% of his passes correctly, only been dispossessed 1.1 times.
You will likely be astonished by who comes next. It's Nicola Otamendi, who has been criticized for his exhibitions by fans, especially after being shamed by Raul Jimenez in the last matchday.
The center back has 92.5% of passing accuracy, which if you think about it, is natural since Guardiola likes his game to start from short passes from the backline.
You probably remember Nico being dispossessed in the game against Norwich, who cost City one goal, but the defender actually only loses the ball 0.1 times per match.
Stats are sometimes not completely accurate, but the criticism that Otamendi might be receiving after he picked Laporte's place due to injury, might be slightly exaggerated. His passing capacity might be the reason why Guardiola has not dropped him from the lineup yet.
Next is Rodrigo, who arrived this summer, but is already proven as a worthy purchase. 92.1% passing correctness should be the reason why Guardiola insisted on getting the Spanish anchorman.
Tottenham might be having an underwhelming season start but have Harry Winks showing how he deserves more playing time. The English anchorman has a passing accuracy of 92.1%, with 592 minutes played.
The last player in this top 5 is from the current leaders, Liverpool. It's Wijnaldum, with 91.8%.
Serie A
They say Serie A makes the best defenders and so it is might be no wonder that the 5 players with higher passing accuracy in the Italian topflight are center backs. Actually, 9 in the total top 10 are defenders, with the exception being Napoli's Elif Elmas, a 19-year-old midfielder.
However, the numbers are insanely high compared to the two leagues mentioned before, with the top 4 having higher passing numbers than Kroos and Jesus.
On the lead, it's Maksimovic, Serbian defender from Napoli. He boasts a percentage of 95.9% right passes, and he is never dispossessed. A versatile player who can either play in the center or right side of the defense, Maksimovic has already 1 assist to his name.
He has become recently an indispensable player for Ancelotti.
Next, in second and third place, comes Inter defensive duo of De Vrij and Skriniar (95% and 94.8% respectively). Godin has a slightly less accurate passing accuracy than his fellow defense partners (83%), but it shouldn't worry much Antonio Conte since the Uruguayan comes often to help in the attack.
Romanian defender Vlad Chiriches from Sassuolo comes next, with 94.2% accurate passes. He is followed by Romagnoli from AC Milan, with 93.3%. It is worth mentioning, then both Sassuolo and Milan are in delicate positions, in 12th and 15th.
Bundesliga
Guardiola left Bayern Munich about 3 seasons ago, but the effect of the tight short passing football that he impressed on his team is still present. Kovac likes to play in a similar way, therefore, there are 2 players from Bayern in this top 5.
Nonetheless, the leader of Bundesliga accuracy passes is from Axel Witsel. The Belgian has impressed since his return from China and he has been a key player for Lucien Favre and Borussia Dortmund. Despite their defensive record, conceding goals in the last minutes, Dortmund has played attractive attacking football and Witsel is one to blame.
The Belgian midfielder has 93.9% passing accuracy, making on average 84 passes per game, with 1.2 being crucial ones. Witsel has already 2 goals and 3 assists in the Bundesliga and he is likely to be one of the players of the season if he keeps his form.
Sven Bender, who is playing as a center-back most of the time, in the 3 defenders' system of Peter Bosz, comes next with a 93.2% passing rightness. Moreover, the defenders send 3 successful long balls per game and he is the one who makes more passes per game in the league: 103.
Another defender in this list is Nico Elvedi. The Swiss defender plays in leaders Borussia Monchengladbach and makes 93% of his passes correctly. He is the one who played less time in this list though: 476 minutes.
In the 4th position comes Thiago Alcantara, with the Bayern wizard delivering 92.7% correct passes and sending 6.2 long balls to his teammates. If this last number is impressive, what about Niklas Sule?
The defender has the 5th highest passing accuracy in Bundesliga, with 91.7%, but he sends 6.7 correct long balls. The Bavarian tower already has 1 assist.
Ligue 1
Known to be a talent builder, as we already pointed out in a previous article, Ligue 1 is not really a league where we see many gifted passers. Paris Saint Germain dominates the league – and they are likely to do so again – and they have 7 players in the top 10 of accurate passing.
Still, it is Belgian defender Jason Denayer from Lyon, who holds the record, with a whopping number of 96.8% successful passes. He also sends 2.1 correct long balls per game. It makes you wonder, with Lyon being in the 14th position in the league and having already changed managers, they are still quite solid at the back.
They only conceded 9 goals and have a positive goal difference, so maybe their problem is not so much the defense, but the attack.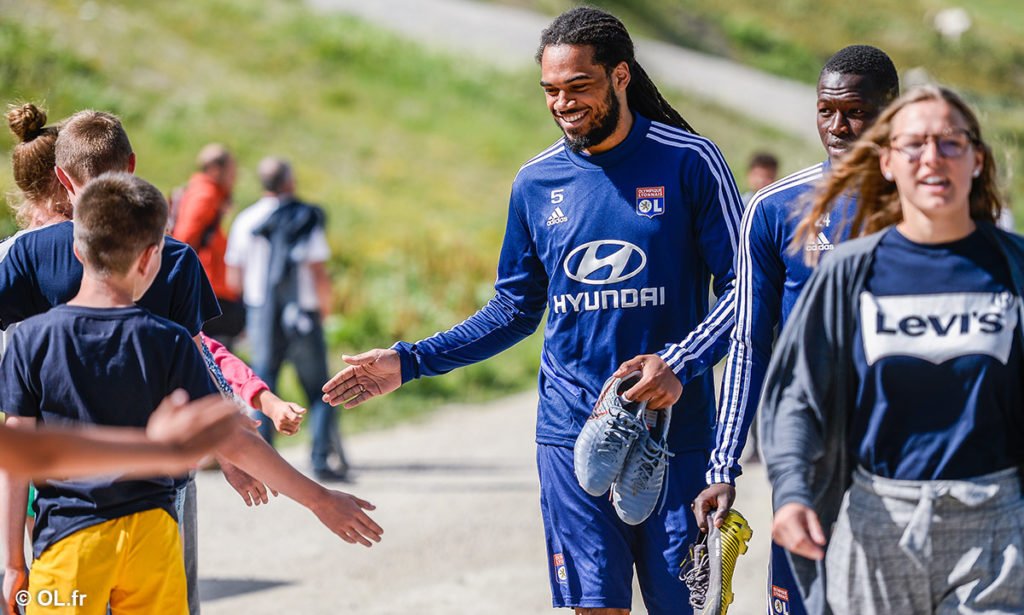 Next comes experienced defender Thiago Silva, with 95.7% correct passes. He is followed by fellow PSG player, Argentinian defensive midfielder Leandro Paredes, with 94.5% and Marquinhos with 94.3%. Abdou Diallo, who arrived from Dortmund to Paris Saint Germain in the Summer, completes the top 5, with 93.6%.
Tuchel's solid defense is evidenced here and there is still Bernat, Verrati and Gueye, in the 6th, 8th and 9th positions. Honorable mention to Idrissa Gueye, who has not only 92.1% pass accuracy, but also makes 3 tackles and 2.3 interceptions per game. PSG won all games when the Senegalese played, and he demonstrates how the €30 million invested in his signing were worth it.
Other leagues
Even though they are not part of the top 5 leagues, the Eredivisie table and the Liga NOS table are interesting to watch. Therefore here is a quick recap of the top passers in each of the divisions.

Among the Eredivisie talents, it is Razvan Marin from Ajax who has the highest passing percentage, with 91.9%. The Romanian defensive midfielder was acquired this Summer, for the position that was from De Jong and he is filling well the boots.
Peet Bijen, a defender from Twente, comes next with 91.8%. Followed by Hannes Delcroix, who despite playing in the bottom side of the Dutch topflight, Waalwijk FC, holds 91.7% pass accuracy.
Wuytens from AZ Alkmaar with 91.7% and Kersten from Zwolle with 91.4% complete the top 5.
Finally, in the Liga NOS, the passing stats are relatively lower than most leagues. Wendel, from Sporting CP, appears first, with 92.7% of his passes correct. It might give some hope to Sporting fans, especially with the team being 6th and having already been through managerial change.
He is followed by Guga, from current leaders Famalicao. The midfielder, on loan from Benfica, has a passing record of 91.4%.
Former Valencia defender, now at Rio Ave, Aderlan Santos, comes 3rd with 90.2%. He is followed by Benfica's young anchorman Florentino Luis with 89.8% and Tapsoba, from Vitoria SC with 89.6%.
You can check here on the video made by TIFO Football, where they underline Florentino and Wendel as top talents in the Liga NOS table. From Champions FC Porto Diogo Costa is under the radar too.
The leagues will be returning this weekend, with plenty of action on the field. Do you think these passing maestros will help their team to get points?