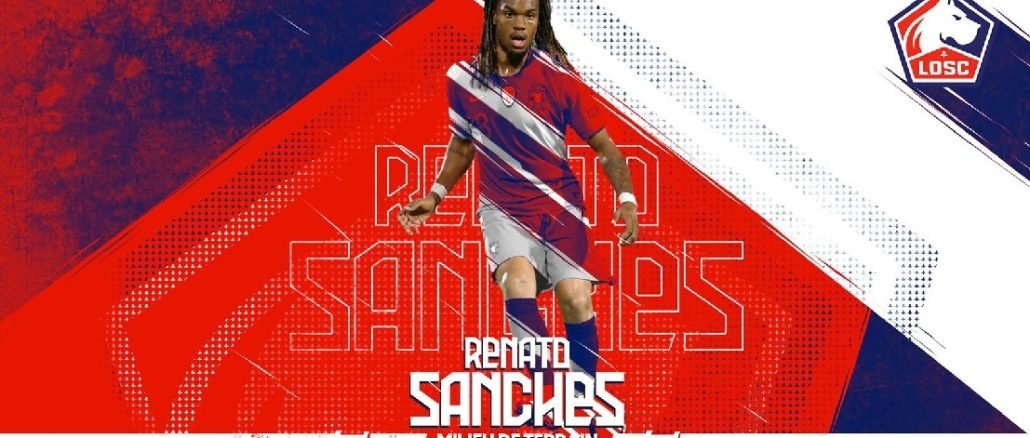 After 3 seasons in Munich and a not so memorable loan to Swansea in 2017/18, Renato Sanches is moving from the Allianz Arena.
The Golden Boy winner of 2016 signed for Lille Olympique Sport Club, for a fee of €25M, a value that is less than what Bayern paid to Benfica three seasons ago, €30M.
Renato Sanches had expressed his annoyance about being a bench player and handed a transfer request, searching for a club where he could be a starter and have space to grow.
Lille, 2nd placed in Ligue 1 table last year, decided to bid on the 22-year-old and he will play in the French league and in the Champions League with the 'Dogues'.
The Portuguese midfielder is a product of Benfica's academy, where he broke into the first team in 2015/2016. He played 35 matches during that campaign and scored 2 goals, winning the Liga NOS title with the Lisbon Eagles.
His performances throughout that season made him be called into the Euro 2016 squad of Portugal national team. He would be named Young Player of the Tournament, winning the trophy and scoring a very important goal in the quarterfinals against Poland.
He also won the Golden Boy award, a prize given by Italian magazine Tuttosport, to the best young player in Europe.
From the bench of Bundesliga to the sidelines of Premier League
Before the tournament, however, Bayern had already come knocking on Benfica's door. Sanches moved to the Bundesliga table champions, but Ancelotti, at the time, never gave the youngster enough minutes on the pitch.
A disastrous loan spell in Swansea, in the following season, saw the team getting relegated and Renato spending most of it injured in the sidelines. He made 15 appearances in the Premier League side, making a single assist and no goals.
Returning to Allianz Arena, now with Niko Kovac, he continued to not have enough space in the team. In the Bavarians midfield, there is Tolisso, Thiago, Goretzka, Javi Martinez and now Mickael Cuisance.
Sanches scored two goals in the last season, 1 of which in the Champions League against his former club, Benfica, but it was not enough to convince Kovac.
In Lille, Renato Sanches will join fellow Portugal international and Euro 2016 winner, center-back Jose Fonte. Let's hope the Ligue 1 side is the ideal place for Renato to shine and show that he is not another one-season wonder.

Lille resumes their Ligue 1 schedule next Wednesday, against Saint Etienne.