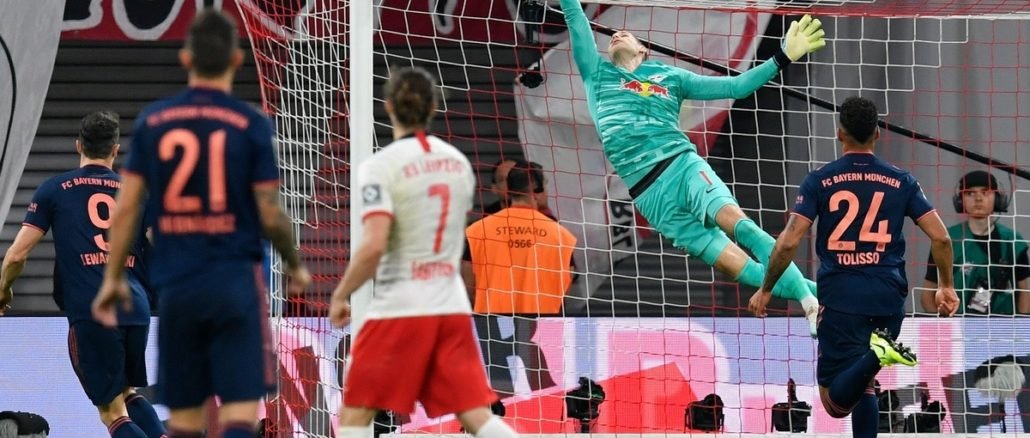 It's been a nearly perfect start of the season of RB Leipzig in the Bundesliga table and now the German side is isolated in the first place, 1 point clear from Dortmund and Freiburg who have 9 points each. RB Leipzig had a difficult task, hosting the Bundesliga champions Bayern Munich, but they managed a draw that keeps them ahead.
The game did not start very well for the hosts though, as Bayern fired up in the lead with a goal from the usual suspect: Robert Lewandowski. Thomas Muller isolated the Polish striker upfront and with 3 minutes on the clock, the Bavarians were ahead.
However, just before the halftime, Lucas Hernandez made an aggressive tackle on Yussuf Poulsen and the referee had no doubts. Penalty kick awarded and the Swedish midfielder Emil Forsberg made it 1×1.
In the second half, the goalkeepers were the protagonists. First Manuel Neuer with a tremendous save and then Peter Gulacsi denying Lewandowski a second goal.
The game ended 1-1, with both teams going to play in Champions League group stages this week. RB Leipzig will head to Lisbon, to play Benfica on Tuesday, while Bayern will face Red Star Belgrade on Wednesday.
Dortmund shows no mercy to Leverkusen
After an odd defeat against newly-promoted side Union Berlin, that showed us that anything can happen in football, Dortmund got back in track. They hosted Bayer Leverkusen and applied a lesson that Peter Bosz men won't forget soon.
In a classic of Bundesliga schedule, Dortmund dominated the whole game, even though Hradecky managed to keep the sheet clean until the 27th minute. Paco Alcacer was the man to break the deadlock, answering to a cross from Hakimi and scoring his 5th goal in 4 Bundesliga games.
Danger continued to surround Leverkusen's goal, but only at the beginning of the second half, the scoreline would get higher. Marco Reus got his goal, after a perfect assist from England's wonderboy Jadon Sancho: 2-0.
In the final 10 minutes, two more goals. First Portugal international Raphael Guerreiro, finding an open net after an incomplete save of Hradecky and then Marco Reus netting his second of the game. The German had his 100th win at service of the Yellow Wall.
Dortmund is now second, while Leverkusen sits at 8th in the Bundesliga table, suffering their first loss of the season (and a heavy one).
Both teams will play Champions League football this week, with Leverkusen hosting Lokomotiv Moscow on Wednesday, while Dortmund hosts Barcelona on a must-watch clash on Tuesday.
Freiburg and Wolfsburg continue positive run
Freiburg moved to third place after Bayern's draw, continuing their positive start of the Bundesliga. The team from the Baden-Wurttemberg region, recovered from the loss in the last matchday, against Koln, visiting and winning comfortably against Hoffenheim.
Gunter, Haberer, and Petersen scored the goals for the visitors, who were battling relegation last season, but are now enjoying a positive. In the other end, Hoffenheim has disappointed and they register only 1 win, 2 losses and a draw in the first 4 matchdays.
Meanwhile, Wolfsburg continues undefeated and although they registered the second consecutive draw, it is enough for them to be sitting 4th, tied in points with Bayern.
They faced Fortuna Dusseldorf this time and they were left behind as the hosts scored first, through Niko Gießelmann. However, Wolfsburg number 9, Weghorst scored his 3rd in 4 games for Leverkusen and put the game even: 1-1 final score.
Newly promoted teams suffer tough defeats
After last matchday's historic win for Union Berlin, over Borussia Dortmund, the newly promoted Bundesliga side was hoping for another win.
However, in a tough match against Werder Bremen that had two former teammates expelled, the result did not smile again to the Berliners.
They started on the wrong foot, when already at 5 minutes former Everton man Davy Klaasen converted a penalty and put the visitors ahead. However, some minutes later Union Berlin had also a penalty kick in their favor and Sebastian Andersson put the game equal again.
In the second period of the game Werder Bremen was awarded another penalty, but Rafal Gikiewicz defended it. Still, the keeper couldn't avoid that Niclas Fullkrug would seal the win for Werder Bremen, answering to a corner taken by Nuri Sahin.
The same Sahin would later be sent off, after a misunderstanding with former teammate Subotic (both played together at Borussia Dortmund a couple of seasons ago).
Meanwhile, another promoted side, Paderborn, was also defeated, with a somehow heavier result. They faced Schalke 04 at home but ended up losing 1-5.
The game even started well for Paderborn, who scored by Cauly in the opening minutes. Defender Salif Sane would make the game 1×1 by the break and in the half time Harit (twice), Serdar and Kutucu would give a powerful win to Schalke.
Paderborn sits at the bottom of the table with 1 single point, while Schalke moved to 6th.
First win and points for Mainz 05
In a battle between two teams at the bottom of the Bundesliga, Mainz received Hertha Berlin and achieved the first points in the league. A 2×1 was enough and helped to give a little bit of hope, especially after last weekend's 6-1 trashing against Bayern Munich.
In the game against Hertha, Robin Quaison put Mainz ahead before the interval, but Serbian player Marko Grujic would put Hertha back in the game in the last 10 minutes of the game.
A late strike from former Feyenoord fullback Jeremiah St. Juste put Hertha out of their misery and scrapped Mainz from the bottom places. Hertha is now tied with points with Paderborn: just 1 in 4 games.
Mönchengladbach wins, Frankfurt loses
Two teams that are involved in Europa League, Mönchengladbach and Frankfurt had different fates during their Bundesliga weekend.
Mönchengladbach won with a tight margin (0-1) on their visit to Koln. Alassane Plea was the author of the goal that gave Borussia Mönchengladbach their second win of the season.
Meanwhile, Eintracht Frankfurt, who play Arsenal on Thursday evening, suffered their second loss, at the hands of Augsburg.
Marco Richter and Florian Niederlechner fired Augsburg ahead in the match in the first half and Frankfurt was only awarded a consolation goal, by Portuguese striker Goncalo Paciencia.
Frankfurt's new striker, Andre Silva, who arrived from Milan, has yet to make his debut since he has apparently been dealing with an injury.