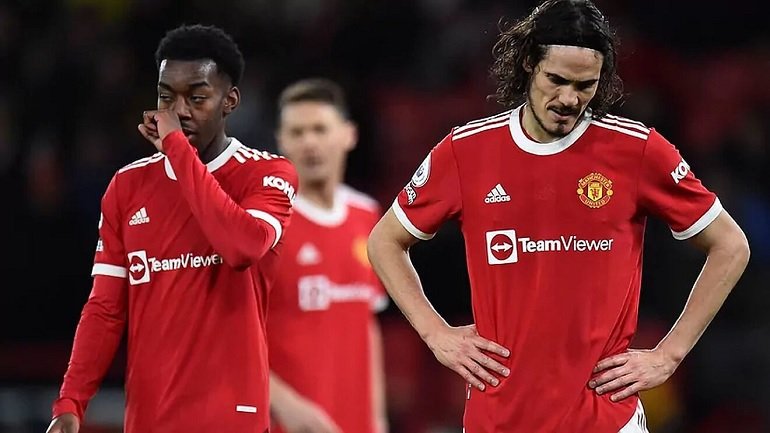 It would be an almighty understatement to say that Manchester United has failed to deliver this season. In fact, they're a club that looks in disarray.
After their draw against Leicester City this weekend, we begin to wonder whether they even will challenge the 4th place that gives access to Champions League.
That said, they are still Manchester United and that means they'll be a huge pull for any player regardless of whether they bag a top-four finish or not. With that considered, we're looking at the areas they need to improve in ahead of next season.
So, where does Man United need to improve?
Goalkeeper
The chances are that Dean Henderson leaves Old Trafford this summer. It had looked like he might take the number one spot off David de Gea but the Spaniard has been back to his best this season; it's just as well too with the way United has played at times.
Regardless of Henderson's future, you'll be hard-pressed to upgrade de Gea. Worst case scenario, United might dip into the market to sign a backup keeper.
Defense
There has been a lot made of the issues at the heart of United's defense and, whilst it's understandable, we think there are other issues that leave them exposed.
Harry Maguire and Raphael Varane should be a good partnership; if they get on the grass together with the right blend around them then we believe they will be a decent one too. After all, "form is temporary" is a saying that has genuine meaning behind it.
The two spots on either side of them are big question marks though. Aaron Wan Bissaka was supposed to be a long-term fix when he joined from Crystal Palace but his limitations on the ball are clear for all to see.
The only way we see him staying at Man United for anything more than a year or so is if the new manager opts for a back three with AWB playing on the right; that would see his defensive qualities used more often and reduce his need to bomb on.
The other option on the right is Diogo Dalot; he's been okay since Ralf Rangnick came in but that's not really enough for what United wants to achieve.
On the other flank, Luke Shaw is another question mark for us. He shows flashes of what he can do but for every good thing he does, he has some carelessness in him too.
You'd think he was one of the best left-backs ever with how he's been built up at times; compare him to the top fullbacks in the game though and he's nowhere at the same level. Alex Telles hasn't pulled up any trees either.
Possible targets: Tyrick Mitchell, Sergino Dest
Midfield
Let's start with what should be obvious; creating chances hasn't been a problem for United. That means their more creative players such as Jadon Sancho and Bruno Fernandes should be nailed on for next season; the former should show more next campaign too after resettling to life in England.
If Erik Ten Hag arrives as manager then you can throw Donny van de Beek into the conversation as well because he'll unquestionably feature under his former Ajax boss.
Deeper in the midfield is where the problems lay. 'McFred', as Scott McTominay and Fred often get dubbed, aren't a bad combination; they're just not a great one either and it shows all too frequently.
The club is unlikely to bin them but you'd expect a big signing to come into the XI for next season; the obvious contender for that role is Declan Rice.
He would bring tonnes to this Red Devil's side both on the pitch and off it with United's mentality as a squad constantly being questioned. In fact, landing the likes of Rice is one of the areas that will get the best out of Maguire and Varane.
The final area for United's hierarchy to ponder is the right-hand side of midfield. Marcus Rashford looks to be on his way out and the options behind him are lacking with Anthony Martial likely off too. We fully expect a new man with bags of pace to arrive; that would aid United in transition and help their ability to go 'hunting' in the final third.
When you consider Rangnick is expected to have a big hand in deciding on the new manager then players who have the physical qualities to operate a press are likely to be high on the shopping list.
Possible targets: Declan Rice, Aurélien Tchouaméni, Michael Olise
Strikers
Last but not least we come to the front end of the pitch, which is an area very few saw as an issue a year ago. Cristiano Ronaldo has scored goals in big moments this season but, regardless of how you view his performances, he isn't the future.
Mason Greenwood has rightly disappeared owing to off-field and legal issues and Edinson Cavani has never looked like having a big role. So, what does United need?
You have to expect a striker that has three key qualities – pace, work rate, and finishing ability. The one exception you might allow is for Harry Kane – who doesn't have the speed to burn – and that deal looks less and less likely as the days tick by with reports suggesting he's happy at Tottenham as long as Antonio Conte stays put. Either way, what United needs won't come cheap.
Possible targets: Harry Kane, Victor Osimhen, Darwin Nunez
Possible XI: De Gea, Dest, Maguire, Varane, Mitchell, Rice, Fred, Sancho, Fernandes, Olise, Osimhen