The La Liga schedule is also available on SoccerAntenna. The current edition of the Spanish topflight, the 57th edition, started on the 16th of August 2019 and will only finish on the 16th of May of 2020.
In SoccerAntenna we provide all the La Liga news, including the latest transfers, games and international fixtures. Do you want to know how the Spanish teams are performing in the Champions League group stages or Europa League group stages? Look here!
Who has won La Liga the most?
Real Madrid has the highest number of La Liga wins in the history of the competition. Los Blancos won the league 33 times and were runners-up 23. However, if you ask yourself when was the last time that Real Madrid won La Liga it was in 2016-17.
Barcelona won the league in the last two seasons and in total, they won 26 editions and were runners-up 25 times. If you follow the Barca schedule, you know they are currently topping the table. Real Madrid and Barcelona: one of them will win the La Liga 2019/20 edition.
Besides the obvious contenders, Atletico Madrid presented itself as a force to reckon in the last years. They have 10 victories in La Liga in total, but their only successful campaign in this century was in 2013/14.
Despite not winning a league title since the 80s, Athletic Bilbao is the 4th team in La Liga with more championships. They won it 8 times, even though most of their titles were achieved during the 30s.
Then we have Valencia, who won La Liga a total of 6 times (2 of them at the beginning of this century).
Real Sociedad was victorious twice, in consecutive seasons (1980-81/1981-82).
Deportivo La Coruña, Sevilla and Real Betis won the league once each.
Check out the detailed info on this video by Data Race.
Who is the top scorer in La Liga history?
Only two players in the top 10 of La Liga all-time scorers are still playing. And only one is still in the Spanish topflight. Leo Messi is the top scorer of the competition, as the Argentinian has 438 goals in 474 matches.
He is followed by Cristiano Ronaldo, who played in Real Madrid between 2009 and 2018 when he left for Juventus. Ronaldo's impressive record of 311 goals in 292 games makes him the only player on the list to have more goals than games. Ronaldo has more than 700 goals in his career.
Below is the complete top 10 list of all-time scorers of the competition. Leo Messi will likely get this number higher once the league returns.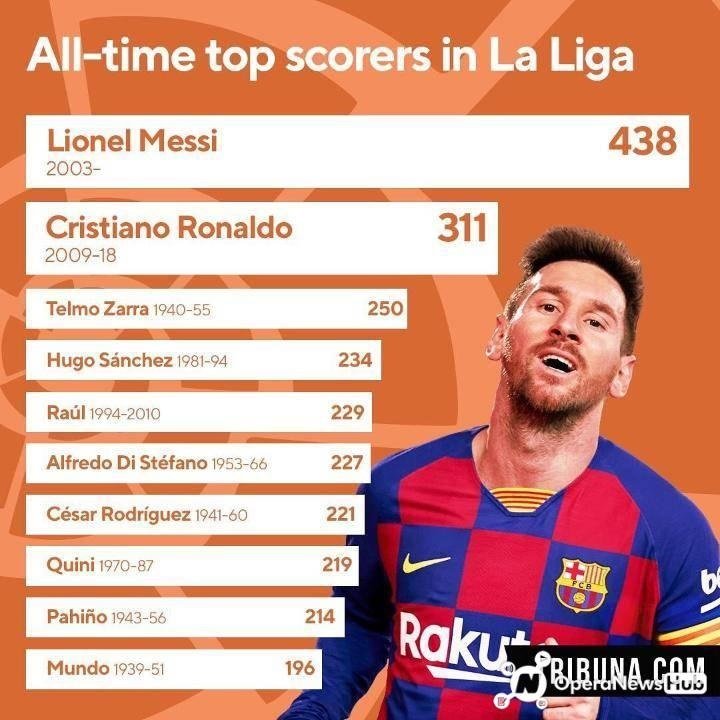 Check here also who is the top scorer of La Liga at the moment.
Real Madrid
Stadium: Santiago Bernabeu (Madrid)
Capacity: 81.044
Best finish in La Liga: Winner in 1931-32, 1932-33, 1953-54, 1954-55, 1956-57, 1957-58, 1960-61, 1961-62, 1962-63, 1963-64, 1964-65, 1966-67, 1967-68, 1968-69, 1971-72, 1974-75, 1975-76, 1977-78, 1978-79, 1979-80, 1985-86, 1986-87, 1987-88, 1988-89, 1989-90, 1994-95, 1996-97, 2000-01, 2002-03, 2006-07, 2007-08, 2011-12, 2016-17.
Coach: Zinedine Zidane
Relevant articles: Injury nightmare storms Real Madrid
Barcelona
Stadium: Camp Nou (Barcelona)
Capacity: 67.829
Best finish in La Liga: Winner in 1928-29, 1944-45, 1947-48, 1948-49, 1951-52, 1952-53, 1958-59, 1959-60, 1973-74, 1984-85, 1990-91, 1991-92, 1992-93, 1993-94, 1997-98, 1998-99, 2004-05, 2005-06, 2008-09, 2009-10, 2010-11, 2012-13, 2014-15, 2015-16, 2017-18 and 2018-19
Coach: Ernesto Valverde
Relevant articles: La Liga Preview
Atletico Madrid
Stadium: Wanda Metropolitano (Madrid)
Capacity: 99.354
Best finish in La Liga: Winner in 1939–40, 1940–41, 1949–50, 1950–51, 1965–66, 1969–70, 1972–73, 1976–77, 1995–96, 2013–14
Coach: Diego Simeone
Relevant articles: Atletico Madrid announce Mario Hermoso
Levante
Stadium: Ciutat de Valencia (Valencia)
Capacity: 25.534
Best finish in La Liga: 6th in 2011/12
Coach: Paco Lopez
Relevant articles: La Liga Preview
Getafe
Stadium: Coliseum Alfonso Perez (Getafe)
Capacity: 17.393
Best finish in La Liga: 5th in 2018/19
Coach: Paco Lopez
Relevant articles: La Liga Preview
Sevilla FC
Stadium: Ramon Sanchez Pizjuan (Sevilla)
Capacity: 45.500
Best finish in La Liga: Winners in 1945–46
Coach: Julen Lopetegui
Relevant articles: Rony Lopes becomes Sevilla's 10th signing
Real Betis Balompie
Stadium: Benito Villamarin (Sevilla)
Capacity: 60.721
Best finish in La Liga: Winners in 1934/1935
Coach: Rubi
Relevant articles: Betis sign Lyon's midfield Nabil Fekir
Athletic Club Bilbao
Stadium: San Mames (Bilbao)
Capacity: 53,289
Best finish in La Liga: Winners (8 times): 1929–30, 1930–31, 1933–34, 1935–36, 1942–43, 1955–56, 1982–83, 1983–84
Coach: Gaizka Garitano
Relevant articles: La Liga Preview
Real Sociedad
Stadium: Anoeta (San Sebastian)
Capacity: 26,756
Best finish in La Liga: Winners (2 times): 1980-81, 1981-1982
Coach: Imanol Algualcil
Relevant articles: La Liga Preview
Granada CF
Stadium: Los Carmenes (Granada)
Capacity: 22,524
Best finish in La Liga: 6th (2 times) 1971-72, 1973-1974
Coach: Diego Martinez
Relevant articles: La Liga Preview
Valencia CF
Stadium: Mestalla (Valencia)
Capacity: 52,600
Best finish in La Liga: Winners (6 times): 1941–42, 1943–44, 1946–47, 1970–71, 2001–02, 2003–04
Coach: Albert Celades
Relevant articles: Valencia sack coach Marcelino Toral
RCD Espanyol
Stadium: Cornella-El Prat (Barcelona)
Capacity: 40.500
Coach: Leonardo Sanches
Best finish: 3rd (1932-33, 1972-73, 1986-87)
Relevant articles: La Liga Preview
Villarreal
Stadium: Estadio de la Ceramica (Villarreal)
Capacity: 23.500
Coach: Javier Calleja
Best finish: 3rd (2004-2005)
Relevant articles: La Liga Preview
Celta Vigo
Stadium: Balaidos (Vigo)
Capacity: 33.000
Coach: Fran Escriba
Best finish: 4th (1947-1948, 2002-2004)
Relevant articles: La Liga Preview