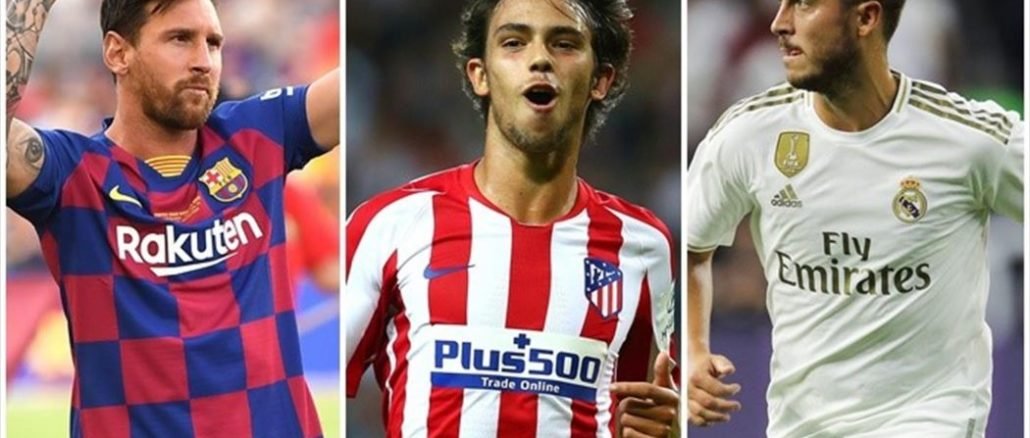 After the Premier League Schedule starting last weekend, it is time for the Spanish topflight to take off too. La Liga starts today with champions Barcelona visiting Athletic Bilbao at the stadium San Mamés.
Last season we saw the Blaugrana easily making their way to the title, mostly due to their biggest rival underperforming severely. Real Madrid changed had 3 coaches throughout the season and probably wouldn't have made it into the Champions League if they were playing in a league like the Premier.
La Liga 2018/2019 also gave us pleasant surprises. Getafe had one of their best finishes ever, ending their season in the 5th place, two points below Valencia – which means two points below Champions League access. They will play Europa League football and in the same path might be heading Espanyol.
The Catalan side also had a tremendous season, finishing 7th in La Liga table and they have already secured a playoff place in Europa League. All they need to do now is eliminate the Ukrainians of Zorya, to reach a group stage of a major international competition, something that does not happen since 2006/2007.
Talking about Catalan sides, last season also saw Girona, who is partially owned by Manchester City Football Group, getting relegated. They will be playing the second tier, La Liga 123, alongside Huesca and Rayo Vallecano. In the opposite direction, Osasuna, Granada and Real Mallorca were promoted and will compete in the first division.
After this introduction, let's see what to be looking forward in this season's edition of La Liga.
Barcelona trying to reconquer the title with an eye in Europe
Last year had a bittersweet feeling for Blaugrana fans. Ernesto Valverde's men seemed destined for a treble until they had to play in Anfield. The castle of cards ruined quickly after an unexpected comeback operated by Liverpool in the Champions League.
The team had actually won 3-0 in the Camp Nou, and after having eliminated comfortably Lyon and Man United, the supporters were confident in returning to a UCL final.
Barcelona appeared lifeless in Anfield for the second leg and they were destroyed 4×0, with Divock Origi putting the final nail in the coffin. If that wasn't enough, less than a month later the team also lost Copa del Rey, the Spanish Cup, to Valencia.
Valverde, though, survived the booing from fans and the demands for his dismissal. Barcelona board stuck with their coach one more season and now we are expecting to see if he will learn from his mistakes or if Barcelona will underachieve once again.
The Catalan giants reinforced their squad with 3 major signings: Frenkie De Jong arrived from Ajax, for a €75M fee and he will provide depth for the position that used to be held by Sergi Busquets.
Also, Antoine Griezzman traded Atletico for their La Liga counterpart, with a transfer fee of €120M. Finally, Jordi Alba will get some competition for the leftback position, with the team acquiring Junior Firpo, from Betis, for €18M.
Besides these 3 additions, they also have a new backup keeper for Ter Stegen, with Neto arriving from Valencia, in a switch operation with Dutch keeper Jasper Cillessen.
It is still uncertain whether some other signing will join Barcelona rooster in the next weeks (the return of the prodigal son, Neymar, maybe?). For now, this is the squad the team will present in their La Liga schedule debut.
Messi will miss the opening match due to a calf injury and will not go to Bilbao. Will Barcelona start with the right foot without their superstar on the pitch?
Atletico Madrid: will the Summer spending spree produce results?
The Colchoneros finished last season in the second place but it seems the stakes are getting higher for Diego Simeone. The Rojiblancos of Madrid had one of the most interesting Summer windows, with lots of new names arriving at the new Wanda Metropolitano.
The team wants the La Liga title, that they miss since 2013-14 and probably make a deeper run into the Champions League than last season. Simeone's men were halfway into the quarterfinals, after beating Juventus 2×0 at home, but the usual suspect – Cristiano Ronaldo, who else? – scored a hattrick and crushed the dreams of Griezzman and company.
Griezzman, who, as we mentioned before, departed this Summer to the Camp Nou. In his place, Atletico Madrid made a bold move for youngster Joao Felix, who arrives from Benfica for a stunning fee of €120M.
Felix scored 20 goals in 43 appearances in Portugal and all attentions will be in the 19 year old, to know if he will be able to fill the boots of Antoine. So far, he has already impressed in preseason, in the USA, with a couple of goals and one especially against the MLS All Stars.
Besides Griezzman, Atletico also renovated the house, with some of the veterans, leaving to give place to younger blood. Renan Lodi arrived from Brazil to replace Filipe Luis as leftback, while for right back they signed England international Kieran Trippier, who traded Tottenham for the La Liga side.
Meanwhile, Rodri left for Manchester City and the colchoneros went after Marcos Llorente, who is also an anchorman and used to play in the rivals of Real Madrid. And since Godin left for Inter and Lucas Hernandez for Bayern Munich, Atletico signed Felipe (Porto) and Mario Hermoso (Espanyol).
Finally, they also added Hector Herrera, on a free transfer from Porto, who will give depth to their midfield. Apparently, Atletico is still on the hunt for a couple more signings, but they will hope their current rooster is enough to give them 3 points in the opening fixture of La Liga, versus Getafe.
Real Madrid: back on track or another season to forget?
It surely was one season to forget for Real Madrid fans. Besides finishing third, way below Barcelona, and being eliminated by the Blaugrana in the quarterfinals of Copa del Rey, they lost their Champions League status, losing miserably at the hands of Ajax in the round of 16. Perhaps, those who said that Cristiano Ronaldo exit to Juventus wouldn't impact the team are now rethinking their predictions.
Since the team performed miserably, the coaches, of course, got the sacking. First, it was Julen Lopetegui, who left Spain even before the World Cup and he didn't even make it till Christmas. Real Madrid trusted the succession to unexperienced coach Santiago Solari, but after the Champions League letdown, he also got dismissed. And less than a year after leaving the position, Zidane was back in charge of the team, with an impossible mission of putting down the fire of a team in shambles.
Now, Florentino Perez decided to splash the cash to bring back Real Madrid's dignity. It began with Eder Militao, who arrived from Porto for €50M, for the rightback position – even though he can also play in the center. Then it was forward Luka Jovic (€60M) who was signed after an impressive Europa League run with Bundesliga club Eintracht Frankfurt. They also paid €48M for left back Ferland Mendy, from Lyon and €45M for Rodrygo, who played in Santos (Brazil).
However, it was the arrival of Eden Hazard (€100M), who mostly headlined the Summer transfers so far. It is expected that the former Chelsea attacker gives flair to Real Madrid and brings the goals back to the Santiago Bernabeu. If he is able to replicate his successive Premier League campaigns, then La Liga defenses will need to pay attention.
Real Madrid, nonetheless, seems plagued with injuries. Marco Asensio suffered a Cruciate Ligament Rupture and will be out until next year and also the debutants Rodrygo and Mendy are dealing with hamstrings injuries.
Luka Jovic has also suffered an injury during the preseason, and it is still uncertain whether he will play in the opening match and also Hazard is allegedly dealing with a thigh problem and will be likely to not feature this weekend.
The Galacticos will play Celta de Vigo away in Saturday and Hazard's absence might mean that we will be seeing a return of Gareth Bale to the pitch. After the soap opera that surrounded is a possible departure, it is still unknown what are the plans of Zidane for the Welshman.
With or without Bale, will Real Madrid return to starlight and challenge Barcelona and Atletico for the top 2 or will it be another season to forget?
The outsiders: who are we backing to surprise us?
If guessing the teams topping the top 3 of La Liga is normally quite easy, it is always a challenge to know who will make a deep run this year in the Spanish first division.
Last season we saw Getafe and Espanyol doing impressive campaigns, but it is likely both teams will struggle this year due to the European schedule, plus having lost important key players of their teams.
Meanwhile, one of the teams that has made some impressive signings this summer has been Real Betis. One that no one saw it coming, was the announcement of Nabil Fekir, World Cup winner for France, who last year was rumored to be in the radar of Premier League giants.
They also acquired one of La Liga's top scorers of last season, Borja Iglesias from Espanyol, and although they lost Firpo to Barcelona and Lo Celso to Spurs, they were able to sign players who are experienced enough to fill in those positions.
Their city rivals, Sevilla FC haven't been doing too bad either. They made 10 signings already and the return of sporting director Monchi might bring the club back into Champions League places. However, the appointment of Julen Lopetegui as coach, brings some questions, after the past experience in Real Madrid.
Finally, we have Valencia, who was quiet during the transfer window but made important signings on Cillessen and forward Maxi Gomez. The team will be in Champions League group stages, after finishing 4th last season and so, it is also expected this might influence their La Liga campaign.
These are the teams we are backing up to surprise us this season, but do not be astonished to see some unexpected underdog making their way into the top 4.