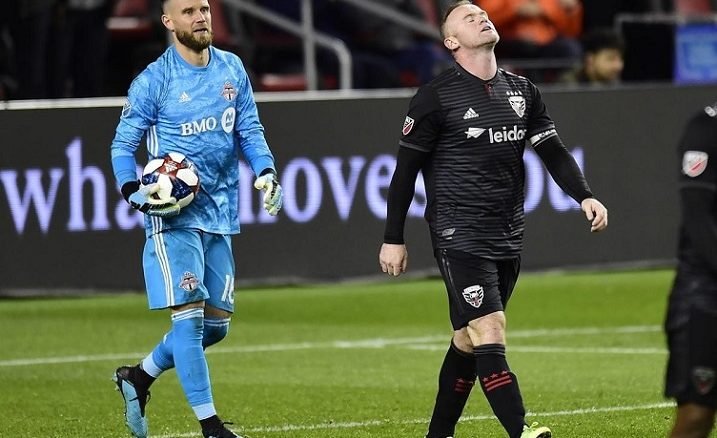 The MLS playoffs started in style this weekend, with DC United being surprised by Toronto. Four goals in extra time, saw Toronto FC sending Rooney and company home, ending the reign of the Englishman in the MLS.
Meanwhile, Zlatan and his teammates booked their ticket to the next round. La Galaxy will face LAFC, in the Los Angeles derby called 'El Trafico'.
All these and much more in the first round of MLS playoffs.
Atlanta United FC 1 – 0 New England Revolution
2018 Champions Atlanta United played their Round One of the Audi 2019 MLS Cup Playoffs against the New England Revolution.  Although being the underdog, New England did give an impressive performance.
Against the reigning Champions' home crowd at Mercedes-Benz Stadium in Atlanta, the Revs managed to keep a clean sheet till nearly the 70 minutes.  Atlanta's dangerous striker Josef Martinez tried to score a few times with no luck and even got a yellow card for simulation. 
New England also produced several opportunities, but all were saved by Atlanta's goalkeeper Brad Guzan.
In the end, the hosts did manage to get their one and only goal when Ezequiel Barco shot past New England's defense into the box. The ball was picked up by Argentinian teammate Franco Escobar that scored Atlanta's late winner (70').
Atlanta United is gone to the next round where they will face Philadelphia Union on Friday, October 25th.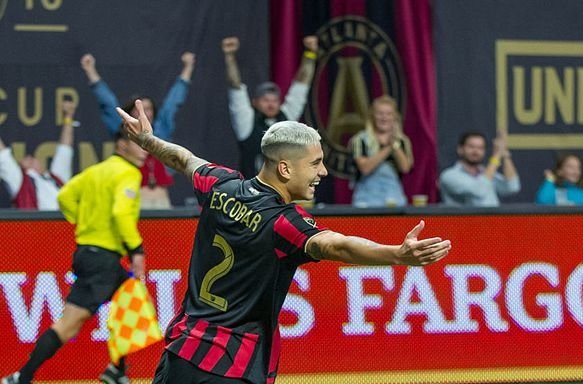 Seattle Sounders 4 – 3 FC Dallas
Seattle Sounders hosted FC Dallas at CenturyLink Field on this first leg of the 2019 MLS Playoffs.
It was a goal-fest, with Seattle's Raul Ruidiaz opening the score for the night with a long-range shot into Dallas keeper's Jesse Gonzalez's goal (18').  Jordan Morris doubled the hosts' lead minutes later, scoring a pass received from teammate Joevin Jones (22').  
Dallas put its first score on the board a bit later, with Reggie Cannon's goal (39'). In the second half, teammate Matt Hedges then headed in Dallas's second goal (64').
Jordan Morris retaliated and put Seattle back in the lead (74'), but that lead was short-lived. Dallas's Brian Acosta headed in another late equalizer (82'), tipping the game into overtime. 
The winner came very late for Seattle, with Jordan Morris completing a hat trick, heading in the ball from close range in overtime (113'). 
The Sounders will host Real Salt Lake for the Western Conference Semi Finals on Thursday, October 24th.
Toronto FC 5 – 1 D.C. United
D.C. United traveled to Toronto's BMO Field for Round One of the Audi 2019 MLS. 
Marky Delgado from Toronto scored the first goal of the match, courtesy of a sloppy clearance by DC's goalkeeper Bill Hamid (32').  Just when it seemed that Toronto would win, Lukas Rodriguez scored for DC an equalizer from Wayne Rooney's corner kick (90+3').
The game went to overtime, but in the 30 minutes conceded, Toronto mauled D.C. Richie Laryea scored off a combined assist from Michael Bradley and Nick DeLeon (93').  Minutes later, Toronto's Jonathan Osorio added the insurance (95').
Nick DeLeon finished the night a bit later, scoring Toronto's fifth goal (105+1').
Toronto will travel to the Big Apple on Thursday, Oct. 24th to play against NYCFC.
Real Salt Lake 2 – 1 Portland Timbers
Portland Timbers visited Real Salt Lake in Rio Tinto Stadium for Round One of the 2019 MLS Playoffs.
RSL was the much stronger side on the first half and kept on pounding defenseless Portland goalkeeper Steve Clark, who kept the Timbers alive with some great saves.  Salt Lake did finally get their opportunity when Damir Kreilach headed in a cross from Corey Baird (28').
The visitors came back stronger in the second half, with Timbers' Darion Asprilla heading in a corner kick (47'). 
The Portland Timbers were certainly the better team of the second half, this time for Salt Lake's goalkeeper Nick Rimando to come up with some impressive saves to keep his team in the game. 
But at the end RSL found a late winner with Jefferson Savarino scoring Real's second goal (87'), sending his team to the Conference Semi-Finals. 
Real Salt Lake is going Seattle on Thursday, Oct. 24th to play against the Seattle Sounders.
Philadelphia Union 4 – 3 New York Red Bulls
Philadelphia Union hosted the NY Red Bulls for the first MLS playoffs round.
The Red Bulls started stronger, when Josh Sims's kick landed in the right side of the net, past Unions' keeper Andre Blake (6'). The visitors scored their second goal with Tim Parker's header that somehow bounced in past Blake and the Union's confused defense (24').
Alejandro Beyoda from the Union scored for Philly its first goal of the match (30'), followed by NY's Tom Barlow right before half time (45+4').
Philadelphia came back looking better in the second half, with a header goal by Jack Elliot (52') and followed by another header in goal by substitute Fafa Picault (78').
Marco Fabian scored the winner from a deflection off Red Bulls' Marc Rzatkowski, giving the Union their first-ever Playoff win (105+1').
Philadelphia Union will travel to face Atlanta United next on Friday, October 25th.
Minnesota United 1 – 2 LA Galaxy
Minnesota United hosted LA Galaxy for Round One of the MLS 2019 Playoffs.  Despite the home advantage and promising first half, the Loons didn't manage to finish on top, and finished their season, sending LA Galaxy to face neighbors LAFC in the next round.
The hosts produced a few opportunities to open the scoring and take the lead, but nothing materialized for most of the game.  LA Galaxy's Sebastian Lletget put his team upfront with a deflected shot of Zlatan Ibrahimovic that was blocked by Minnesota goalkeeper Vito Mannone (71'). 
Jonathan dos Santos scored Galaxy's second goal within minutes (75'). 
Minnesota's Jan Gregus scored for the hosts a late one (87'). Unfortunately for the Loons that was too late to make a difference.
Zlatan and his crew will next travel a short distance, to place their noisy neighbors LAFC for the next playoff round on Friday, October 25th. 
Here are the current standings on the MLS schedule: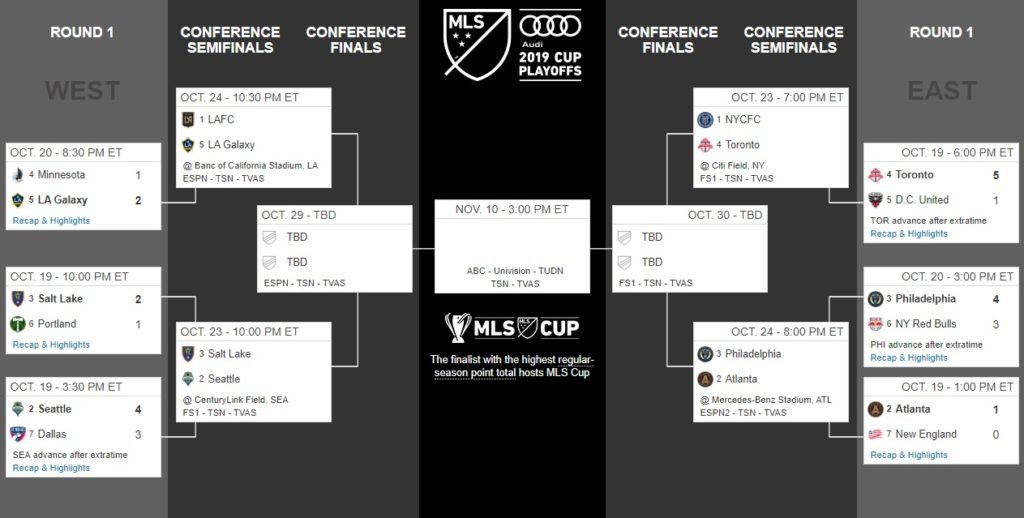 Stay tuned for next weekend's playoff games and get all your MLS news in SoccerAntenna.