The MLS schedule regular season came to a close this weekend, not without the last dose of soccer excitement and drama. Another humbling experience is handed to Zlatan Ibrahimovic and LA Galaxy, who lost to Houston Dynamo.  This, whilst city rival LAFC marks a historic win with Carlos Vela's hat trick. 
In the East, D.C. United without Wayne Rooney doesn't manage to score against FC Cincinnati's nine men.
The postseason is coming, but the regular season sure provided the best show on the road (and at home) up to its last moments on Sunday.  This, and more action in the final week of MLS table.
LAFC 3 – 1 Colorado Rapids
History was made on Sunday, as Carlos Vela's hat trick took Western Conference leaders LAFC to their final win of the 2019 regular season, this time over visitors Colorado Rapids.
Several records were broken on that night at Banc of California Stadium.  With Vela becoming the single-season top scorer with 34 goals, LAFC breaking the record for single-season points with 72, and also the single-season goals scored for a team with 85.
Vela opened the night with the first goal of the match (28') which awarded him with the MLS single-season top scorer record (previously set by Atlanta United's Josef Martinez with 31 goals scored in 2018). 
Three minutes later, with a bicycle kick from close range, the Mexican National doubled LA's lead (31'), and his own record went up to 33 goals in a single season. 
Colorado's Kei Kamara did retaliate, diving to a scoring header before halftime (40').
Vela came back from the dressing room determined to finish a job, and with a tap-in off a pass from teammate Tristan Blackmon completed his hat trick for the night.
Carlos Vela Joined LAFC in 2018, after playing for five seasons in Spanish La Liga's Real Sociedad.  The Mexican National also played on loan for English club West Bromwich Albion and Arsenal.
Houston Dynamo 4 – 2 LA Galaxy
Sitting now at the tenth place in the Western Conference, the Dynamos still came to this game and gave their fans a great farewell for the season.  This leaves Galaxy at fifth place in the Western Conference, meaning that without the top-half finish in the conference, they failed to ensure at least one home game in the MLS Cup Playoffs.  
Zlatan Ibrahimovic gave his team the early start to what everyone expected to be the opening shot for a night of Dynamo destruction, but the hosts had other plans.  Ibra chipped a ball into the far post from the top-left corner of the penalty box (9').  In first-half added time, Houston's Christian Ramirez equalized (45+2'). 
Minutes into the second half, Christian Pavon put the Galaxy upfront again with another goal to the far post.  And again the hosts equalized minutes later with Alberth Elis scoring after being left unmarked in LA territory.  Elis later also found Ramirez with an endline cross, giving Cincinnati's Ramirez his second goal of the match (83'). 
But that wasn't enough for the Houston Dynamos who came to prove a point and continued to show LA Galaxy their hospitality until the very end, with Memo Rodriguez finishing the night with an injury-time goal for the hosts (90+4').
D.C. United 0 – 0 FC Cincinnati
D.C. United finished the season with a five-game unbeaten streak. Still, two out of these were scoreless draws towards the end of the season, which is a crucial time to gather playoff points. The last 0-0 tie on Sunday left D.C. fifth in the Eastern Conference.
This last season game was played without D.C. United's star striker Wayne Rooney, as the Manchester United legend was suspended due to yellow-card accumulation.
At the end of the first half, Cincinnati's Joseph-Claude Gyau was send off for a serious foul (41'). Minutes later Roland Lamah was also send off for violent conduct (44'), leaving the guests with nine men.
What could have been a great opportunity for the hosts from the Capital did turn to a spectacle shooting spree with no less than 32 shots fired towards Cincinnati's goal, but oddly enough only two were on target. Both to be blocked by Cincinnati's goalkeeper Przemyslaw Tyton.
Atlanta United 3 – 1 New England Revolution
Atlanta United hosted New England Revolution for what is a bit of the preview for the Eastern Conference's early playoff rounds.  Defending MLS Champions Atlanta, and number 2 seed hosted number 7 seed New England and handed them a defeat.
Darlington Nagbe put the hosts up to an early lead (3') but shortly after, visitors' Christian Penilla equalized.  The second half belonged to Atlanta though, with goals courtesy of Josef Martinez (49') and Julian Gressel (57').   
NYCFC 2 – 1 Philadelphia Union
In an end-of-season fight between two top dogs in the Eastern Conference, first placed New York City FC hosted in Yankee Stadium on Sunday the third-placed Philadelphia Union. Ronald Matarrita and Ismael Tajouri-Shradi scored and gave New York the lead of the first half (7' and 22' respectively).
Marco Fabian converted for the Union a late penalty kick (87'), which wasn't enough for Philly to win.
More MLS Week 31 Action
Having been eliminated from the playoffs, Montreal Impact hosted playoff contenders New York Red Bulls and hand their guests a 3-0 defeat.
Portland Timbers clinch a last-minute playoff spot and send San Jose Earthquakes home after Winning 3-1.
FC Dallas beat Sporting Kansas City 6-0. 
Seattle Sounders beat Minnesota United 1-0 and clinch second playoff seed in the West.
Toronto FC host Columbus Crew and by winning 1-0 earn a home game at the playoffs.
Real Salt Lake visit Vancouver Whitecaps, and by winning 1-0 RSL earn a playoff home game.
Chicago Fire traveled to Orlando City for the last match between two sides that didn't make it to the playoffs.  Chicago ended the season with a bang, Winning 5-2. 
End of the season and playoff brackets
The regular season is finished, but the playoffs for the MLS cup decision are just about to start. The competition kicks off at 19th of October and here is the current bracket: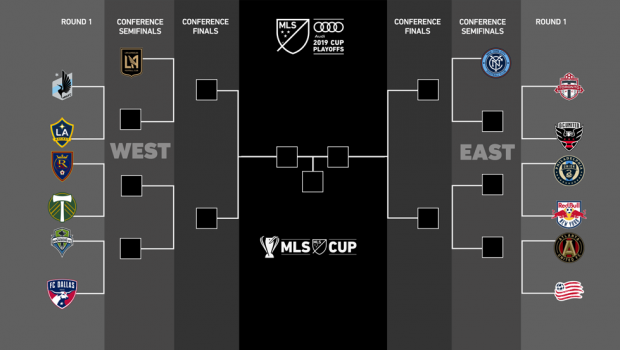 With the end of the season, MLS highlighted some of the names of athletes who are retiring this season. There are names like Tim Howard, who we highlighted last weekend, but he is not the only one.
We will see you soon, with more MLS updates about the playoffs. Let the action begin!