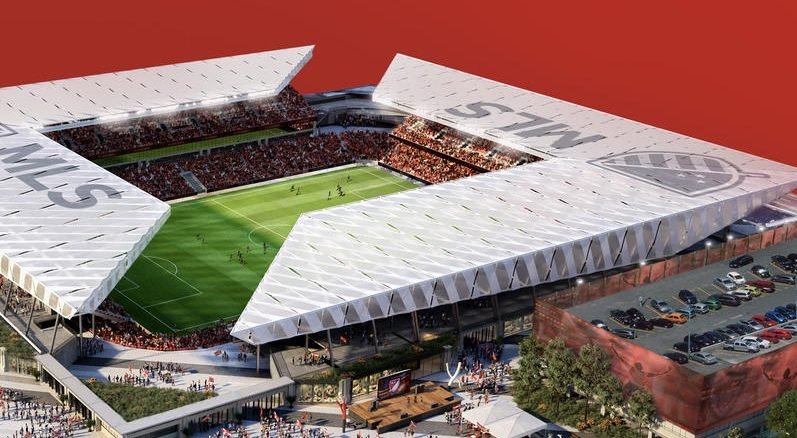 The MLS is writing its own chapter in the history book of the beautiful game. Beyond a world-class league that is making soccer the fastest-growing game in America, the place of American women in the sport has been setting a new global standard of female contribution to soccer.
The latest MLS expansion bid awarded to the city of Saint Louis takes this trend a step further. Women are no longer only world-class players, key staff members or avid soccer fans. The yet-to-be-named Saint Louis MLS club is the league's first franchise that is managed, operated and owned by a majority group of women.
With sports being a reflection of culture and society, American soccer has been all about the opportunity to the most talented and hard-working, regardless of race, background, and gender.
American women have been dominating the world of soccer for many years now, winning their last gold in the FIFA Women World Cup this summer in France, this being their fourth title, making the US the most successful team in the tournament. And he National Women Soccer League (NWSL) was founded six years ago and has been going from strength to strength ever since.
Seven women taking soccer to St. Louis
Now the MLS is tapping into what women have to offer to the sport, and yesterday (Tuesday, August 20th) with Commissioner Don Garber announcing the new St. Louis expansion team, the league welcomed its first club in its history that is female majority-owned.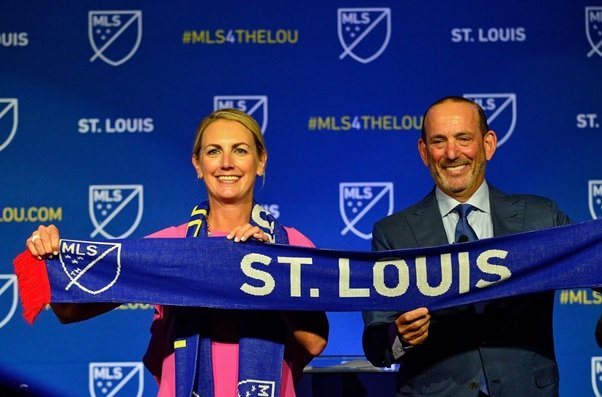 Garber said, in a statement that "it is with great pride that we welcome St. Louis to Major League Soccer. St. Louis is a city with a rich soccer tradition. Our league becomes stronger today with the addition of the city's deeply dedicated soccer fans, and the committed and this innovative local ownership group".
The seven-woman strong group is led by Carolyn Kindle Betz, from the local Taylor family. She is the granddaughter of rental car mogul Jack Taylor and president of the Enterprise Holdings Foundation. Other women owners in the group are Patty Taylor, Joanne Kindle, and Chrissy Taylor.
Kindle Betz said: "It's an incredible feeling to now be able to say St. Louis is home to the first official majority female-led ownership group in MLS".
A New Stadium to revitalize St. Louis
During the announcement she added: "Our MLS team and stadium will only add to St. Louis' renaissance currently underway and will provide us with a great opportunity to bring together many different segments of the community, uniting people in their love for the game."
The owner-team is also strengthened by two men, Enterprise Holdings Chairman Andy Taylor, and businessman Jim Kavanaugh. Interestingly, Kavanaugh isn't new to soccer and will bring his knowledge and experience as a former professional player and the owner of lower-division Saint Louis FC.
The club's proposed stadium in downtown St. Louis will hold 22.500 seats with an option to expend to 25,500 and is expected to become a landmark in St. Louis's Downtown West District neighborhood revitalization plan.
MLS will have 28 teams by 2022
The St. Louis club is expected to play its first season in the MLS table in 2022. The current MLS 2019 season has 24 clubs competing. Next season the two new teams to join are Inter Miami CF and Nashville SC, followed by Austin FC in 2021.
St. Louis is team number 28, out of the plan to grow the MLS schedule to 30 franchises.
Looking at female-owned teams in other major sports leagues in America, there are just a few. The NFL actually has Amy Adams Strunk (owner of the Tennessee Titans), Virginia Halas McCaskey (the Chicago Bears), Martha Firestone Ford (the Detroit Lions) and Gayle Benson (the New Orleans Saints).
Utah Jazz Chairwoman Gail Miller is the only woman majority-owner in the NBA, and NHL and Major League Baseball have no woman owners.