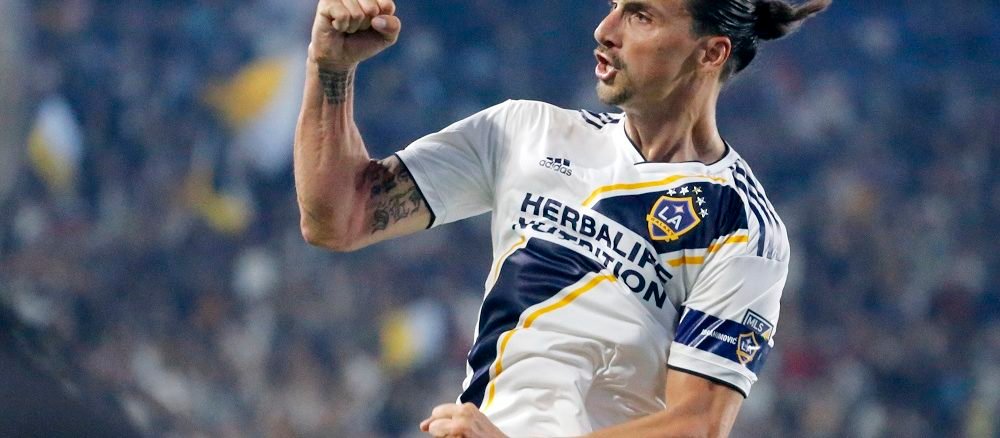 Week 20 of the Major League of Soccer (MLS) came to a close, and boy what a week it was. Yes, there are the fascinating strategies and plays, interesting stats, and so much more of that great soccer stuff we can dig into for days.
Still, let's face it. What gets us excited in the MLS is the drama, rivalries, anecdotes, bad blood and incidents to follow (did someone say "ugly" incidents?). And when it comes to drama, the MLS sure delivers! So, let's have a look at what happened in week 20 of the regular MLS season.
LA Galaxy 3 – 2 Los Angeles FC
Starting with what caught everybody's attention (far beyond LA and America – when Zlatan Ibrahimović talks, it's the entire world of soccer that is listening carefully).
The El Trafico, between Zlatan's LA Galaxy and Carlos Vela's Los Angeles FC has only seen its fourth clash in history on Saturday. But this Derby between the two opposing sides of LA seems to be fuelled by a fierce rivalry that has been there for much longer.
Zlatan started the fire when trash-talking rival Carlos Vela (MLS MVP and Golden Boot favorite) building up tensions towards the match, but surely followed up in his talk with a hat trick, giving his LA Galaxy a 3-2 win over the Los Angeles FC, whom are currently sat at top of the MLS league table.
­Seattle Sounders FC 1 – 2 Portland Timbers
Going up the Pacific North West, two Cascadia Cup long-time rivals also put up a fight and gave us the drama we wanted from Seattle's CenturyLink Field on Monday, July 22nd.
Portland's Brian Fernandez gave a fantastic performance scoring the first goal of the match (20'). Half an hour later Seattle's Raul Ruidiaz equalized (50'), but Seattle's joy was short-lived, with Fernandez scoring his second, and winning goal of the match a minute later (51').
This was too much to bear for Sounders' defender Román Torres, who got into a fight at the end of the match.
Atlanta United FC 5 – 0 Houston Dynamo
Yes, you read it right the first time, this isn't a typo. Atlanta United trashed the Houston Dynamos on Thursday, leaving Atlanta second in the MLS Eastern Conference (3 points behind the Philadelphia Union).
Atlanta should probably thank Houston's forward Alberth Elis, who early in the match received a yellow card for a foul, followed by a red card due to arguing aggressively with the ref (6').  This left Atlanta United room to explode within all the free space left by Houston Dynamo's 10 men.
New England Revolution 4 – 0 Vancouver Whitecaps FC
The first half at Revolution's Gillette Stadium was goalless until Argentinian Gustavo Bou scored his debut goal on his first appearance with New England (45+1') in extra time.
Bou's goal opened the floodgates, with the New England Revolution scoring three more goals later in the second half.
Toronto FC 3 – 1 New York Red Bulls
Initially hosts Toronto FC weren't as good against the Red Bull guests, with New York showing impressive possession for many parts of the game. Still, things went the hosts' way.
An early goal by veteran Jozy Altidore (6') gave Toronto the lead, doubled in mid-first-half by a penalty conversion by Alejandro Pozuelo (26').
New York's Tom Barlow did score in the second half (72'), but that wasn't enough, and to make things worse for the Red Bulls, Toronto's Ashtone Morgan sealed the deal with the final goal of the match (72').
Chicago Fire 2 – 2 Columbus Crew
An overall interesting and good match to watch with some good goals, but all in all a disappointing result for both sides – both who needed more than the single point taken from this draw.
The Chicago squad probably need to beat themselves more, given they were playing at home. Especially after losing 2-1 to FC Cincinnati at home on the last weekend.
FC Cincinnati 1 – 4 D.C. United
D.C. came into this match missing two key men: Playmaker Luciano Acosta who is suspended, and goalkeeper Bill Hamid whom the coach decided not to play.
It took most of the first half for D.C. United to find their mojo, but an opening goal from Lucas Rodriguez late in the first half (42') gave D.C. a second half that dreams are made of.
With Rodriguez scoring a second (59'), Wayne Rooney (who else?) putting his name on the board and scoring D.C.'s third (64'), and Paul Arriola scoring D.C.'s last goal (73').
Despite Cincinnati's Emmanuel Ledsema converting a penalty kick somewhere in between (54'), this night belonged to the boys from the Nation's Capital.
Portland Timbers 1 – 1 Orlando City SC
Despite a much-needed win against the Seattle Sounders, the Timbers also really needed to win this one at home. Had the Timbers won this match, as well as avoided the draw against Colorado Rapids last weekend, they would have already been above the Playoff line in the MLS Western Conference.
Columbus Crew 2 – 1 Montreal Impact
Josh Williams scored and gave Columbus an early lead (6'), to be equalized by Montreal's Zakaria Diallo towards halftime (45+2'). However, it didn't last for long, as Columbus's David Accam scored the second, winning goal for the Crew right after the break (46').
This is Columbus Crew's second win in 17 games.
Philadelphia Union 2 – 0 Chicago Fire
Trouble travels in packs, where Chicago Fire won one game in their last 12 matches. They haven't won an away game since May 2018 and are now missing key players in midfield.
So, playing against Philadelphia Union, the top team of the MLS Eastern Conference, was probably not exactly what Chicago had wished for.
Orlando City SC 0 – 1 New York Red Bulls
A few ups and downs for New York Red Bulls lately, with an important 2-1 win earlier this month against NYCFC in the New York Darby, followed by a loss last week against Toronto FC. Still, overall the Red Bulls played consistent soccer.
Traveling to Exploria Stadium to play in the hot Orlando summer, after playing on the road earlier this week, did show that New York Red Bulls have the spirit and character. They didn't let it get to them and played their typical oppressive football style.