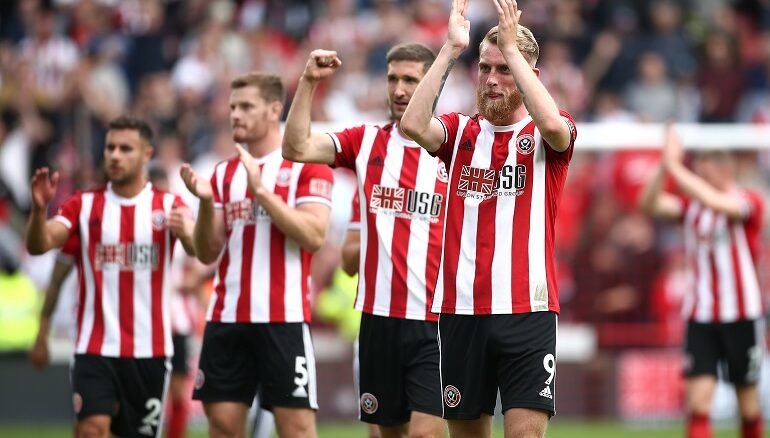 Is 2020/21 The Easiest Season Ever To Avoid Relegation From The Premier League?
Three teams are relegated from the Premier League. No ifs, no buts, and no good news for fans whose teams drop down a division.
Every season begins with predictions, sees the odds of teams amended as the games are played, and then ends with some teams thanking their lucky stars and others cursing their misfortune.
2020/21 will be no different than those before it in that regard, but the coronavirus pandemic might just change what's needed to stay up. The magic 40 point mark for survival may be a lot lower this season.
We've reviewed the tips at the start of the season, discussed the table as we see it and looked a little into the future. At each stage we've assessed how easy we think it'll be for teams to avoid relegation from the Premier League.
Ready? Then let's get started!
Who is tipped to go down?
Pre-season relegation picks rarely offer many surprises. The promoted teams are generally overwhelming favourites for the drop, with a select number of Premier League toilers tipped to finally slip down a division. The pre-season guesses for the 2020/21 were no different.
An article run by The Week at the start of the season saw every contributing journalist pick two promoted teams (Fulham and West Bromwich Albion) and one toiler (Crystal Palace, West Ham, and Aston Villa) as the sides most at risk.
Things have changed a little since then. A cursory glance at the relegation odds offered by the best sports betting sites listed on Online Casinos shows that the oddsmakers still believe Fulham and WBA will go down but now think Sheffield United are the toiler most at risk: 
888 Casino: Sheffield Utd (2/13); WBA (3/10); Fulham (4/5)
Bet365: Sheffield Utd (1/6); WBA (2/9); Fulham (8/11)
Betway: Sheffield Utd (2/11); WBA (1/3); Fulham (8/11)
While there's variance between the three online casinos, they're consistent in the three teams they expect to be relegated and where they'll sit in the table at the end of the season.
Two promoted teams going down and one staying up is pretty consistent with what's come before 2020/21.

It would be reasonable then to say that the pre-season predictions are that this season is no easier than any other for teams to avoid relegation.
What is the table telling us?
Premier League commentators and managers alike have claimed you can't get a feel for how a season is going until ten games have been played. At the time of writing, we're 14 games (for most teams) into the season.

This feels like a perfectly sensible time to make some assessments and viewing the table makes grim reading for Sheffield Utd.
Sheffield Utd have two points after 14 games. This means they're collecting points at a rate of 0.14 per game, which would give them 5.32 points if they were to continue their form throughout the season. The Blades look doomed.
West Brom looks to be in serious trouble too. They have seven points, which would add up to 19 points at the end of the season at their current rate. There's no way that will be enough to keep them safe.
The rest of the action looks a little spicier, as you can see from this cut from our Premier League table: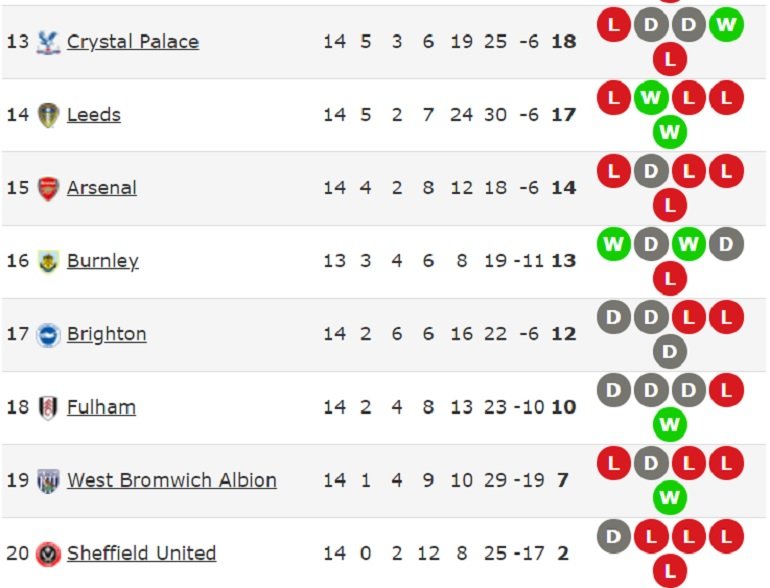 Mikel Arteta's Arsenal is the surprise entry at the lower end of the table but there's little chance of them dropping into the Championship.
However, it's of little surprise to see Newcastle, Crystal Palace, Leeds, Brighton, Fulham and Burnley scrapping for points.
These sides consist of perennial toilers and a promoted side. This indicates that 2020/21 is much the same as previous seasons.
Why 2020/21 is genuinely unique?
Assessing pre-season predictions and the table after 14 games (for many sides) suggests it's neither easier or harder for teams to avoid relegation from the Premier League.
We've seen the same pattern of promoted teams and plodder sides battling for survival, with the traditional 'big side having a difficult season' in there for good measure before they make the inevitable rise up the table.
But what the table doesn't take into account is that this is a genuinely different season to those that have preceded it. This is the full pandemic season.
It's a season where stadiums have often been empty and may not return to full capacity at any stage. And it's a season where games are bunched together, causing every team to press less and wild inconsistency in the results seen so far.
If things stay as they are then Liverpool will win the league with 84 points, the third-lowest total of the last decade. You can see this by visiting the Premier League website and reviewing points totals of the league winners from previous seasons:
2019/20: 99
2018/19: 98
2017/18: 100
2016/17: 93
2015/16: 81
2014/15: 87
2013/14: 86
2012/13: 89
2011/12: 89
2010/11: 80
What this says is that teams might need less points to stay avoid relegation in 2020/21 than they would have required in many seasons previously, though, not all of them.
This suggests that it could just take a good run or two for teams to avoid the drop.
And once relegation is avoided, who knows what next season might offer? Aston Villa barely escaped the fall last Summer and now they are 9th in the table and playing convincingly.
Final Thoughts
Relegation from the Premier League in 2020/21 could be huge for the three sides it affects.
The loss of fans from stadiums has left a massive hole in the club's finances and losing the benefits that come from competing in the top flight could be catastrophic.
While it does look like fewer points will be needed to stay in EPL the flip side is that teams are accumulating fewer points.
This means that we think it will be just as hard to stay in the Premier League in 2020/21 as it is every year, for those clubs who battle against the drop.