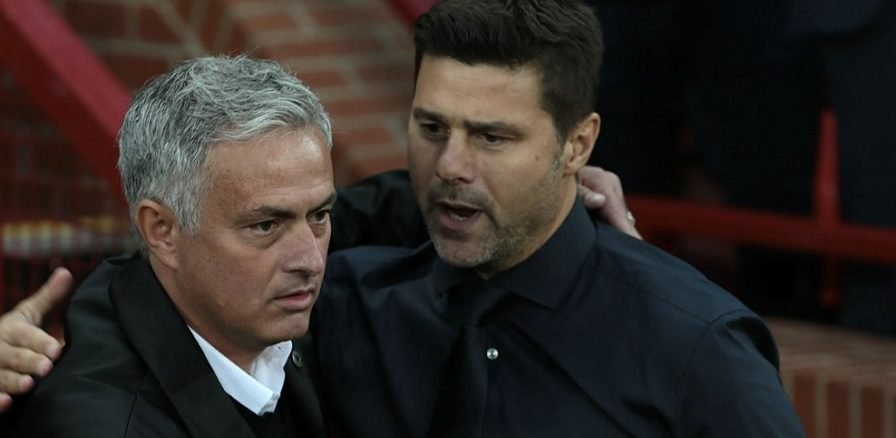 Time has come for Mauricio Pochettino's reign to end at the realm of Tottenham Hotspurs. As we predicted some weeks ago, the Argentinian coach was one of the most likely ones to get sacked soon and Tottenham's board decided this was the right timing.
For his place, a very familiar face was already confirmed: Jose Mourinho. The Portuguese manager, who was without a club since late 2018, when he left Manchester United, returns to the Premier League barely one year later.
Mourinho has signed until the 2022/2023 season and this will be the 3rd Premier League club he manages, after Chelsea and Manchester United.
Pochettino: how he fell out of grace after almost conquering it all
It had been speculated in the last couple of days that Mauricio Pochettino had fallen out of trust with the board and specifically Daniel Levy, Spurs' chairman. The North London based side is currently in the 14th place of the Premier League table and their humiliation at the hands of Bayern Munich in Champions League made the situation even worse.
However, Pochettino legacy as one of the best managers that Tottenham has ever had can not be forgotten. The former center back, who played in the 90s for Espanyol and in the early 2000s for PSG arrived at Tottenham in 2014.
Before he had coached Espanyol, between 2009 and 2012, leading the Catalan club to consecutive comfortable La Liga positions. He was then appointed Southampton's coach in 2013/14 season and it was a huge success.
He led the Saints to an 8th place finish, their best since the 2002/03 season, with a record of points not ever seen since the modern era of Premier League (92/93). Besides that, Southampton recorded important victories over Chelsea, Liverpool, and Manchester City, which consolidated the manager's legacy.
5 incredible seasons as Spurs manager
In May of 2014, he was confirmed as the new Tottenham Hotspurs manager: the 10th of the club in just 12 years. The fact that he had one of the largest spells of Spurs' recent history (5 full seasons) already shows that Pochettino brought something new to the club.
In 5 of those 4 seasons, Mauricio took the club to a top 4 finish and a consequent Champions League qualification. It was during his spell as a manager too that some current club key figures arrived at the club.
Also, it was worth noticing that he achieved the best placement ever for the club since the 64/65 season, when Tottenham ended the 2016/17 as runners-up, behind Chelsea.
However, definitely his best season was 2018/19 when Spurs got to a Champions League final for the first time in their history.
Although they haven't won it, losing 2×0 to Liverpool, their epic comebacks over Manchester City and Ajax will definitely be remembered by their fans.
How it all turned sour?
They say the higher you climb the harder you fall. Pochettino was an edge away from making unprecedented history with Tottenham. Had they won the Champions League and it is likely that his credit at the club would be unlimited.
However, as Spurs was that close and yet failed to get any silverware during his reign, it is possible that the board felt it was time for a step forward.
Mourinho might be a controversial figure, but he is known for winning trophies and that is why Tottenham went after him: to challenge their fame as bottlers.
In fact, after ending this 2019 year without a trophy, this will be the first decade, since the 1930s, that they do not conquer a piece of silverware. One of the longest title droughts in the club's history.
After a great start last season, Tottenham struggled to win any games in Premier League after March, perhaps due to their focus having turned to the Champions League. However, they still ended top 4 and Mauricio got some signings he had been begging for.
Sessegnon, Lo Celso, and Ndombele arrived in the Summer after the club had gone two full transfer windows without making a single signing. Still, despite that, Tottenham had one of the worst seasons starts from the last years.
An inside job?
They have only 3 victories in 12 Premier League games and sit 14th right now, 20 points behind leaders Liverpool. However, in the Champions League, although they were humiliated by Bayern Munich, they still sit 2nd in their group, having won both games against Crvena Zvezda.
The main reason for Pochettino getting the sack might be other. It is rumored that the manager has lost the locker room, with some players refusing to renew contracts.
Nonetheless, despite this turmoil, players like Kane and Son have already praised the legacy of the coach, thanking him for all he has done for them and for the club. Hopefully, Pochettino returns to the sidelines soon (Bayern are you there?).
What can Mourinho bring to the table?
So, why did Daniel Levy and Spurs board opt for Mourinho, despite his recent failure at Manchester United? Well, most likely because Jose is known to be a winner and a trophy hunter.
He is not exactly the kind of manager who plays the most attractive football as he is known for 'parking the bus' when necessary. Yet, he has conquered trophies at all the clubs he passed through.
He conquered the league titles in 3 different countries (Portugal, Italy, and England) and also got Champions League glory twice. Even at United, he got an FA Cup and Europa League.
For a team known for constantly underachieving and who are in such a long title drought, if Mourinho takes them to any piece of silverware he will already make some history. That is also what probably drove Jose to accept this challenge, as he knows it will be an opportunity to show the world of football that the 'Special One' still got it.
Parking the bus or defensive solidity?
Mourinho is also one highly defensive manager, with high standards on the players' discipline. For a club that has a goal difference in the Premier League of just 1 goal (17 goals conceded at the moment), he can be the right man to stop the leak.
Furthermore, he will find a club with a solid academy and players who can probably fit well into his work ethics, like Son and Kane.
Others – the ones who were causing turmoil recently – are most likely to be dispatched. 'Mou' might have the freedom to rebuild the team at his own will.
Whether it was the right choice or not, time will tell. It was, however, a risky one and Spurs board is not known to take light decisions. Still, it will be a delight to watch the 'Special One' returning to the sidelines. Welcome back!