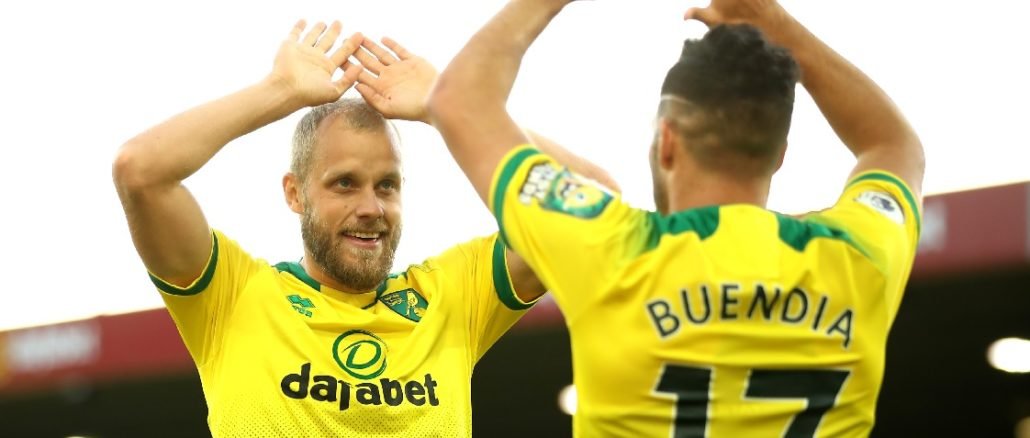 Premier League is back and there were plenty of exciting matches to tune in this weekend. Liverpool seems to be having a deja vu of last season, finding themselves isolated in the top spot after five matches and they will be hoping to keep this form.
Meanwhile, the surprise result of this weekend was definitely the one at Carrow Road, but only for those who haven't been following Norwich City epic season start. Even though the team has lost 3 matches and won only 1 – against Newcastle – the chat has been around their Finnish star Teemu Pukki, who even won the Premier League player of August.
Now, the Canaries received the champions Manchester City, and everyone thought it would be a walk in the park for Pep Guardiola's men. However, with half an hour on the clock, the result was already 2×0 for Norwich.
First, it was Kenny McLean answering perfectly to a corner kick, making the crowd go wild. Then, 10 minutes later, City was all over in the attack and Norwich took advantage, with Pukki going swiftly through the wing and unselfishly passing the ball to Cantwell who only had to tap it into the net of Ederson.
Pukki again: 6 goals in 5 games
Sergio Aguero would put the Champions of Premier League back into the game, netting it in after a pinpoint Bernardo Silva cross. However, at the beginning of the second half, Otamendi seems to have fallen asleep. He let his fellow Argentinian Buendia steal him the ball near the goal and calmly pass it to Pukki.
The Finnish striker scored his 6th of the season and he is already in the podium of the EPL top scorers.
City seemed desperate and they put all the weapons in to try and get at least a draw, but the only thing they could do was a late blow by Rodrigo from outside the area, which wasn't enough to avoid the defeat.
Manchester City have now 10 points and they already lost 5 points, that might be crucial in the title race.
Liverpool continue amazing run: 5 wins in 5 games
After 4 wins in the 4th starting matchdays of Premier League, including a victory over Arsenal already, Liverpool made it five, hosting Newcastle at Anfield.
It did not start well though, for Jurgen Klopp's men, as the visitors fired up in front with just 7 minutes on the clock.
Dutch full-back Jetro Willems signed this season from Eintracht Frankfurt, strike a perfect curled shot and everyone was hyped thinking Steve Bruce's squad could produce an upset.
However, the dream quickly faded as Sadio Mane would deliver a brace before the half time and the comeback was done.
Liverpool would put the game to bed with a wonderful goal produced by Mohamed Salah and Roberto Firmino. The Egyptian played a one-two with the Brazilian, who made a slick no-look pass, leaving Salah open, to make a run for the goal.
3-1 and another 3 points in the bag for Liverpool, who will have a tough visit to San Paolo this Tuesday, to visit Napoli.
Tammy Abraham hattrick and Chelsea run over Wolves
It was a memorable afternoon for young English striker Tammy Abraham, as he increased his goal tally to 7 in the Premier League, with a hat trick. After a disappoint draw with Sheffield United in the last matchday, Chelsea fired back and surprised Wolves at the Molineux.
Lampard's 'youth squad' seems to be adapting properly, as the game started with an amazing strike by academy product Fikayo Tomori. The defender, who was at loan at Frankie's Derby County last season, fired up the Londoners at the first half-hour of the match and what a goal that was.
Then it began the Tammy show. One, two, three goals and Chelsea 4×0 ahead at the beginning of the second half. Tammy became the youngest striker in Chelsea history to score a hat trick, at just 21 years of age.
And we can even say he made a poker, although the 4th goal wasn't in the right net. 4×1 for Wolves, with Tammy putting it into his own net after a corner kick rebound.
Wolves would put another one on the scoresheet as their new signing, Patrick Cutrone, made his first Premier League goal.

There was still time for a late blow by another Chelsea youngster, as Mason Mount put the final nail in the coffin in the last breath of the game. A great victory for the Blues, that proves that the 'transfer embargo' might have done Chelsea a favor: an opportunity to use their talented youth players.
Chelsea is back in action this week already, as they play Valencia this Tuesday, for the Champions League group stages.
Wins for Spurs and Manchester United
Despite plenty of crippling injuries, that cast doubts over Manchester United's future, the Red Devils grabbed all 3 points this weekend. A win at Old Trafford over Leicester City was enough to recover confidence, after last weekend's draw against Southampton.
The only goal of the 1-0 victory over the Foxes came from a penalty kick, converted by Marcus Rashford. Leicester was not able to come back from the early goal and United would cling to their second win of the season.
Meanwhile, Tottenham Hotspurs had a comfortable win over Crystal Palace at their new London stadium. Son Heung-min was the protagonist of the match, with two goals and an amazing display.
An own goal from Patrick Van Aanholt and another goal by Erik Lamela would put the result to an end, even before half time. This is also the second win of the season for Tottenham, who have rejoiced after the pulsating North London derby in the last matchday.
Spurs are back in action this Wednesday as they go to Greece, to face Olympiakos.
Bournemouth surprise Everton
After a win over Wolves at Goodison Park, Marco Silva was hoping their men would continue the good form with a visit to Bournemouth. However, Eddie Howe proved his team is always a difficult one to beat, as they stood their ground against Everton.
Callum Wilson broke the deadlock at the 23rd minute, but Everton would make it even before the interval. Calvert-Lewin answered well to Richarlison's pass and the game was tied on the break.
Still, Ryan Fraser would put the men from Dorset ahead once again, with a free-kick that deflected on Everton's players and betrayed Pickford. Wilson would then make it 3-1, scoring his second of the day and giving Bournemouth their second win in 5 games.
Bournemouth sits comfortably at the 8th place of the league table.
Arsenal draw against Watford after a 2 goal lead
If there is an important saying in football, it's do not celebrate until the final whistle. Arsenal, by now, should have been aware of this as they bottled once again a 2×0 lead.
Aubameyang put the North Londoners ahead with 20 minutes on the clock, finishing superbly after a Kolasinac pass. He would then make it two, just a few minutes later, with Maitland Niles making the assist.
All set for a comfortable afternoon, right? Well, this is Arsenal and in the beginning of the first half they would see Tom Cleverley taking advantage of a bad pass from Sokratis and making it 1-2.
However, Arsenal seemed confident and there was even time for Matteo Guendouzi make a curious gesture when being replaced. The Frenchman signaled 1-2 to the stands, although it did not age well for him.

Later on, a reckless challenge of David Luiz, Arsenal's signing during the deadline of the transfer window, conceded a penalty for Watford. Pereyra made no mistake and put Watford 2-2, giving the Hornets their second point in 5 games.

It is noteworthy to remember that Watford changed coaches already, with Javi Gracia being sacked. Quique Flores is now the man in charge.
As for Arsenal, they play on Thursday for Europa League against Eintracht Frankfurt and they should be more cautious about celebrating too soon…
Southampton takes 3 points from Sheffield
After making a stand over Manchester United in the last matchday, Southampton visited newly promoted side Sheffield United and they took all the 3 points.
It was a narrow 0-1 win, with a goal from Malian striker Moussa Djenepo. The player who arrived from Standard Liege this Summer netted his second of the season in 3 games.
Meanwhile, Sheffield ended the game with 10 men after Billy Sharp had a not so 'sharp' thinking and committed a reckless foul, getting immediately sent off.
Brighton and Burnley finish in a draw
Two teams at the bottom half of the Premier League table, Brighton and Burnley faced off in this matchday and the result was even. The hosts, Brighton & Hove Albion scored first by Neil Maupay at the beginning of the second half.
However, Burnley did not give up until the last minute, as Jeff Hendricks fired up 'The Clarets' in extra time, to distribute the points.
There is still one match remaining in the Premier League schedule, as Aston Villa hosts West Ham this Monday evening.