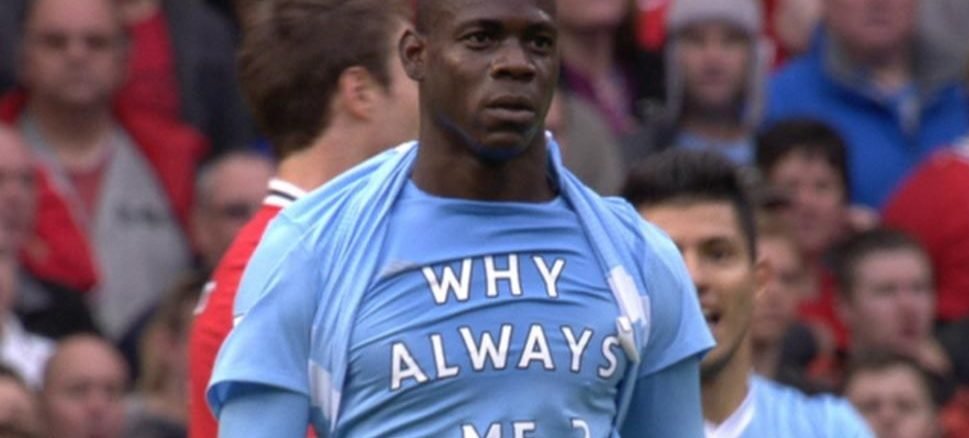 The summer transfer window is that time of the year when clubs throw enormous amounts of cash around trying to secure the mega-money signing that can take them to the next level. However, as has been shown by Juventus over recent seasons; you don't always need to spend big. The Old Lady have carefully built their staked squad through smart acquisitions that haven't required a transfer fee.
Just this summer they have brought in Aaron Ramsey and Adrien Rabiot on free transfers from Arsenal and PSG respectively, while Gianluigi Buffon has also been brought back to the club using the Bosman rule. Could more clubs follow the Serie A champions and find what they are looking for in the free-agent market? Let's see who is still without a club.
Mario Balotelli
Why always him? The striker is one of the most controversial characters in world football, but this summer following his release from Marseille he is still on the lookout for a new club. The Italian international is still only 28 and has achieved success in Serie A, the Premier League and Ligue 1.
However, his off the field antics are usually what gets him in the headlines, and that certainly takes away the ability that he has on the football field.
He was an essential member of the team that secured a first Premier League title at the Etihad but following a falling out with Roberto Mancini his career suddenly went backwards. He has enjoyed a renaissance over recent seasons in France with Nice and Marseille where he has scored 41 goals in 73 Ligue 1 fixtures. Maybe a manager out there may feel he could be the one to tame Balotelli.
Gary Cahill
The former Chelsea captain was released at the end of last season after falling down the pecking order at Stamford Bridge. However, he still has much to offer teams, and his leadership qualities could see him as an attractive proposition for clubs at the lower end of the Premier League table.
The defender played over 190 times for Chelsea, and his natural defending style would be perfect for a club such as Burnley or Brighton & Hove Albion.
During his time at the Bridge, he was an integral member of the team that won the Premier League, FA Cup, and the Champions League. Despite being 33 years old, he will still have enough gas in the tank to play an integral role at any club.

Franck Ribery
It isn't every day that a club will have the opportunity to sign a Ballon d'Or nominee, but with Ribery available on a free then every chance should jump at the chance to sign the talented Frenchman.
The 36-year-old has spent the last 12 seasons at Bayern Munich, but he decided that this would be his last at the club. Niko Kovac has opted to transform Munich into a younger team and Ribery is one of the players that he decided to release.
The Frenchman won nine Bundesliga titles during his career in Bavaria, as well as playing a crucial role in the team's success in the 2013 Champions League final. It was reported earlier in the summer that Sheffield United were considering making a move for the winger, but ultimately the move didn't happen.
That means that Ribery is still available for free on the market, but it only seems a matter of time before a club will snap up the star.


Daniel Sturridge
There is no doubting the quality of Daniel Sturridge, and but for constant injury problems, he would have remained at Anfield. However, this summer the Champions League winners released him following another injury-hit season at the club.
There is a chance for a top club to take a chance on the Englishman, and he could be the decisive factor in their season should he remain fit. Just last season Sturridge showcased what made him a star in the Premier League when he scored a brilliant goal to save a point for Liverpool at Stamford Bridge.
The concerns over his fitness are a granted stumbling block, but a club could offer a pay as you play deal because his quality is that high. His natural goalscoring ability has a crucial element to Liverpool's second-place finish in the 2013-14 season, and should a club get him into that kind of form then he would be a marvelous signing.


Danny Welbeck
Welbeck is another player that falls under the same category as Daniel Sturridge. His injury problems coupled with his high wages meant that Arsenal could no longer afford to have him on the books since he wasn't playing as consistently as they wished. Welbeck struggled for game time throughout the 2019-20 season and hasn't played more than 20 games in consecutive seasons since the 2012-13 and 2013-2014 seasons.
While his goalscoring record has never been consistent, he does offer energy that not many other players can. His work rate opens up space for his teammates and is selfless when given the chance. He would be a perfect signing for a club like Newcastle, and fans would quickly fall in love with him.
With the Premier League schedule ready to start next week, clubs must rush to finish their deals and one of these players might suit them well. Who would you sign for your team?