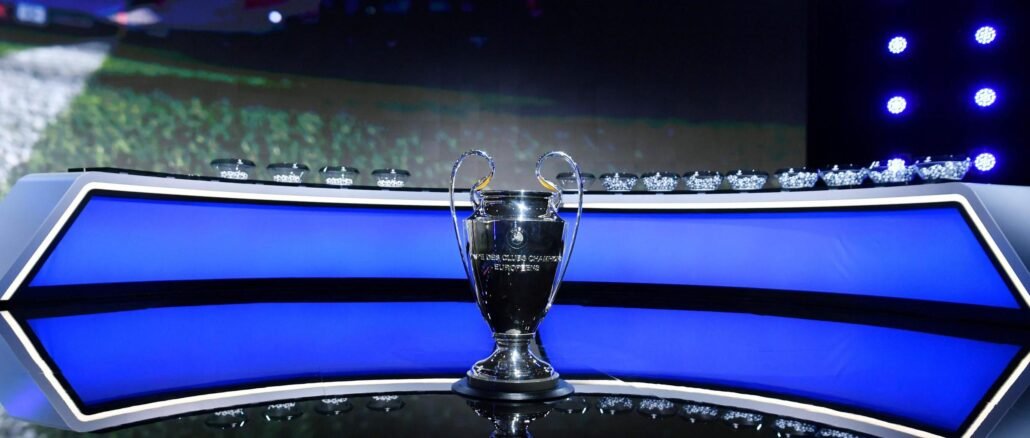 Later than usual, due to the COVID-19 pandemic, the Champions League group stage will get on its way this month. The draw took place last Thursday and we got to know the first games for the teams aspiring to succeed to current holders, Bayern Munich.
Without the usual glamour, due to the COVID-19 restrictions, UEFA also presented the best players of the season. Neuer, Kimmich and Lewandowski were awarded goalkeeper, defender and attacker of the year, respectively. Meanwhile, De Bruyne was given the best midfielder award.
What is the hardest Champions League Group?
32 teams from 15 different countries are represented. The countries with more teams in group stages are Germany, Spain, England and Italy (4), followed by France and Russia (3 each). Then there is Ukraine with 2.
Portugal, Turkey, Denmark, Belgium, Hungary, Austria, Netherlands, and Greece have one single team in the competition.
Group A
The reigning champions, Bayern Munich head as favorites on Group A. Bayern has lost Thiago Alcantara to Liverpool during this Summer, but don't expect them to be weaker.
Hansi Flick got some backup options added on the deadline day, with Bouba Sarr arriving for the right-back, Marc Roca as a younger replacement for Javi Martinez, and Choupo-Moting to serve as an option for Lewandowski.
However, the best signing might have been Douglas Costa, who arrived from Juventus and will give yet another option on the wing. Leroy Sané, once fit, will be a threat too.
Atletico Madrid are likely to be the eventual runners up on this group. The 'colchoneros' have signed Luis Suarez from Barcelona and switched Thomas Partey for Uruguayan Lucas Torreira.
Their squad has not suffered many changes besides those additions and seems fit enough to go through the group stages.
An outsider, and possibly Europa League-bound, is Red Bull Salzburg. The Austrian side mastered the art of signing young talent and, despite having lost Erling Haaland, they now have Patson Daka boosting the pace up front.
The Zambian striker has already 5 goals in just 4 games and promises to be a real danger to the opposition. Daka also counts with his fellow Zambia teammate Enock Mwepu, a very competent young midfielder.
Lokomotiv is our bet to be last placed, with the Russians had lost the midfield creative Aleksey Miranchuk. The signings of Kamano from Bordeaux and Ze Luis from Porto don't seem to be enough to cover their lack of depth in the defense and midfield.
Group B
12 times Champions League winners, Real Madrid are the obvious team to beat in Group B. Nonetheless, they did not make any signing and, besides the return of Martin Odegaard, they have no major changes comparing to last season.
The La Liga champions will be challenged by Inter Milan. The team coached by Antonio Conte brought in Arturo Vidal from Barcelona and Kolarov from Roma: two key players to bring even more experience into the squad. However, the name that comes to mind immediately is Achraf Hakimi.
The Moroccan was loaned to Dortmund for the last 2 seasons and has completed a move from Real Madrid to Inter this Summer. The right-back (or right midfielder) will return to Santiago Bernabeu to prove Zidane wrong on letting him go.
Shakhtar and Monchengladbach will be likely to compete for the 3rd and 4th place. While the Germans have Marcus Thuram as the attacking reference, they haven't done any major signings and they have been affected by a series of injuries.
So, we believe that Shakhtar will take the 3rd place, especially due to the higher experience in European competitions. The Ukrainians have only made one signing, bringing in left-back Viktor Kornienko, but they have kept their most of their stars.
Group C
Manchester City saw their ban from European competitions lifted and will be once again in the Champions League. And they might consider themselves lucky to have escaped the top teams in pot 1.
It might seem like an easy ride for Pep Guardiola's men, but looking at how they struggled in the Premier League against teams that defense in low bloc, they might have one or two surprises.
The Citizens spent big, bringing in two center backs: Ruben Dias and Nathan Aké. Meanwhile, they got Ferran Torres to cover for the absence of Leroy Sané that moved to Bayern.
The runner-up position, however, it's pretty open in this group. Porto, Marseille, and Olympiakos have similar chances of going through, although the Liga NOS table champions might weigh on their experience to have the leverage.
They saw two major key players from last season leaving on the last days of the market, as Alex Telles moved to Manchester United and Danilo Pereira to Paris Saint-Germain.
Felipe Anderson, Malanga Sarr, and Marko Grujic arrived on loan from West Ham, Chelsea, and Liverpool. It's still an open question of how these players will adapt, but if they deliver they will add quality to Sergio Conceição's options.
Marseille, on the other hand, are back in the Champions League after a few seasons, thanks to former Porto coach Andre Villas-Boas. However, they only have 2 options for the striker position: Dario Benedetto and Germain.
Finally, there is the dark horse of this group. Olympiakos are used to do positive campaigns in this competition and they made some interesting deals this Summer. Ruben Vinagre arrived from Wolves to the left-back position, while former Bayern right-back Rafinha joined too.
We would predict Manchester City and Porto going through and Olympiakos grabbing the Europa League spot.
Group D
Liverpool are Premier League champions and Jurgen Klopp's men are favorites to win the group D. They got some decent additions in Thiago Alcantara and Diogo Jota, who give even more depth to their squad.
However, a recent thrashing at Aston Villa (7×2) lifted some concerns that the team might have some flaws recently unveiled.
Their two competitors for the top 2 places of the group are Ajax and Atalanta. The Italians are only on their second coming into the competition, after being edges away from a tremendous Champions League quarter final upset against PSG last season.
Atalanta is a force to reckon, as Gasperini's attacking strategy causes hazards wherever it goes. They added Russian talent Miranchuk and PSV striker Sam Lammers, so they should be even stronger than last season.
Meanwhile, Ajax saw the return of Davy Klaasen and the additions on young players like Antony and Mohamed Kudus. However, the loss of Donny Van de Beek and Ziyech might impact the creativity in midfield.
Finally, we got the obvious underdog in this group. Midtjylland is on their first group stage ever and they will be happy enough as it is, but grasping a point or two isn't impossible. They have some blistering pace up front, with Awer Mabil and now Pione Sisto.
Group E
Chelsea might think they got an easy draw. The Blues dodged most of the big teams in pot 1 and also some possible headaches on the 2nd and 3rd pot. However, they should tread lightly.
Frank Lampard got a memorable Summer, full of new arrivals. Werner, Ziyech, Havertz are great signings and Chilwell and Thiago Silva will add compactness to their defense.
Perhaps the signing who will shine the most will be the former Rennes goalkeeper Edouard Mendy. The Senegalese had a brilliant season in Ligue 1 and should take the goal from Kepa since the Spanish guardian has been in the spotlight for a couple of blunders.
Mendy will face it's the former club, as Rennes were drawn in Group E too. The French side finished in 3rd and got an automatic qualification to the Champions League group stage for the first time in their history.
Sadly though, we don't tip them to go much further, considering that besides Mendy, they also saw their star winger Raphinha leave on deadline day for Leeds. For their place of the Brazilian, Rennes splashed the cash on Doku from Anderlecht, who is already a Belgian international.
The team who is most likely to challenge Chelsea and maybe take advantage of their European experience is Europa League winner Sevilla. The La Liga team had some great signings, with Rakitic from Barcelona and Moroccan talent Idrissi arriving at the Sanchez Pizjuan.
Doomed to a likely last place is Krasnodar, who narrowly overcome PAOK FC in the playoff. The Russians have only 3 options for center-back since they loaned Spajic to Feyenoord, so we believe they can be outnumbered by the competition in the group.
Group F
Definitely the group which outcome is the hardest to predict is F. The 4 teams have similar chances of going through and all the games will probably be quite even.
We must agree with the majority and give a slight leverage to Borussia Dortmund. The Bundesliga runners up are not always the most consistent performers, but they still got hold a whole load of talent on their ranks.
They resisted the persistent harassment of Jadon Sancho by Manchester United this Summer, and the English winger will be a threat definitely, together with Haaland.
Dortmund saw Meunier arriving from PSG this Summer, plus young creative midfielder Reinier on loan from Real Madrid. A squad filled with talent and we might even see the youngest ever player to appear in a Champions League match: Moukoko, who is still 15 years old!
Lazio also will be an interesting team to watch, considering their impressive campaign last season. Ciro Immobile, Golden Boot last season with 36 goals, has a new partner in attack: Kosovo international Muriqi.
Nonetheless, the Biancocelesti haven't participated in a Champions League group stage since 2007/08 season. So, we will go with Zenit for second place in this group.
The Russian champions are much more experienced in this competition and they kept hold of most of their stars this Summer. They added some experience to their backline with the arrival of Lovren from Liverpool.
Tipped for another early exit is Club Brugge. Last season they got through to Europa League, despite only having done 3 points, but we believe they won't make it this time. Tough luck to Belgium champions!
Group G
Fans will be thrilled and gutted at the same time for being able to see Juventus and Barcelona in the same group. Thrilled to see Messi and Ronaldo head to head again, and gutted as there will possibly be no fans in the stands to witness it.
Anyway, Juventus have a clear edge right now over the Catalans. They added some talent to their team, with Chiesa arriving on deadline day. The return of Alvaro Morata might bring back the best of the Spanish forward and we expect Ronaldo to be at its very best.
Barcelona still has Messi, besides him being close to leaving this Summer. They did, however, let go of some major names: Arturo Vidal, Rakitic, Nelson Semedo, and Luis Suarez.
Suarez is the one who is harder to replace, as the Uruguayan was the one linking with Messi more often and Barcelona got no one to replace him. They did get Sergino Dest from Ajax and it will be delightful to see Ansu Fati and Trincão show if they are ready for the biggest stage of all.
Oh, we forgot Pjanic, who arrived from Juventus… in a trade that involved Arthur going to Torino. We will see who was the winner on that deal, once both players prove their worth on the pitch.
Favored for a third-place is Dinamo Kyiv. The Ukrainians boost some massive talent on their ranks and they are the base of the Ukraine national team, who has been impressing with recent wins over Spain and Portugal. Tsygankov and Mykolenko are the ones to watch.
Ferencvaros are the obvious outsiders. The Hungarian champions will be happy enough arriving to this stage. They haven't been in the group stage since 1995!
They got Slovakian international Robert Mak joining them during the transfer window, but it's unlikely they will get anything other than the last place in this group.
Group H
In the last group, we got Paris Saint Germain are the undeniable contenders for top place. Plus, they finally got to a Champions League final in August, so they will have extra motivation now.
Mbappe and Neymar will lead the attacking lines and, even though Cavani left, they still got enough attacking threat with Mauro Icardi upfront. For backup Moise Kean arrived from Everton.
Portuguese international Danilo Pereira also joined PSG and the defensive midfielder will be another obstacle for opposition attackers. Together with Gueye, Verrati, and Paredes, Thomas Tuchel can build a solid wall on the halfway line.
RB Leipzig are our pick for getting second place in this group. The Germans also made history in the last edition of the competition, getting into the semifinals for the first time and being knocked out by… PSG.
Revenge aside, they added some flair to their already stacked team. Timo Werner left, but his replacement Alexander Sørloth is an impressive addition. 1,95 make him an immense aerial threat and the 33 goals scored last season for Trabzonspor show evidence that he is up for any challenge.
If one isn't enough, they also signed Hee-chan Hwang from brother club RB Salzburg. The Korean embarassed Liverpool defense last season, so beware of him.
You will excuse us for putting Manchester United as the contenders for Europa League exit, especially looking at how bleak they have looked in the Premier League.
The 6×1 trashing against Tottenham Hotspur would have been the motive of sacking some time ago, but Ole is still on the wheel. United got Alex Telles and former PSG striker Edinson Cavani announced on deadline day, but it's still uncertain if they will be enough to change the Red Devil's fate.
Istanbul Basaksehir is our choice for the last-placed team, but the Turkish champions shouldn't be overlooked. They have some experienced players on their cards, like Demba Ba, who can make a difference in the big games.
When the Champions League 2020/21 starts?
The Champions League group stage kicks off on the 20th and 21th of October.
Below there is the entire calendar of the group stage. Save the dates and expect great matches on the next months (even with empty stands).