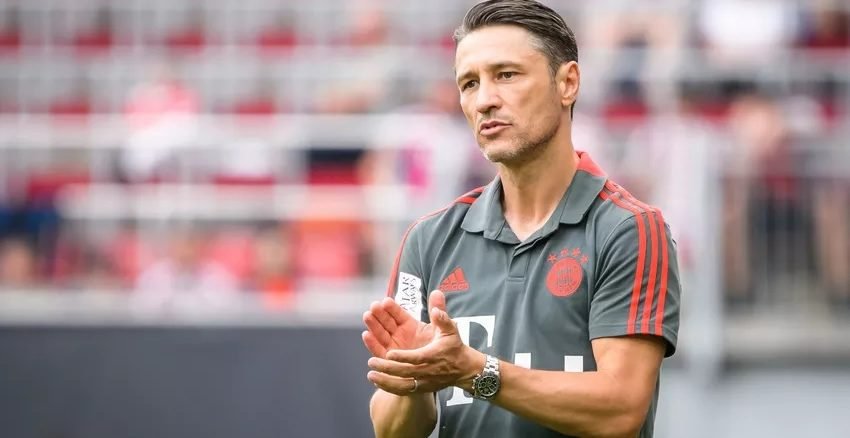 The current Bundesliga table champions announced later this Sunday that they parted ways with their coach Niko Kovac. The decision comes after a series of disappointing results in the league and more specifically, a recent humiliation against Eintracht Frankfurt.
The former Croatian international took charge of Bayern Munich on the 18th of April of 2018. He took over in the season of 2018-2019 after Jupp Heynckes resigned. Before he had coached the Croatian national team, during the World Cup 2014 and Eintracht Frankfurt.
The season of 2018/19 was not exactly a disaster, as Bayern won the league once again. The decision, however, was dragged until the final matchday, with Bayern edging Dortmund for 2 points. Still, Kovac made the double and also won the DFB-Pokal, the German Cup, defeating Leipzig 3×0 in the final.
In the Champions League, they were eliminated categorically at Anfield by the eventual winners, Liverpool.
Season 2019/20: high demands not satisfied
As you expect from a team like Bayern Munich, the demands are always absurdly high. This means that winning the league and even the cup are almost minimum requirements for a team that absolutely dominates on national level for several years.
However, the fans believe that the team has a responsibility to go further in the Champions League, a title they won in 2013.
Nonetheless, it is not fair to say that Bayern has not done well in the competition as they were in the semifinals 3 times in the past 6 years. And, not so long ago, they were making the headlines for trashing Tottenham in London.
It is true that Bayern right now is on an unusual 4th position in the Bundesliga table, which is led by Borussia Monchengladbach. They already got 2 defeated twice and they drew 3 times.
Also, to be fair to Niko Kovac, Bayern did not add much depth to their team this season. Their transfer window consisted of Lucas Hernandez (center back), Pavard (center back, right back) and Cuissance (midfielder). Then they got the loan deals for Coutinho (creative midfielder) and Perisic (winger).
However, they lost Hummels to Dortmund, James Rodriguez back to Real Madrid, Renato Sanches to Lille and Rafinha to Flamengo. Plus they lost two 'icons' of the club: Franck Ribery, who moved to Fiorentina and Arjen Robben who retired.
The long term injury for Nicklas Sule also added to the pile of misfortunes, as now the team has just a few options for the defending positions.
Bayern has the most number of goals scored in the league (25), tied with Leipzig, and a goalscorer who is on its peak (Lewandowski has 14 goals in 10 games). They are 4 points away from the 1st place, something completely recoverable when there are just 10 matches played. Was it really the right decision to fire Kovac?
Who is next in line for the succession?
Being one of the most successful clubs in the world and the most successful one in Germany, there are surely plenty of coaches that would be interested in taking the Bayern job. We turn our heads to 3 currently unemployed names, who could be tipped for the job.
A risky or traditional manager?
The most obvious one is Jose Mourinho. The 'Special One' has already been in all the top 4 leagues, except the Bundesliga. If Mourinho accepted to become Bayern's coach he would be in a club that challenges for all titles.
Besides, it is a club with a strong academy and financial structure to back his demands for signings. Finally, Bayern is a club full of history and loyal supporters, which is the kind of atmosphere that Mourinho seems to thrive.
For Bayern, Mourinho could offer what they need most right now: fix their leaky defense, maybe by parking the bus once in a while, which might be a strategy they need to adopt in some games.
It looks like the perfect match, but with the recent spells that Jose had, getting the sack out of Chelsea and United, the board might doubt his potential to succeed.
On the other hand, there is Arsene Wenger. The former Arsenal manager has left the Gunners two seasons ago and, although his recent years do not serve as an example, the Frenchman is a tactician who gives chances to academy players. Wenger would put Bayern playing attractive football and maybe build a legacy as he did in London.
Finally, there is Massimiliano Allegri. Until the last season, he was coaching Juventus, where he comfortably won the Scudetto in all his years in charge. Besides, he took Juventus to two Champions League finals, although he has not won either of them. His experience, however, might be something that Bayern can rely on.
For now, Bayern chooses Hansi Flick
Do you think Bayern will hire any of the former 3 options? Or will they take a gamble into one of the in-form young German coaches, like Nagelsmann (Leipzig) or Marco Rose (Gladbach)?
Hansi Flick is currently the one chosen by the Bayern board to take the interim job as Bayern coach. He will lead the Bavarians in their clash against Olympiakos, for Champions League this Wednesday. Also, in the following weekend in the Bundesliga schedule, during Der Klassiker, against Borussia Dortmund.
Flick is a former midfielder, who played for Bayern Munich between 1985 and 1990. He played 104 matches and scored 5 goals during that era, before moving to Koln.
As a coach, his most important role was as assistant to Joachim Low for Germany national team. Before, he coached Victoria Hammental and Hoffenheim.
He served as Germany's assistant coach since 2006, being part of the team that won the World Cup in 2014. He joined Bayern as assistant coach to Kovac in July 2019 and he will now take the wheel as interim.
If this is a similar situation to Ole Gunnar Solskjaer in United, we will have to wait and see.