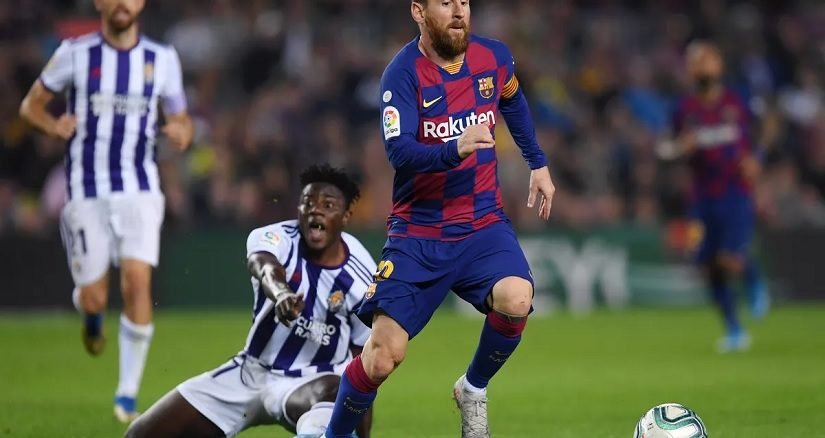 After Granada took advantage of the El Clasico being postponed to steal the leadership of La Liga, Barcelona took it back two days later. The 'Blaugrana' crushed Real Valladolid, with Messi being the protagonist with 2 goals and 2 assists.
Meanwhile, Granada lost against Getafe and, with one extra game, has been already surpassed by Barcelona and Real Madrid. Los Blancos defeated bottom club Leganes, while their city rivals Atletico dropped points again.
Take a look at matchday 11 of La Liga's schedule.
Barcelona 5 x 1 Real Valladolid
Even though they have one less game player, due to El Clasico having been postponed to December, Barcelona got back the lead of La Liga. They did it in style, against Real Valladolid, with the magician Leo Messi having one more of those exhibitions that show he is not from this planet.
In the Camp Nou, Barcelona needed only 3 minutes to get ahead in the scoresheet. Lenglet took advantage of some sloppy defending from Real Valladolid and shot a volley that deflected and ended in the back of the net.
Valladolid only needed 10 minutes more to equal the match. This time, Ter Stegen made an incomplete save to a free-kick and Kiko Olivas finished it off.
Then, the Messi show began. In the minute 29, the Argentinian playmaker set a lobbed pass for Arturo Vidal to make it 2×1. Just 5 minutes later, Leo himself shot a free-kick masterpiece to set the score 3×1 before halftime.
In the second period, two more goals with Messi signature. First, Barcelona's 10 received a pass from Rakitic, controlled it with his thigh and scored the 4th of the evening for the hosts. Later, assisting Luis Suarez for the Uruguayan to make his 6th goal of the season.
Messi has only played 5 games in La Liga this season, but the Argentinian already showed how crucial he is to his team with 4 goals and 4 assists.
Real Madrid 5 x 0 Leganes
Although Real Madrid was hosting the bottom side of La Liga, they had already been warned with their slip against Mallorca to not underestimate teams. However, Leganes only got their first victory in the matchday 10 and they did not pose much threat against Los Blancos.
With 7 minutes on the clock, Rodrygo had the perfect debut, with a goal on his first start, concluding a pass from Benzema.
The second goal came almost immediately, with Toni Kroos scoring 90 seconds after, again with Benzema assisting. The German midfielder had a perfect finish, with his backheel.
Madrid was awarded a chance to make a 3rd when Eden Hazard was fouled in the box. Sergio Ramos saw his first try being denied by Leganes goalkeeper, but VAR claimed the stopped moved too early. Ramos repeated it and this time he did not fail, to make it 3×0.
In the second half another penalty, this time Benzema was the one called to convert and he did not hesitate to score his 7th in 9 league games.
The last nail in Leganes coffin had Jovic's signature. The Serbian striker signed this Summer scored his first goal in a Real Madrid shirt.
Real Madrid is second, with one less game, the same as Barcelona, as both teams have a game delayed, where they will face each other.
Getafe 3 x 1 Granada
Curiously enough, one of the most awaited games of this matchday was Getafe against Granada. The latter were top of the league after winning their match last weekend and a victory would keep them on the lead for a couple more days, at least.
However, Getafe had other ideas and they demonstrated they are a very strong side at home, where they only lost once so far. Granada found themselves behind after half-hour of the game, with Angel Rodriguez scoring his 5th goal of the season for Getafe.
Even before the interval, Mauro Arambari anticipated to Rui Silva during a corner and doubled Getafe's advantage.
Granada in the second half suddenly woke up and had several chances on target, but they only scored once, at the 75 minutes, through Antonio Puertas. However, when they were still searching for the equalizer, David Timor imitated Messi with a perfect free-kick and ended the visitor's hopes.
3×1 for Getafe and Granada falls from 1th to 5th place. It was fun while it lasted.
Deportivo Alaves 1 x 1 Atletico Madrid
Atletico Madrid had a perfect opportunity to slide into the top 3 with Real and Barcelona, yet, once again, they did not take it. They drew away against Deportivo Alaves and are now 4th, tied in points with Granada.
Simeone's men seemed like they would wrap the 3 points when Alvaro Morata broke the deadlock in the minute 70. Atletico could have doubled their lead, but Alaves keeper Pacheco denied the goal to Morata and then to Correa.
They were punished with the equalizer when Lucas Perez lobbed effort found the back of the net. There was nothing Oblak could do, it was a supreme finishing.
It ended 1×1, with Alaves climbing to 8th place.
Valencia 1 x 1 Sevilla
In the Mestalla, two of the common outsiders of the La Liga table, Sevilla and Valencia, faced each other in the Mestalla. In the game preview, both coaches complemented each other, showing mutual respect and admiration.
Both teams were even on points, which made this game even more interesting. Sevilla went ahead first, at the end of first half, through Lucas Ocampos.
In the second half, however, Valencia leveled with a header from Ruben Sobrino, after a pinpoint cross from Parejo.
With this 1-1 draw, Valencia and Sevilla both have 10 points and are in 11th and 12th place, respectively.