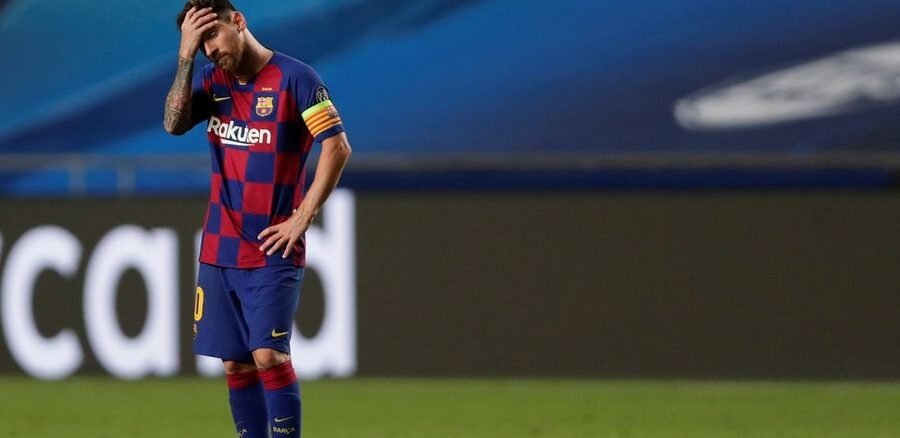 It would be an understatement to say that Lionel Messi sent the world's media into a meltdown with the shock announcement that he wanted to leave Barcelona.
Then, after a meeting between Barcelona's board and Messi's father (and agent) dust has settled and the Argentinian has even participated in some friendlies.
Allegedly he has agreed to play one more season, but it's not safe he will stay on the La Liga table for 2021/22.
So, there are still question marks about where he'll end up next. After a decade and a half with the Blaugrana colors, fans are still drooling at the sight of Messi playing on another league.
With that in mind, let's take a look at the five clubs where Messi might move in the Summer of 2021.
An Argentine homecoming
If anyone has been whipped into a frenzy over the news that Messi is on the lookout for a new club it's his old club, Newell's Old Boys. 
Their fans marched through the streets of Rosario begging for his return with so many joining in that they brought the city to a standstill.
Also on board is Alberto Fernandez, the Argentinian President. He has made it known he'd love Messi to return to the club whose academy helped make him.
Given the level Messi is still playing at, a return to his hometown seems somewhat farfetched.
It wouldn't be the first time the club has pulled off such a coup though with a certain Maradona once leaving Spain at the same age as Messi – 33 – to pen a deal with the Lepers.
Verdict: A long shot for sure but stranger things have happened. Family might weigh on this decision.
Backing down to the Barca board
At the beginning of this month, Messi staying with Barcelona looked a near impossibility. Not only he had expressed a desire to leave but the release clause that is causing the parties to disagree would lead to a legal tangle.
Throw into the mix that Messi had refused to report for training and you're left with a rather unsavory taste. Imagine how the Barca fanbase feels. 
That all said, La Liga backed up Barcelona on this one and after a meeting between all parties involved, Leo has allegedly accepted to stay another season. However, it might be his last one.
The Catalan giants would take him back with open arms and even increase his salary, but it might not be enough as Messi is tired of seeing the team being poorly managed.
Not only by consecutive bad appointments for the coach position (Valverde, then Setien) but by the transfer policy of Bartomeu that has seen things turn sour since the departure of Neymar.
If the Barca chiefs opt for a dramatic shake-up of their executive positions then never say never on seeing Messi pin up a new contract.
Messi has been with the club for 20 years during which time he's won six Ballon d'Or awards, bagged a sensational 634 goals, and won 35 trophies.
It's a legacy he might decide he doesn't want to tarnish, especially after the recent embarrassing exits in the Champions League (Roma, Liverpool, and Bayern Munich). 
Verdict: The longer the uncertainty lingers, the less likely a Barca stay becomes. The fans can keep hoping though.
Becoming an American Galactico?
If you're looking for a big name then there are few, if any, that are bigger than Lionel Messi. Inter Miami, David Beckham's MLS side, were tipped to grab a star name but it's yet to happen.
It's not the only area where things aren't going to plan for the former Real Madrid midfielder. Miami is currently rooted to the bottom of the MLS table of the Eastern Conference with just one win from seven games. 
David has already scooped two major signings on World Cup 2018 winner Blaise Matuidi and Messi's Argentina teammate Gonzalo Higuain. Both Juventus players could be an incentive for Messi to join and enjoy a comfortable retirement in Florida.
Inter Miami has the money to land Messi, they probably have a lot that would appeal to the little genius too whilst his signature would solve two big problems for Becks.
That being a global icon to further raise the profile of his club and some true quality in the pitch.
The one real stumbling block is something that only Messi could answer. Is he happy to walk away from Europe's big five leagues? 
Verdict: If Messi was a year older, this would have real legs. Seems a long shot at this time, but in 2022 perhaps?
A Neymar reunion
If the fact PSG play in a fairly uncompetitive league goes against them then the fact one of Messi's best friends in the game plays there might just rebalance the scales.
That friend is, of course, Neymar. The Brazilian played with Messi at the Nou Camp for four seasons as the club won three Spanish cups, two La Liga titles, and one Champions League. 
Some articles have muted the possibility of Neymar returning to Catalonia as part of a deal to land Messi. If anything though, Neymar leaving would turn Messi off a move.
Thomas Tuchel was asked about a move for Messi in the aftermath of PSG's Champions League defeat. He did little to extinguish the flames.
Messi would certainly listen if PSG came calling and they have they are probably one of few who have the finances to do a deal. It would assure a fat paycheck and the possibility to keep playing on the Champions League.
Verdict: PSG definitely want him. It's all about the sales pitch.
Joining the biggest league in the world?
There has been no hiding it. Pep Guardiola is desperate to have Messi in his squad once again. The reason why is obvious.
He'll take Man City onto another level in the Premier League table and make their Champions League aspirations a damn sight more likely to come to fruition.
Messi, like his former gaffer, is understood to be keen on renewing that working relationship. 
Along with PSG, City could make the numbers add up whilst they also hold the ace up their sleeves in the shape of their American outfit, New York City.
That means they'd throw a sickening amount of money at Messi but, if things went to plan, he'd guide them to domestic and European glory before jetting stateside to make the MLS explode into the mainstream.
The risk City has is that if things don't work out this window then it's plausible that Pep will be gone next summer. Then, Messi is might be available for free but he won't be interested in joining the club.

It all depends how Pep and City do during this season.
Verdict: Looks the most likely outcome IF he leaves Barca. 
There you have it, the five clubs where Messi might end up in 2021. For now, just stay tuned for another season of Leo saving Barcelona multiple times and probably falling short of any Champions League success.

Their transfer window so far has been quite a disappointing one, so don't expect any miracles from Ronald Koeman.