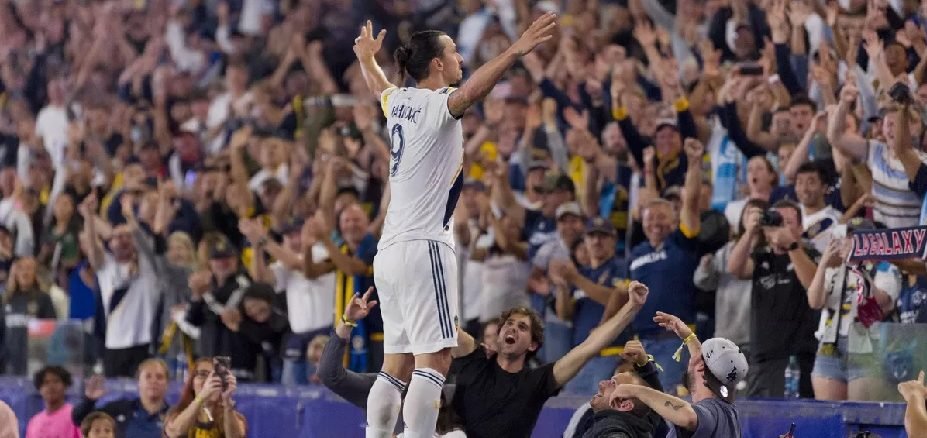 As the MLS schedule of the regular season is moving on, and the Playoffs are upon us, week 28 of the MLS provided a lot of soccer action, intensity, and excitement.
Conference leaders NYCFC, in the East, are fighting to bolt themselves to the top of the MLS table. They want to secure their playoff positions by widening the gap from runner ups Philadelphia Union. 
Others, such as San Jose Earthquakes,are fiercely battling for their place in playoffs.  All that and more, in MLS Week 28.
LA Galaxy 7 – 2 Sporting Kansas City
On the desperate hunt for the three points required to move above the playoff line, LA Galaxy hosted Sporting Kansas City on Sunday. Or, more accurately, destroyed their guests with an epic 7-2 win. 
The Galaxy came off a midweek 2-1 loss at Colorado Rapids, and Sporting KC lost 2-1 to Portland Timbers on Saturday night.  Nothing was prepared for the crazy soccer to show that Ibra and his crew gave on Sunday. 
Kansas City's Filipe Gutierrez scored the first and last goal of the match, but everything in between belonged to the hosts.  First, Gutierrez skilfully worked his way around LA defender Diego Polenta and scored from the center of the box (24'), but then the Galaxy went into overdrive. 
Zlatan Ibrahimovic took a penalty kick given after a Kansas handball.  It was saved, but Zlatan kept his composure and scored off the clearance (32'). 
Then Joe Corona headed in from the six-yard line, which was his first LA Galaxy goal (48'). 
Coming back from halftime, Ibrahimovic received a ball into the center of the box, battled two defending Kansas players, and scored his second goal of the match (51'). 
Galaxy's Uriel Antuna got hold of a ball after Sporting's goalkeeper Tim Melia went out for clearance on the other side and scored to an open net (69'). 
4 goals for Galaxy in 20 minutes
This still didn't stop the LA Galaxy's mission to destroy Sporting KC, and Sebastian LIetget scored for the hosts two more goals within a two-minutes (77', 79').
Zlatan Ibrahimovic then went for his hat trick, and with a powerful, precise shot from the upper-left corner of the box scored LA's last goal for the night (85'). A minute later, Kansas City's Felipe Gutierrez scored his second goal of the match (86'), which was a small consolation for the guests.
This set an LA Galaxy club-record of 26 goals in the MLS season, and Zlatan Ibrahimovic's third MLS career hat trick, which puts him on 26 goals this season.  Only 2 behind LAFC's Carlos Vela on the race for this year's MLS table Golden Boot Award.
NYCFC 2 – 1 San Jose Earthquakes
New York City FC hosted the San Jose Earthquakes at Yankees Stadium, after hosting Toronto at September 11th for a 1-1 draw. The New Yorkers extended their lead of the MLS Eastern Conference, and are now on a seven unbeaten game streak.
Visitors San Jose Earthquakes are ranked in fifth place in the Eastern Conference, by losing to Real Salt Lake on Friday had failed to produce crucial points in the race to the playoffs against fourth-placed Minnesota.
Chris Wondolowski put San Jose in the lead with a great goal from the center of the box (20').  This was Wondolowski 158th career goal and his 14th of the season.
New York's Keaton Parks scored his first MLS career goal, equalizing (40'), with a great dribble and then a pass that bounced back to him for Parks to score.
Shortly after, NYCFC's Alexandru Mitrita doubled the hosts' lead. He scored his own ninth MLS career goal (43') giving his team the victory.
Atlanta United 1 – 3 Columbus Crew
Columbus Crew, ranked almost at the bottom of the MLS Eastern Conference, have travelled on Saturday to third-placed Atlanta United's Mercedes-Benz Stadium. The teams met last in March at MAPFRE Stadium with Columbus coming out with a 2-0 home win.
Atlanta's Josef Martinez scored the first goal of the match (19') to put the visitors in the lead. However it all went downhill from there for Atlanta.
The hosts kept their scoring for the first half, and opened up a great display of soccer with Crew's Gyasi Zardes scoring the equaliser (53') with a top corner finish into Atlanta's goalkeeper Brad Guzan.
Luis Diaz scored the second goal and put Columbus in the lead minutes later (60').  And the hosts got their final say, with center back Miles Robinson snatching a clearance attempt from Atlanta's keeper Gozan to score the last goal of the night (85').
The last Eastern Conference playoff place
Chicago Fire is clinging to their playoff hopes as they are currently five points under the playoff line. They beat FC Dallas 4 – 0 at home on Saturday. 
Chicago's forward CJ Sapong scored two goals (7', 29'). His teammates Przemyslaw Frankowski and Nemanja Nikolic added their own two before halftime (16' and 39' respectively).
Just above the playoff line is New England Revolution, who missed a great chance for an impressive win against Orlando City SC. They got to halftime on Saturday with a 3-1 lead over Orlando (with Nani scoring Orlando's first goal). 
Within minutes of the second half, Orlando's Dom Dwyer scored his team's second (47').  It was followed shortly by Nani scoring his second goal of the match (54') – with a lovely piece of skill – ending the game with a 3-3 tie.
Carlos Vela returns but LAFC draws over Union
Philadelphia Union ranked second in the MLS Western Conference, hosted third-placed LAFC at Talen Energy Stadium on Saturday.  Philadelphia forward Kacper Przybylko scored minutes into the game (3'), with the counter-attack coming from Carlos Vela just before half time (43'), ending the game in a 1-1 tie. 
Notably was a great performance and especially a save from Union's goalkeeper Andre Blake.
Western Conference rivals battle for playoff place
Minnesota United hosted Real Salt Lake on Sunday at Allianz Field.  The Loons bounced back from a 2-0 midweek defeat at Houston Dynamo and won 3-1 against their Western Conference rivals. 
Guests Real took an early lead with Albert Rusnak's goal (17').  Still, Minnesota's Darwin Quintero replied with two goals (20', 51'). Ethan Finley finished it off with a late third goal for the hosts (83'). 
Minnesota United is now in third place in the MLS Western Conference with 48 points, trailed by Real Salt Lake at fourth with 46 points.
Sounders stronger than Bulls
MLS Western Conference second-placed Seattle Sounders hosted in CenturyLink Field the New York Red Bulls, who are ranked sixth in the East.  Seattle's Jordan Morris put the hosts in an early lead (2'), doubled by Nico Lodeiro (23'). 
New York's Aaron Long retaliated (27') and in the second half, the visitors equalized with Kaku's goal (67'), but the Sounders kept the pressure.
An own goal by Red Bulls midfielder Sean Davis (83') was followed by Sounders' Nico Lodeiro's stoppage-time finish (90+4'). The game ended with a 4-2 win for Seattle.