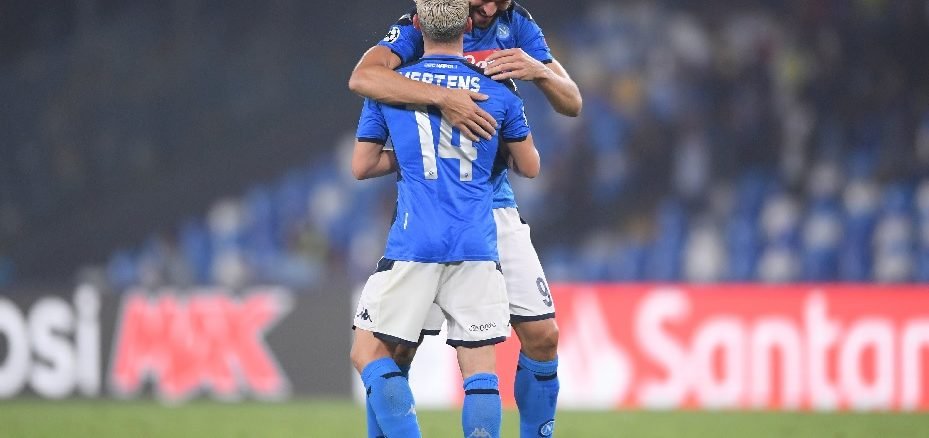 The Champions League group stage took off this Tuesday, with 4 of the 8 groups playing their first matches.
The groups and fixtures were settled in the draw that happened at the end of August. The games started with plenty of action, flashy young stars, late drama and the current Champions beaten in Italy.
Group E
Napoli gives a dose of reality to Liverpool
Group E contains the current holders of the Champions League trophy, Liverpool, along with Serie A runners up Napoli. The other two teams are Austrian champion Red Bull Salzburg and Belgian champions Genk.
Liverpool struggled against a fierce Napoli side. Even though they did not rest the usual starters, the players seem to have this season's focus on achieving the glory on the Premier League table.
Napoli seemed always the stronger side but they kept being denied by Liverpool's keeper Adrian. It was only at the last 10 minutes when Robertson took down Callejon in the area.
The ref pointed at the penalty spot and Dries Mertens put the club of Serie A table in front. What is bad, can get worse and after a misplaced pass by Van Dijk, Llorente took advantage and calmy put Napoli ahead by two.
However, last year Liverpool also lost to Napoli in the group stage. Is this a deja-vu?
19-year-old prodigy gives Salzburg a night to remember
Salzburg are the current Austria Bundesliga champions and they are having a tremendous start of the season. In 7 games, they won all 7, scoring an astounding number of 34 goals!
Most of the merit can be given to their new acquisition, 19 year old Norwegian wonderboy Erling Braut Håland. He has scored already 11 goals for the Austrian side in the league, plus a hat trick in the Austrian Cup.
This makes it 14 goals in 8 games! The bright young star was already on the headlines during the Summer. He scored 9 goals in a single match against Honduras, during the U20 World Cup.
If anyone had doubts about Håland, he eclipsed them in the biggest stage of all: the Champions League. A first-half hat trick for the Norwegian, plus two other goals from Szoboszlai and Hwang, put Salzburg ahead of Genk at halftime for 5×1. Jhon Lucumi scored the Belgian's consolation goal.
In the second half, the Tanzanian striker Samatta scored another one for Genk, but Salzburg's Ulmer would put the final nail in the coffin. 6-2 for Salzburg and Samatta would eventually get a second yellow and make the night even more terrible for Genk.
Group F
Slavia draws against Conte's Inter
In the so-called group of death, there are Inter Milan, Barcelona, and Dortmund, plus Slavia Praha. The Czechs are the outsiders, obviously, but they showed they did not come to sit and watch as they stood ground against the Nerazzurri.
In the Giuseppe Meazza, Antonio Conte's new Inter side was surprised at the beginning of the first half by a strike of Olayinka. The Nigerian who plays for Slavia made it 1-0 and the Czech fans who traveled to Italy were ecstatic.
Still, Inter resisted but had to wait until the last minutes to take at least one point from this match. Summer signing Nicolo Barella enjoyed a rebound from a free-kick taken by Sensi that hit the bar. 1-1, but Inter will have to do more if they want to battle with the big boys.
Marc Andre Ter Stegen saves a point for Barcelona
Meanwhile, in Germany, Dortmund hosted Barcelona in what was thought to be the game of the evening. However, neither sides were able to break the deadlock, with the protagonist being Barcelona's keeper Marc Ter Stegen.
Besides denying the goal to Dortmund a couple of times, Ter Stegen would save a penalty taken by Marco Reus in the second half. The game ended 0-0 and it is all open for both teams.
Group G
In the most balanced group of all, current Bundesliga table leaders Leipzig visited Benfica in Lisbon. Meanwhile, Lyon hosted Russian champions Zenit St. Petersburg.
Depay penalty gives a point to Lyon
In France, it was young Iranian star Azmoun, signed by Zenit from Rubin Kazan at the beginning of 2019, who stroke first blood. In a one-two combination, Azmoun beat Portuguese keeper Anthony Lopes and took the lead for Zenit.
However, just after the break, Depay would be tripped in the box and the referee pointed at the spot. The Dutch winger took the duty himself and established the equalizer and the final result: 1-1.
Werner humbles Benfica in Lisbon
In Lisbon, Liga NOS table champions Benfica faced a strong Leipzig team and they kept their poor European form. In the last two seasons, Benfica was only able to win 2 games in the Champions League group stages, both against AEK Athens.
They even held Leipzig for the first half, but Timo Werner would show why he is Germany's number 9 in the last 20 minutes of the game. With assists from Poulsen and Sabitzer, the Germans would be winning 0-2 within 10 minutes.
Benfica was able to reduce, through Seferovic, but it was another defeat in their European record.
Group H
In the remaining group of the evening, last year's semifinalists Ajax faced Lille at home. Meanwhile, Valencia traveled to Stanford Bridge to face Lampard's Chelsea.
Ajax shows Lille their Champions League experience
Being at the biggest stage of all isn't for everyone. Lille, who was runner up of Ligue 1 table last season, might be out of their comfort zone here. Ajax, leaders of the Eredivisie table, had an almost unstoppable run last year, can say otherwise.
They showed they were more comfortable against the French side and it took them 20 minutes to break the deadlock. Quincy Promes, who arrived from Sevilla this Summer, prove his value and headed it in, after a corner from Tagliafico.
In the opening of second period, it was another Ajax new signing who scored. Mexican defensive midfielder Edson Alvarez picked a pass from David Neres and made it 2-0 from a tight angle.
A couple of minutes later Tagliafico crowned an already impressive game, with a goal, heading in after a corner kick. 3-0 and Ajax is ahead in the Group after matchday 1.
Valencia surprise Chelsea in London
After the thrashing against Barcelona last weekend in the La Liga table, Valencia was tipped to be humbled by Chelsea.
The tension rose even higher for Valencia, as their players refused to attend the new coach's press conference. An act of solidarity with the former manager, Marcelino Toral, who was sacked last week in a debatable decision.
Meanwhile, Chelsea mauled Wolverhampton in the weekend and so the conditions seemed perfect for them to win the match.
Still, Chelsea seemed inefficient and it turned into a nightmare for Lampard after Mason Mount got injured after a challenge with Valencia's Coquelin. The attacking mid has been on fire for Chelsea lately and it might be a big blow for Frank Lampard to deal with.
Meanwhile, Valencia's new coach Celades operated a tight defensive plan that blocked most of Chelsea's attempts. Even though the Blues had 7 shots on target against Valencia's 2, it was the Spanish team who scored first.
Rodrigo would take advantage of a free kick taken by Parejo, to trick Kepa and place the first goal of the evening.
Barkley would have the possibility of taking a point from this game after a handball from Valencia's Wass got signed as a penalty. The English midfielder, however, sent it wide over the bar and wasted a crucial chance.
More action this Wednesday
Group A, B, C, and D play this Wednesday evening their matches of Champions League.
Stay tuned as Atletico hosts Juventus and Paris Saint-Germain faces Juventus at home.