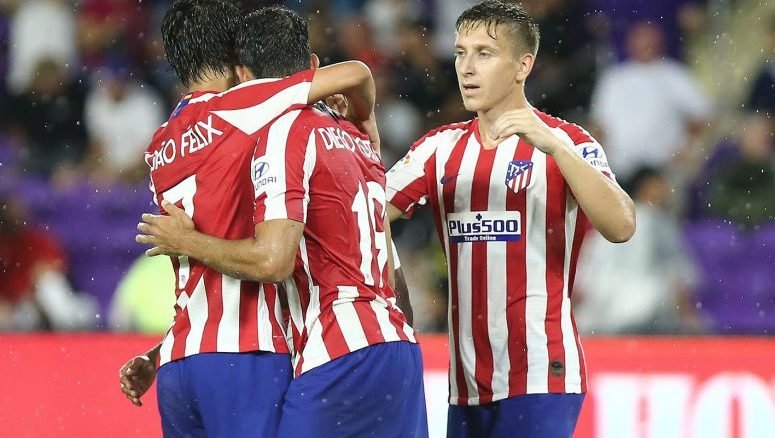 La-Liga giants Atletico Madrid came last night (Wed, July 31st) to Exploria Stadium, home of Orlando City FC, to face the MLS All-Star Team.  A late 8:00pm (ET) kickoff, soaking rain, the hot Florida weather and even the fact that it was a friendly match – nothing deterred the Spanish visitors from giving a soccer performance that will not be soon forgotten.
Although the country's top flight of the game, the American Major League of Soccer (MLS) is taking off and attracting many world stars, playing internationally against world-class soccer form around the world is a serious stepping stone for our relatively-young American league. 

Credits: Florida News
Be it a friendly match, American Cup, or an All-Star game as there is tonight.  Facing the world's leading clubs that have the game's biggest soccer players, game plans, budgets and decades of legacy and tradition – all have many important factors for the MLS. 
It's about drawing spectators from around the world to watch us, and see that American soccer is a force to be reckon with.  No less important, are the American soccer fans that are getting exciting games to watch and seeing their home-grown players and clubs competing at a whole new level. 
The MLS All-Stars hosted last night one of Europe's legendary clubs Atletico Madrid. Despite the MLS loss, it was still an amazing fight, just one of those nights of history in the making.
The MLS All-Star History
Amongst premier European soccer clubs that played against the MLS All-Stars (Roma FC, Bayern Munich and more), Atletico Madrid is only the second Spanish La-Liga side to face the MLS, with the previous Spanish club being no other than Atletico's hometown rival: Real Madrid (2017, with Real winning 4-2 on penalty kicks, with a game-ending in a 1-1 draw).
Last year's MLS All-Star game was against Italian Juventus, again ending with a 1-1 draw, which gave the Turin visitors a 5-3 victory on penalties).
The last MLS All-Star win against a European team dates back to 2015, with a 2-1 win over London's Tottenham HotSuprs.
MLS All-Stars: The Squad
The front of the MLS All-Star team wasn't short of stickers and forwards, both up-and-coming MLS players, as well as more experienced world-soccer names.
World-famous names: LA Galaxy's Zlatan Ibrahimović and D.C. United's Wayne Rooney, who faced Atletico Madrid several times in their past careers.
The MLS attack also brought Golden Boot winner Josef Martinez. The Venezuelan National who now plays for Atlanta United and scored last season a record-breaking 31 goals.
Another important part of the MLS attack is current leading goal scorer Carlos Vela (with 19 goals this season so far), who was also this year's captain.
And the squad also had Chris Wondolowski from San Jose Earthquakes, an MLS veteran with most league goals.
There were several playmakers in midfield as well, like Atlanta's tag-team Ezequiel Barco and Pity Martinez, Portuguese player Nani from Orlando City, Argentinian attacking midfielder from New York City FC Maxi Moralez (also leading MLS with assists), and Los Angeles FC's duo Jonathan dos Santos and Mark-Anthony Kaye.
And protecting at the back is top defensive midfielder Diego Chara from the Portland Timbers.
So as it seems, the MLS All-Star (and Orlando City) Coach James O'Connor had a lot of ammunition coming into this game. Unfortunately, that wasn't enough last night.
Atletico Madrid: Rolling on the Back of a Huge Victory
Atletico Madrid came into this game with a lot of momentum, and it sure showed. They were still riding on a fantastic 7-3 win against city arch-rivals Real Madrid in the International Champion's Cup last Friday.
Atletico's coach Diego Simeone played newly signed forward, Joao Felix who transferred from Benfica for a record €120M.  He is one of the top players to watch next season, as we highlighted in a previous article.
They brought to Orlando a well-drilled, powerful soccer machine.  Although dominating the field from early on, the guests scored their first goal only late in the first half, but it was sure worth the wait for 22,500 fans that came to watch. 
Rodrigo Riquelme sent a fantastic back-heel pass to Marcos Llorente, who scored the first goal for Atletico (1-0, 45'). 
It took a bit more playtime, but the Spaniards came back to haunt the MLS and doubled their lead with a second goal courtesy of the team's new star Joao Felix (2-2, 85').

The hosts wrapped up the night with striker Diego Costa picking up a long ball and scoring the final goal of the night in stoppage time (3-0, 90+3').
The MLS All-Star side did produce some opportunities, however, none came to a goal.
D.C. United's Wayne Rooney sent a long shot that unfortunately was too high over the crossbar (26').  LAFC's Mark-Anthony Kaye passed to Seattle Sounders' Nico Lodeiro who took a shot from a close range.  Still, it was denied by Atletico's goalkeeper Antonio Adnan (55').
There was also an opportunity for the MLS to put a point on the board later in the game, with LA Galaxy's Jonathan dos Santos setting up Atlanta United's Pity Martinez who had an opening from 16 yards, again with no result for the MLS All-Star team. The lack of team chemistry was noted and that surely impacted the All-Star team, compared with Simeone's Atletico.
From Orlando, Atletico Madrid will travel to Mexico to play against Atletico San Luis on Saturday (Aug. 3rd). On the following Saturday (Aug. 10th) they will be facing Juventus, again as part of the International Champion's Cup.
Meanwhile, do not forget to check the MLS table and the current MLS schedule to know when will the next matches happen.