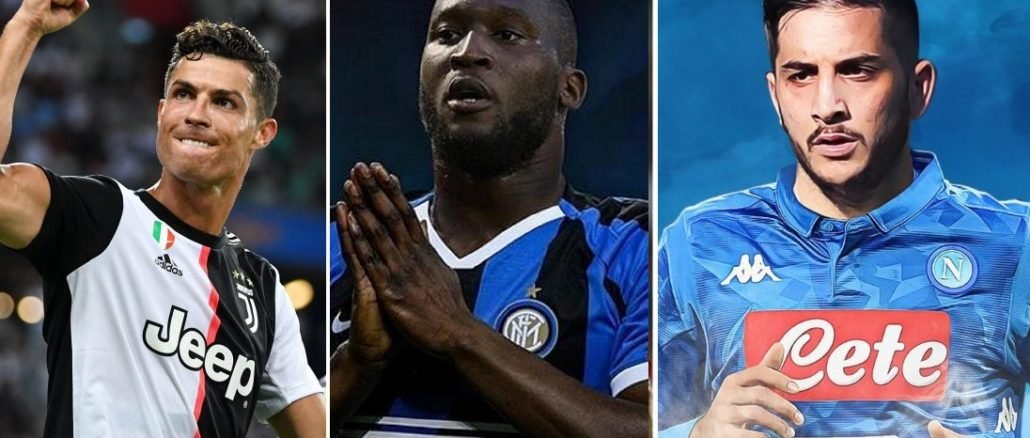 After all the major leagues started, the last one to take off is the Serie A. The Italian topflight starts this weekend and there are many things to talk about, with the arrivals of new coaches and star players. The expectations are high to see whether this is the season that Juventus are dethroned.
The Italian team from Torino had quite a bittersweet season. After they signed Cristiano Ronaldo, Mr. Champions League, they were tipped as favorites to win every major competition, but they only won one: the Scudetto, or Italian Serie A title.
It's the eighth year in a row that they achieved that feat and they did it quite easily, being 11 points away from the second-placed team – Napoli.
However, they were eliminated from Coppa Italia by the surprise team Atalanta – who will play Champions League this season after finishing 3rd in the league. Their run in the biggest international competition in Europe also ended quickly, in the quarter-finals, with other surprise team beating them: Ajax of Amsterdam.
So, since the Champions League trophy is quite a priority for the club – something they don't achieve since 1996 – Allegri got the sacking. This year a new coach, new players and a lot more to talk about in Torino marks another era in the club: will it take them to higher grounds, or will they fail miserably and let their opponents climb through?
Sarri takes charge of Juventus
After Maximiliano Allegri departed, Maurizio Sarri has stepped into the hot seat. The former Chelsea coach won the Europa League last season with the Blues of London and got the team to a third place. Still, this was the first title in a coaching career that has almost 20 careers, which raises some doubts of his profile to lead a club with such high standards as Juventus.
Plus, the fact that he coached Napoli for several years, being himself, Napoli born and raised, will certainly bring some backlash. Expect some tense environment, when the man gets back to San Paolo wearing white and black stripes.
The club has signed high profile players, with De Ligt being the most remarkable signing, arrival from Ajax for €85M. As the old saying goes, if you can't beat them, join them. In this case, Juventus signed one of the talented wonder kids of the Ajax team that eliminated them in Champions League, who actually scored a goal during that knockout fixture.
However, the center back isn't the only one to arrive this Summer, as the club brought Rabiot and Ramsey on free transfers to reinforce the midfield, as well as another defender Merih Demiral. The Turkish defender arrived from Sassuolo and will try to provide competition for De Ligt, Chiellini and Rugani.
Also, the inclusion of Gianluigi Buffon, who had departed last season. The Italian keeper and World Cup winner, who is 41, expects to close his career with the only title left for him: The Champions League.
Still, they made a bold switch move with Manchester City, letting go of promising fullback Joao Cancelo and bringing in Real Madrid flop Danilo, who was in the Citizens but never really broke through.
It's true that Danilo has played with fellow Juventus player Alex Sandro, in their early times in FC Porto, but is he the right man for the right-back position in a highly defensive league?
Juventus starts the Serie A schedule on Saturday evening, visiting Parma. Do you think the team has enough depth for another Scudetto and possibly a deep Champions League run, or will it be too much for Sarri to deal with?
Conte arrives in Inter to bring the club back to top
If Sarri move from Napoli to Juventus was strange, then what to say about former Juventus manager Antonio Conte who is now coaching Internazionale? Conte is back in Serie A for the 2019-20 season, and he will be hoping that he can guide Inter back to the summit of Italian football.
It has been a long six years for the Nerazzurri since their treble success under Jose Mourinho. During this time the club had fallen out of the Champions League and battled against UEFA Financial Fair Play Regulations, but last season saw the club enjoy somewhat of a reincarnation.
They competed in the Champions League for the first time in six seasons and they finished fourth in Serie A, securing another year playing in the major European international competition.
Conte is widely believed to be the man to take the club to the next level, and he has wasted little time in assembling his squad. He has been ruthless in his decisions and has stripped Mauro Icardi of the captaincy and told him to find a new club.
Besides, he also loaned Ivan Perisic to Bayern and Radja Nainggolan to Cagliari. Inter have also brought in reinforcements, in the forms of Diego Godin, free transfer from Atletico, and Nicolo Barella and Stefano Sensi. The two are young central midfielders who arrive from Cagliari and Sassuolo respectively and they will have experience in the league already, to help the club get forward in the Serie A table.
Of course, the most notorious signing so far is Romelu Lukaku, with the striker being the one signing that Conte has demanded throughout the summer. He costed €65M and, although he was not the best striker in Manchester United, Lukaku can be the goal poacher that suits Conte's style.
Inter could yet strengthen further and bring in another United outcast Alexi Sanchez. It remains to be seen whether the Chilean can rediscover any kind of form to help Inter this season.
The odds remain divided on Inter's chances, and fans will need to see them in action before judging whether they could actually mount a serious threat to Juventus. They will start their Serie A campaign only on Monday, against promoted side Lecce.
Will Ancelotti finally take Napoli into the spotlight?
For much of last season, it seemed that the appointment of Carlo Ancelotti in the hot seat at Napoli was going to lead them for a fight for the title. However, a run of three defeats in their last 12 league games derailed all the strong form that they had shown earlier on in the season.
The Italian giants will once again be one of the leading challengers this season. If they can replicate their first half of the season and fix the problems that occurred in the second half, then they would be able to mount a serious challenge for the Serie A title. Surely beating their former manager Maurizio Sarri must be an incentive.
Napoli has added strength in depth to their squad, especially with the arrivals of Kostas Manolas from AS Roma, for a fee of €36M. The highly-rated Greek defender is tipped as one of the fastest center backs in the world and he has said he moved to Napoli to fight for titles.
Meanwhile, they made the loan deal for young goalkeeper Alex Meret, from Udinese, a permanent move and they also signed one of the most talented players, North Macedonian midfielder Elif Elmas, for €16M. The 19-year-old used to play in Fenerbahce and he will probably build a solid partnership with under 21 Euro winner Fabian Ruiz.
Whether this combo between youth and experience will be enough it's a waiting game. Napoli is still waiting on other possible signings, with PSV winger Hirving Lozano being the most likely to sign in the next days. Besides that, James Rodriguez has been rumored to join the Serie A side, although the price tag asked for the Colombian from Real Madrid, has been an obstacle.
Ancelotti certainly has the pedigree as a manager to build a winning side in Naples as he has won domestic titles in Italy, England, France, and Germany throughout his career. However, bringing a first Serie A title to Naples for 20 years would certainly be one of his finest achievements and would the intense ultras of the club would probably raise him a statue.
Napoli debuts in Saturday, away against Fiorentina, in one of the must-watch matches of this weekend.
Who are the outsiders to watch out for?
AS Roma
It was a disappointing season for AS Roma last term, as poor early form ensured that a race for a Champions League place was out of their reach by Christmas. They were eliminated by Porto in the knockouts of the competition, meanwhile, which brought a sacking to their manager Eusebio di Francesco.
Claudio Ranieri salvaged a certain degree of pride and secured a Europa League spot. The Italian giants will be looking to build on this next season under their new manager Paulo Fonseca.
The squad is young, and the releases of Danielle De Rossi, Manolas and Steven Nzonzi have taken the average age of the squad to even lower. Fonseca's gamble on youth could spectacularly backfire, but it will be intriguing to see how he incorporates a youthful front three of Cengiz Under, Justin Kluivert and Patrick Schick in Serie A action.
They haven't brought any frontpage signings so far, with left-back Spinazzola arriving from Juventus for €29,50 and goalkeeper Pau Lopez for €23,50 from Real Betis. They also secured Diawara from Napoli, Veretout on loan from Fiorentina and this week another loan for Zappacosta, from Chelsea.
However, it is likely that this will be a season to rebuild for Roma, after the backlash of last season. This will be the first Serie A experience for Fonseca, after a couple of seasons in a pretty easy position at Shakhtar Donetsk, where he won the Ukrainian League and Cup for 3 seasons in a row. Impressive, but this is a different challenge.
ACF Fiorentina
There is a feeling in Italy that this is the beginning of a new era for Fiorentina. They endured a disappointing campaign last term as they finished in 16th position.
However, under the new ownership of Rocco Commisso, the club has made significant reinforcements over the summer and could be a potential dark horse in the race for a spot in the Europa League, especially considering the financial situation that AC Milan finds themselves in.
The most exciting arrival for the club has been Franck Ribery. Fiorentina battled hard for the Frenchman's signature and fought off a host of clubs for his services.
Ribery could have been sold on playing in Serie A, or maybe he will play a part in a new project that could take the division by storm. The club has also brought in Kevin-Prince Boating and Erick Pulgar on big-money contracts, and they will be a side to keep an eye on.
A combination of youth and experience, under the guidance of Vicenzo Montella, who returned to the club after already being in Florence between 2012 and 2015. At the time, Fiorentina got 3 seasons in a row the 4th place. Will it happen again?
AC Milan
It is obligatory to talk about AC Milan when we bring up Italian giants, but the Rossoneri aren't what they used to be anymore. Gennaro Gattuso almost led the club to a top 4 position last year, but ultimately he felt shortly and the team finished in 5th, 1 point away from their rivals Inter.
Furthermore, the club renounced to play in the Europa League due to financial issues and they will embrace this season to give it all for the top 4 spots. Gattuso gave his place to Marco Giampaolo, former Sampdoria manager.
After blasting the money on last Summer windows, Milan became quieter this one, making so far only 3 major signings. The one who ignites more attention is Lille's former starlet, Portuguese forward Rafael Leao. It cost them €25M and he arrived to replace Patrick Cutrone, who moved to the Premier League.

Theo Hernandez from Real Madrid and African Cup of Nations winner Bennacer, who used to play in Empoli are two of the other major signings. Bosnian midfielder Krunic also arrived from Empoli and they reinforced their backline with Brazilian defender from Flamengo Leo Duarte.
They might not be the AC Milan team we grew up to watch, with Maldini, Nesta and much more, but they are certainly not a team to underrate.
Atalanta
Gian Pero Gasperini has brought a new flair to the Bergamo side. They finished 3 consecutive seasons in the European places and last season they got even further and ended in the 3rd place of Serie A. This will grant Atalanta their first-ever appearance in a Champions League group stage.
It is possible that Atalanta B.C. will suffer from the heavy European calendar and they will likely drop in the table, so do not expect them to break into top 4 again. However, they kept their number 9, Colombian striker Duvan Zapata and he will continue to be a target man that defenses will fear.
Last season he scored 23 goals in Serie A and he also helped his team to defeat Juventus, on the way to the final of Coppa Italia. They lost to Lazio (0-2), but it was still a run to remember.

So far they have not lost any major players and yet they added attacking prowess to their squad with the inclusion of Luis Muriel. The Colombian arrived from Sevilla and he will make a proper 'Cafetero' duo with Zapata upfront.
The addition of Skrtel, former Liverpool defender, on a free transfer will also give experience and consistency to their backline. All in all, Atalanta will be one exciting team to see and we are all eager to watch them in their Champions League debut.
Who else are you backing up in this edition of Serie A? Do you think any other team will provide a contest for the top 4 places? Let us know in the comments below!