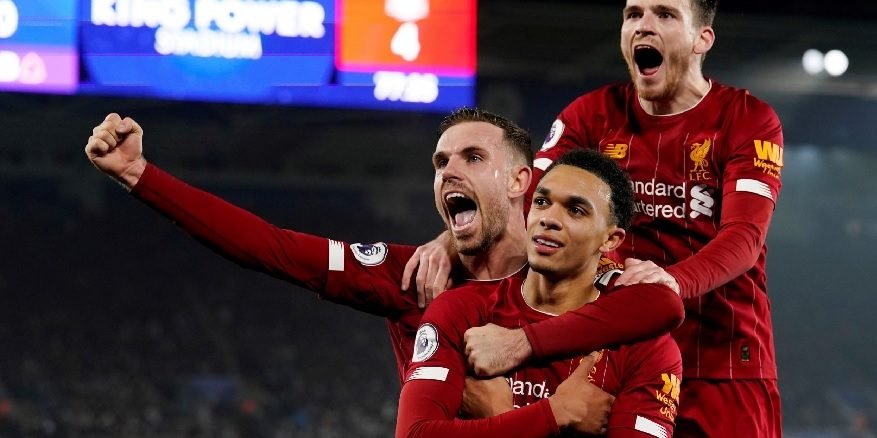 Updated: 8/19/2020
The long wait for Premier League action finally came to an end last week as the action in England returned. It took less than a week for Liverpool to finally clinch their Premier League table title, as Manchester City dropped the ball against Chelsea.
Liverpool had to wait 30 years to finally get their Premier League title. The Reds surely remember all the times they were inches close to lifting it: Gerrard's slip, Man City edging them last season on record points, etc.
The waiting came to an end as Jurgen Klopp got an almost immaculate record this season (besides a surprise defeat to Watford). 28 wins, 86 points, was all the Reds needed to confirm their Premier League title (the first since the English first division changed named).
Liverpool's crowning moment
As said, Liverpool wins the Premier League title (with that nomination) for the first time in their history. It will bring an end to 30 years of underachieving in the top-flight.
While achieving the feat behind closed doors may take some of the shine off the achievement, there will still be a huge sigh of relief that the Reds have finally gotten over the line.
Manchester City's victory over Arsenal meant that Liverpool would not be able to win the title against their arch-rivals Everton on Sunday. The Reds, anyway, couldn't go past a 0x0 against at Goodison Park.
The next matchday, however, the Citizens dropped points against Chelsea. The Blues were somehow responsible for Liverpool title loss some years ago, during the famous Gerrard slip. In some way, it's quite poetical that they redeemed themselves 'offering' the Reds their spotlight moment.
Pulisic and Willian sealed a 2×1 victory over Pep Guardiola's Manchester City.
Meanwhile, the Reds demolished Crystal Palace on Wednesday (4×0), with brilliant goals front Trent Alexander Arnold, Fabinho, Salah, and Mane.
There are still 5 games to play, but with 23 points of distance, the Reds can not be caught. Pep's City will still have to play Liverpool at the Etihad, a game happening next Thursday.
The fans of the Reds were probably eager to make a parade and celebrate a title they were waiting for 30 years. However, due to the restrictions imposed by the COVID-19, it will have to wait.
Liverpool can still get a record of points if they win the 5 games remaining. They can end with 109 points and break the record that Guardiola and City set in 2017/18 (100).
However, now that the Premier League title has been delivered, what should Premier League fans expect to see over the remaining games?
Top four battle in the Premier League table
The battle to finish in the Champions League places will be one of the biggest issues that took place over the restart weekend. Manchester United traveled to north London on Friday to take on Tottenham Hotspur, with the game ending 1×1.
United later got a confident victory over Sheffield United (3×0), while Spurs have beaten West Ham (2×0). Spurs hopes of a top-four finish are still hanging by a thread, while United remains 6th, 6 points away from Chelsea.
Chelsea, probably motivated by their latest signings of Ziyech and Timo Werner, are in great form. They started with a comeback win over Aston Villa (1×2) and then they beat last season champions Manchester City.
Just above Chelsea are Leicester City, who dropped points already. Two consecutive draws against struggling sides Watford and Brighton show that the Foxes might be in danger.
Finally, we got the other underdog who is surprisingly still in the race. Wolves (who just got promoted last season) have 2 points less than Chelsea. They played one extra game so far, but have impressed on their return to action: 3 wins in 3 games.
Will Nuno Espirito Santo team get the extra mile and secure a Champions League place?
Which teams will be relegated to the Championship?
Restarting the season strongly will also be the target of the sides locked in the relegation battle at present. Aston Villa's point against Sheffield United moved them to within one point of Bournemouth, but they lost 4 points in the 2 following games (draw to Newcastle, defeat to Wolves).
Norwich City seems to be confirming their relegation soon, as the Canaries lost their two first return matches. Now with 21 points, they will need a miracle to avoid dropping back into the Championship.
Bournemouth seems determined to join them. The Cherries lost both games since their return and they still have difficult matches ahead against Man United, Spurs, and Arsenal.
The other contender for relegation is West Ham, who have been dreadful since the Premier League came back into action. They still have games in hand against Manchester United and Chelsea, although the matches against Norwich City and Watford seem a good opportunity to run away with some points.
Meanwhile, Brighton & Hove Albion still aren't safe besides being five points ahead. The victory they clinched against Arsenal left them safer and they drew their following match against Leicester. The Seagulls shall be safe if they continue their positive results throughout the final 5 matches.
Finally, just above Brighton, we have Watford. Looking at how Watford barely won any points in their opening 12 games, the fact they are now above the relegation line is worth an applause. Also, they were the only team who have been the now Premier League champions (Liverpool).
Nonetheless, the Hornets only got 1 point in the 3 games so far. They got 4 games remaining: Chelsea and Man City are in the calendar, but games against Norwich and Newcastle will be their highest opportunities to clinch the points needed.
Who are you backing up to drop? Who will survive by the edge of their fingers in the Premier League relegation race?
If you are a Liverpool Fan, don't forget to take a look at the top 25 subscription boxes for sports fans. Have you heard about the Kopcrate? It's any Scouser's dream!