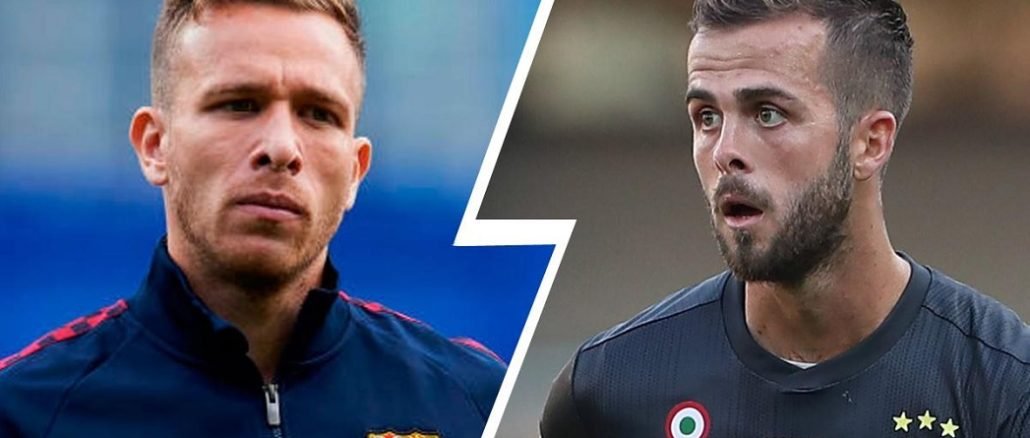 The rumors seemed to grow during the last weeks, as a swap deal between Barcelona and Juventus was said to be on the cards. This Monday both teams confirmed that Arthur will play next season for Juventus in Serie A table, while Miralem Pjanic will play in La Liga.
However, this is not a direct swap, as Juventus paid €70m for the 23-year-old Brazilian midfielder. Meanwhile, Barcelona paid a fee of €60M for the Bosnian maestro. In total Barcelona profits €10M: but was it really a win-win deal for both sides?
Arthur joined Barcelona in 2018, from Brazilian club Gremio, for a fee of €31m plus €9m in variables. During this period, he scored 4 goals and made 6 assists in 72 appearances.
Meanwhile, Pjanic has been in Torino for 4 seasons, joining in 2016. He made 170 appearances and scored 22 goals.
Who is Arthur Melo?
Let's start by analyzing who is the 23-year-old Brazilian midfielder that Juventus just signed. Born in Goiania, Brazil, Arthur began his career in Goias FC, before being recruited by Gremio youth scouts in 2010 (he was 14).
He had his professional debut when he was 19, in 2015. Arthur was promoted to Gremio's first squad by former Chelsea manager Luiz Felipe Scolari.
In 2017 he impressed in a Copa Libertadores game, making 40 passes with a 100% success rate. Due to his passing ability, he got some comparisons to Iniesta, and Xavi and interest from Barcelona arose.
He joined the Catalans in 2018, becoming a regular in the first team. The highlight of his time at Barcelona was probably the amazing 25 yards goal against Villarreal.
Looking at stats, Arthur continues to show the passing accuracy that made him alert the interest of Barcelona two years ago. This season he has a pass success percentage of 91.3%.
However, he doesn't add much defensively, averaging 0.8% tackles per game and due to his height 1,71m, he won't pose a threat in the aerial duels. He completes 1.5 dribbles per match, but only 0.4 shots per goal and 0.6 key passes per game.
Maybe Arthur was not the right fit for the style of Barcelona. He has only made 17 appearances this season across all competitions, completing the 90 minutes only 8 times.
Who is Pjanic?
Currently 30 years old, Miralem Pjanic was born in Tuzla, in Bosnia & Herzegovina (former Yugoslavia). Due to the Bosnian War, Pjanic grew up in Luxembourg and started playing football in local club FC Schifflange 95.
His talent was not overlooked by youth scouts and he was recruited by French club Metz to join their academy in 2004 (he was 14 years old). It took him 3 years to make his professional debut in Ligue 1, in a league match against Paris Saint Germain.
Despite making 32 appearances in the 2007/08 season and scoring 4 goals, Metz was relegated to the French second division. Pjanic, however, stayed in Ligue 1 as Lyon signed him in the Summer of 2008.
He made 90 appearances and scored 10 goals during two seasons at Lyon. He wore the number 8 shirt, which was previously held by club legend Juninho.
He attracted the attention of many clubs after consistent performances as a playmaker. It was Roma who made the deal for €11 million. The Giallorrossi nicknamed him "il Piccolo Principe" ("the Little Prince") and Pjanic developed a close relation with club legend Francesco Totti.
For 5 seasons he played at the Olimpico, making 127 appearances and scoring 27 goals. Juventus would scoop the Bosnian international in 2016, paying €32 million.
In Juventus, he won the first titles of his career: 3 Serie A titles, 2 Coppa Italia, 1 Supercoppa. He played 116 matches with the 'Old Lady', scoring 15 times.
Who is the winner of this deal?
Pjanic has played 22 games this season for Juventus. He scored 3 times and made 2 assists. His passing accuracy is similar to Arthur's (89,9%), something that shows he will likely be an easy fit into Barcelona's style.
Defensively he is much more reliable than Arthur: 1.5 tackles, 1.4 interceptions, and 1 clearance per game. He is slightly taller than Arthur, but don't expect him to win the aerial duels.
In offense, Pjanic makes 1.3 key passes, but only 0.9 shots on target. Miralem might struggle in Barcelona if the Blaugrana fails to sign a striker this summer, as he won't have such target men to deliver the ball as he had in Juventus (Ronaldo and Higuain).
What makes it odd here is the age gap. Pjanic is 30 years old and Arthur is 23. In the long future, even if Arthur disappoints at Juventus, it is still believable that the 'Vecchia Signora' will find a way to resell the Brazilian and cash some profit.
Meanwhile, Pjanic is unlikely to pose any profit to Barcelona, as he is getting into his declining years already. Besides that, with the exit of Arthur, the average age of the Catalan side is worrying.
Barcelona aging factor
Quique Setien already made headlines when he assembled the oldest lineup in the history of the club (30.7 on average). With Pique, Messi, Jordi Alba, Busquets, Vidal, Rakitic, and Suarez all over the age of 30, it will be interesting to see if Barcelona will rejuvenate during this transfer period.
The criticism grows every day among supporters and the La Liga table placement does not help. Barcelona drew 2 of their last 3 matches and they see Real Madrid isolated in the 1st place.
One manager was already let go this season and it didn't seem the change made much difference. Is it really the coach's problem or someone else in Barcelona's staff should go?
Our verdict is that Juventus looks to be the winning side in this deal. They get a young player for a considerable cheap fee, getting a replacement for an aging one. Do you agree? Let us know in the comments below.