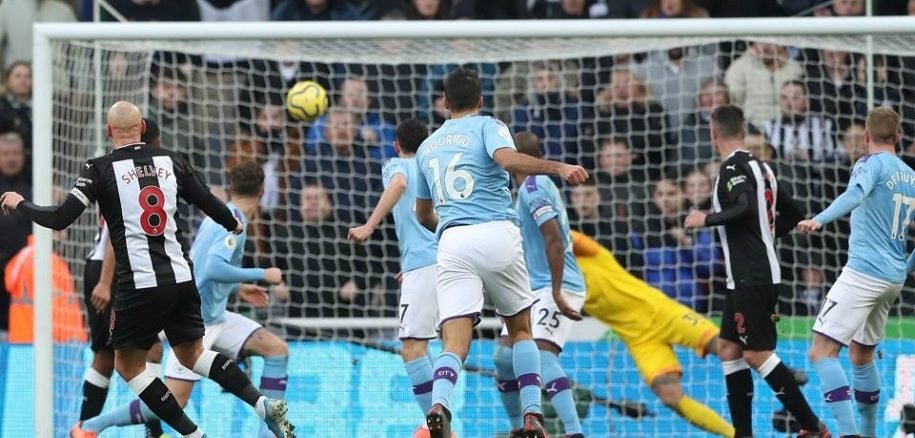 With more than a third of the games played in the current Premier League season, Liverpool is 8 points isolated from second place, Leicester City. Meanwhile, Manchester City got further in the race as they drew against Newcastle United in a game with heavy emotions till the end.
Chelsea also dropped points, getting their second consecutive defeat, in a surprise home loss against West Ham. And in the first Arsenal game under Freddie Ljungberg, the Gunners once again evidenced defensive limitations and extend their streak without winning to 8 games.
All this and more in the Premier League round-up of matchday 14.
Liverpool 2 x 1 Brighton & Hove Albion
The only unbeaten team in the Premier League so far, Liverpool, hosted Brighton on Saturday trying to extend their winning streak.
 It seemed like a fairly easy task, when Van Dijk fired twice in the first half, responding to set pieces taken by Trent Alexander Arnold. Two goals in the space of 5 minutes and both of them almost identical.
However, in the last quarter of the match, the game got unexpectedly complicated for the Merseyside Reds. Firstly with Alisson coming out of the box and touching the ball with his hand.
The illegal challenge was punished with a straight red card and his substitute in goal, Adrian, saw immediately Lewis Dunk scoring from the subsequent free-kick.
With 10 men, Liverpool kept themselves steady in front of the Premier League table and enlarged the distance to Manchester City to 11 points.
Manchester City 2 x 2 Newcastle United
The only way to answer to a belter winner is to stop it with a belter equalizer. Newcastle battled through to conquer a point at the Etihad as they came back twice and dragged the Citizens further away from the title race.
It looked like a calm afternoon for the visitors, as the Magpies were down to 1×0 in the opening 20 minutes. Raheem Sterling responding to great work from David Silva, that ended with a backheel assist.
However, St. James Park went in euphoria as Jetro Willems scored to equal the result. The fullback only goal before had been against Liverpool, so its fair to say he is a man to the occasion.
Dubravka kept the score leveled with two fine saves, but there was nothing he could do when Kevin de Bruyne fired a long shot volley. The Belgian might have scored the goal of the season and it would be a worthy winning goal, but Steve Bruce's men had time to redeem themselves.
A cheeky combination between Atsu and Shelvey, that ended with the latter firing also an incredible effort from outside the box that surprised Ederson.
A game that certainly pleased neutrals, but for Guardiola's men the hopes for a third back to back title are fading away.
Chelsea 0 x 1 West Ham
After 6 consecutive wins in the league, Frank Lampard's men were defeated in the last matchday to Manchester City. It was expected the Blues to come back and show why their excellent form of October and November, but they disappointed against a struggling West Ham side.
Chelsea barely created any danger in the first half and the most dangerous play came from West Ham's Michail Antonio, safely defended by Kepa.
The second half started with a goal from the Hammers, as Aaron Cresswell left young Reece James confused and flicked past Kepa. West Ham's left-back had already scored in the victory against Manchester United.
They could have doubled their lead, but Kepa once again saved the worst scenario by pushing away Snodgrass' header. Later on, it was the VAR who denied West Ham their second, as Antonio had apparently used his hand to deflect the ball into Chelsea's net.
West Ham returns to victories, after failing to do so since September (2×0 over Manchester United). Chelsea drops to 4 and are further away from City and Leicester.
Leicester 2 x 1 Everton
It looked like Leicester's form would take a bump, when Everton visited them this weekend. The Toffees were desperately looking for a victory, as their manager, Marco Silva is hanging by a thread.
Richarlison's header put Everton ahead in the first half and iced Leicester's expectations of keeping up with Liverpool.
However, in an inspired substitution, Brendan Rodgers sent Kelechi Ilheanacho in and the Nigerian proved that this Leicester's team has depth. First, he assisted to Vardy score the equalizer.
Then at the last minute, he got isolated by Ricardo Pereira and scored the winner. VAR had to review, as it was deemed offside and it became the first time that the technology was used in the Premier League to validate a wrong offside call.
Leicester is now comfortable in second place, 8 points away from Liverpool, continuing their incredible season.
Norwich City 2 x 2 Arsenal
The week ended with another sacking in North London, as Unai Emery did not resist another defeat, a 1×2 against Eintracht Frankfurt in Europa League. The Gunners were also 7 games without a victory and the Spanish coach was understandably dismissed.
Freddie Ljungberg had the task to take charge as an interim manager. However, the former Arsenal manager saw exactly what he has to deal with as Teemu Puuki cruised through an astonishing incompetent defense, leaving the Gunners supporters in shambles.
Arsenal was awarded a penalty through a handball, but Aubameyang failed to convert, as Tim Krul jumped to the save. Despite that, the Gabonese had a chance to repeat, due to the Norwich players entering the box before the kick. In the second try, he did not blink and fired through.
The goal did not bring tranquility, as Norwich jumped in front once again in their next opportunity. Once again, too much space and this time it was Cantwell to get it past Leno.
Aubameyang doubled his tally and equalized once again for the Gunners in the second time. They were able to hold the result, even though a ball to the post made some fans shiver.
Besides taking a point, Arsenal is still doing insufficient work and are now 8 games without a win. They are the only Premier League team that has not won a game in the last 5 matchdays.
Aston Villa 2 x 2 Manchester United
Another team that is struggling is Manchester United and pundits are already predicting how long it will take for Ole Solskjaer to get the sack. The Red Devils lost again an opportunity to get the 3 points as they conceded a draw against Aston Villa.
To be fair, Aston Villa had a fairly good game and their captain, Jack Grealish, was under the spotlight. The midfielder put the Villains in front with a wonderful lobbed strike.
Before halftime, a good set-piece combination by United would leave Rashford alone to finish with a header.
In the second half, Lindelof joined the attack and jumped higher in the left post to put the Red Devils in advantage.
Still, United would end up damaging the comeback with a woeful defensive mistake, leaving Tyrone Mings alone to finish in front of De Gea. United have drawn their last 2 games and are 9th, below Arsenal.
Tottenham 3 x 2 Bournemouth
Jose Mourinho's first league game in charge ended up being the same scoreline as the previous one against West Ham. Besides the late goals from Bournemouth, Jose has now 3 victories in 3 games (2 in the Premier, 1 in Champions League).
Spurs scored early again through Dele Alli, who seems reborn under Jose Mourinho. The English midfielder got the best of Son's pass, with the Korean receiving the ball from a long through-ball of Alderweireld.
In the second half, same recipe: Toby Alderweireld found Dele Alli and the midfielder swung through his second. There was still time for another goal, as Son's cross found Moussa Sissoko and the French international finished his first goal of the season.
Bournemouth still got 2 goals back, with Harry Wilson scoring both: first through a free-kick, then taking advantage of a loose ball in the box.
Mourinho's side had a tight final result for such a confident exhibition, but they are now in 5th place, when they were in 14th before the Special One arrived.
Wolverhampton 1 x 1 Sheffield United
After confirming their passage to the Europa League knockout stages on Thursday, Wolves had the task to face the surprising side of Sheffield United. The Blades were in 6th, just behind their opponents, so a victory would make them switch places.
Wolves' luck seemed to have run out when Lys Mousset opened the score within the first 2 minutes. They had a chance to level it minutes later, but Dean Henderson proved why he is one of the best keepers in the league, with a fine intervention to Jimenez's header.
Then it was time for Patricio to deny Sheffield's second twice before captain Matt Doherty equalized for the home side.
Wolves are 9 games unbeaten and Sheffield 7. They dropped to 6th and 7th respectively, but they will present a challenge to Spurs and other competitors.
Burnley 0 x 2 Crystal Palace
Following 3 consecutive defeats, Roy Hodgson's men finally got back to winning routes, as they visited and defeated Burnley.
Zaha opened the score at the end of the first half, squeezing a shot through the hands of Nick Pope.
They doubled their lead through Schlupp, after a defensive mistake of Burnley's captain Ben Mee.
Palace equals Burnley on points, as both teams sit just at midtable.
Southampton 2 x 1 Watford
In a battle among strugglers, Southampton hosted and defeated Watford. The Hornets remain bottom of the league with a single victory in 14 matches.
Watford actually got themselves an early goal, when Ismaila Sarr finally scored his first goal of the season. The Senegalese were brought in Deadline day from Rennes, but he has failed to hit the back of the net.
Sarr could have doubled it minutes later, but McCarthy stopped it with a fine save.
Southampton took until the last quarter to finally be able to break Watford, when Djenepo's run found Ings to finish at the mouth of the goal.
Just 5 minutes later, Ward-Prowse established the comeback converting a free-kick.
Following another defeat, Watford decided to let go Quique Flores, their second manager this season. They had already sacked Javi Gracia in the early season and following 12 unsuccessful matches, Quique Flores also leaves the club.
Watford are now more and more relegation candidates and they need a savior to avoid dropping to Championship.
The Premier League schedule returns already this Wednesday, with the Merseyside derby between Liverpool and Everton. The matchday 15 will be played midweek and we will be on top of it.