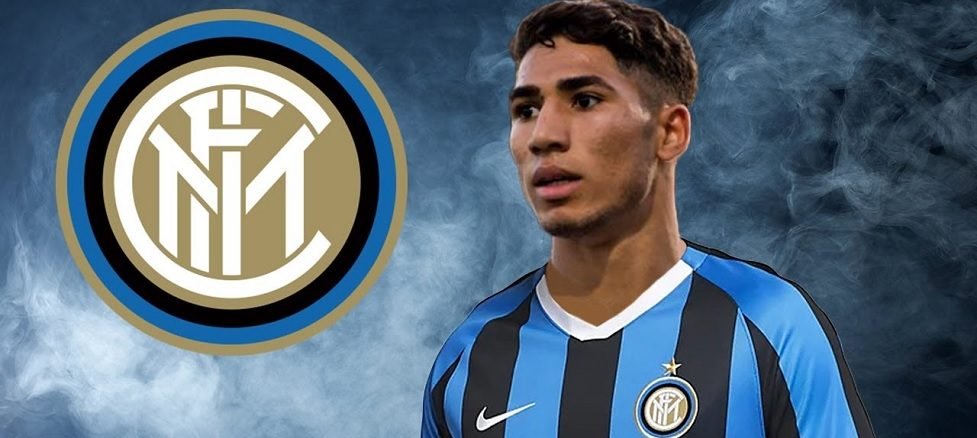 Borussia Dortmund's loan deal with Achraf Hakimi ended this Summer and the Moroccan already has a destination. Hakimi is moving to the Serie A table, where he will play in Inter Milan.
Inter signed the player from Real Madrid, who had loaned the player during the last 2 seasons to Borussia Dortmund. The fee involved is allegedly €40M and Achraf signed a 5-year contract with the Nerazzurri.
A versatile fullback who can also play as a winger or as a right midfielder, Hakimi has been brilliant this season. He scored 5 goals in the Bundesliga and 4 in the Champions League and has also assisted for 10 times.
This is the first signing for Antonio Conte, who will continue coaching Inter next season. The 'Nerazzurri' might also be close to signing promising Italian maestro Sandro Tonalli from Brescia.
Who is Achraf Hakimi?
Born in Madrid, Spain, to Moroccan parents, Hakimi joined Real Madrid youth squad when he was just 8 years old (2006). He rose through Real Madrid Castilla – the academy team of 'Los Blancos' – until he finally had his debut in 2016.
It was on a pre-season friendly against PSG, but it would take another year for Hakimi to be a regular in Real Madrid's first team. He would become a backup fullback option for Carvajal and Nacho.
In 2018, following Zidane's and Cristiano Ronaldo's departure, Hakimi was sent to Borussia Dortmund on loan. On the Yellow Wall, usual runners-up of the Bundesliga table, Hakimi showed why he is one of the brightest talents in today's football scene.
He scored 12 goals in 67 appearances for Borussia Dortmund, across all competitions. It includes 4 in the current edition of Champions League). Considering he plays mostly as a fullback/right midfielder, his offensive awareness is an outstanding feature.
However, as most people were expecting that he would return to Real Madrid when the two-year loan deal ended. That didn't happen.
Instead of being a sub to Carvajal in the Spanish capital, Achraf will likely be a starter for Antonio Conte's team.
The Morocco international was not ungrateful to the club who hosted him in the last two years and left a heartwarming message to Borussia Dortmund.
How will Hakimi fit on Inter Milan?
Achraf's work rate is incredible and he would honestly be any coach's dream player.
Hakimi makes 2 tackles per match, while at the same time making 2.2 successful dribbles. Also 1.3 shots on goal and 1.8 accurate long passes.
Finally, he also boasts an incredible pace. On matchday 20 of Bundesliga, versus Union Berlin, Hakimi achieved a record sprint of 36.20 km/h. A record whose previous holder was himself, after doing it before in December 2019, versus RB Leipzig.
The feat would incredibly be broken weeks later by Bayern Munich Alphonso Davies.
Still, it takes no merit from the Moroccan. It shows that Hakimi is a player with an incredible ability to track back and counter-attack with efficiency.
Conte has dragged Ashley Young to an advanced left midfielder, roaming through that flank. Hakimi will do the same job on the right, offering added pace than Candreva and Victor Moses. Plus, the 21-year-old is less injury prone than its competition.
Looking at how Hakimi can play on any position on the flank, he seems a perfect player to fit Antonio Conte's tactics.
A fan of playing with 3 center-backs, as he has done throughout this season, Conte strategy next season should continue in that direction.
What do you think of Inter Milan's signings? Who should depart this Summer? Who should Inter add to increase the squad's depth?