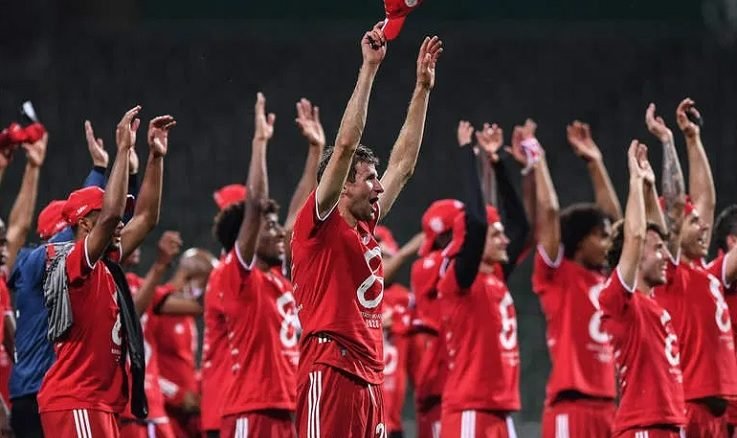 They have done it again. Even though they struggled during the early start of this season, Bayern Munich conquered their 8th consecutive Bundesliga table title. A 1×0 victory over Werder Bremen was enough to secure another championship, despite 2 games still being left to play.
The hero of this match was Robert Lewandowski. The Polish striker has been blasting goals non stop – even more than in the last seasons.
Jerome Boateng flicked the ball into the box with 2 minutes remaining in the first half, for Robert to score with ease.
We all know that Bayern's success in the Bundesliga turns the league boring for neutrals. As football fans, however, we do need to appreciate how they turned around a seemingly difficult season.
You may remember that in October 2019 the Bavarians were 5th in the league and they had just fired their coach Niko Kovac. How the Bayern board acted quickly to put the team back on track is a lesson to most clubs in the world.
Here are the top 5 key figures in Bayern's uprise.
5. Alphonso Davies
Canadian international Alphonso Davies arrived at Bayern in 2018, but only this season he became a regular on the team's choices. Kovac gave him a chance to start a match in October and his successor, Flick, also trusted the youngster.
Just 20 years old, Alphonso is a very versatile player who can play both at fullback or winger. His impressive stamina and blistering pace make him a threat to both attackers and defenders since he is capable of tracking back with ease.
At the same time, he causes damage every time he goes up front since opponents are unable to stop his acceleration. In fact, Alphonso registered 36,51 km/h in the game versus Werder Bremen, which is a record in the Bundesliga.
Bayern was missing a player with this quality and energy and their growth since the constant inclusion of Davies on their starting XI is noticeable.
Davies makes 2.4 tackles per match, 1.1 interceptions, and 1.1 clearances. In offense, he averages 3.7 successful dribbles per game and 1.3 key passes. He has scored 3 times and assisted 5 in this Bundesliga campaign, numbers impressive for a fullback.
Last season Davies might have celebrated the Bundesliga title without participating too much on the campaign. But in the 2019/20 season, his contribution to the title was massive.
4. Joshua Kimmich
Bayern is used to offer the world some quality defensive players, such as Phillip Lahm or Franz Beckenbauer. We can say, safely, that Joshua Kimmich is keeping the legacy of other Bayern legends, as he keeps growing every season.
Kimmich is an extraordinary versatile player. He can play in midfield, as a wing forward or as a fullback. Therefore, the fact that he scored 3 and assisted 7 this season is no surprise.
He has a pass accuracy of 89.9%, producing 2.3 key passes per match and sending 5.9 long balls. He also makes 1.6 tackles each game.
An overall machine, Kimmich is a player that unblocks the difficult matches, as we saw in his insane goal versus Dortmund (perhaps the matchpoint for Bayern on their Bundesliga title run).
Besides being a terrific player, he has a resilience that few athletes have nowadays. If Joshua stays with the Bavarians in the following seasons, we will be seeing him lift the Bayern captain armband faster than expected.
3. Thomas Muller
Muller has been a key figure in Bayern Munich's team since his debut in 2008. It seems he has been around forever, but you will probably be surprised to know the German forward is only 30 years old (younger than Lewandowski!).
Nonetheless, before the dismissal of Kovac and the arrival of Hansi Flick, the German was underperforming and there were rumors that a transfer was on the cards.
Those rumors look long gone, as Muller completed one of the best seasons in his career, beating the record of assists in the Bundesliga (21 right now). Credits will have to go to Flick, as he was able to squeeze back the best of Muller.
The forward's partnership with Lewandowski made him the highest goal provider for the Polish goal machine. Muller also scored 11 goals, but his conversion into a second striker shows an immense ability to read the game and understand his role in it.
Thomas made 2.5 key passes per match and he is dispossessed only 0.8 times per game. Furthermore, he also averages 1.4 tackles: a number that shows the work rate of the attacker.
Muller has now 9 league titles in his career, the same number as Ribery and Alaba.
2. Hansi Flick
The man who turned Bayern's tide midway through the season is Hansi Flick. The manager took charge when Niko Kovac was fired, as a temporary coach, but later was granted the full job (and rightfully so!).
Flick's secret to success is probably the fact that he knows Bayern Munich very well. Hansi played with the Bavarians for 5 seasons (1985-1990) and became an auxiliary coach in 2019. He understands Bayern culture and the players and team chemistry.
After his appointment in early November, Flick promised to make Bayern more aggressive with and without the ball. He said the team had to make sure they would trackback quickly when they were dispossessed and be more proactive.
The inclusion of players such as Alphonso Davies, as mentioned, was crucial. He also gave opportunities to other youngsters, such as Joshua Zirkzee (and the 19-year-old Dutchman answered with 4 goals in 8 appearances).
Bayern's current manager did not act ungrateful after being praised for the team's title. He showed gratitude to Niko Kovac for bringing him to Munich (as an assistant manager) and for the times they collaborated together.
He also aimed at winning the DFB Pokal Cup (Bayern Munich will face Bayer Leverkusen in the final on the 4th July) and the Champions League.
1. Robert Lewandowski
The man who takes most credit for another successful Bayern's campaign domestically is Robert Lewandowski. The Polish had to be the one scoring the goal that wins the title mathematically for Bayern, with a consistency that makes him the best striker in the world right now.
His goal versus Werder Bremen was his 31st goal of the season in the Bundesliga and his 46 counting all competitions. He leads the Bundesliga top scorer chart with a comfortable distance to the second-placed player (Timo Werner from RB Leipzig).
Robert's influence on the game is much more than goals. He averages 4.7 shots on target and wins 2.1 aerial duels. Besides that, he is a leader and the question left to be asked is: what will Bayern do in the absence of such an important figure?
Does Bayern need a backup striker?
The Bavarians might not need a backup striker, as Robert is a machine that is rarely injured, mostly due to his incredible physique. Nonetheless, in the case of missing Lewandowski due to an unexpected injury or booking, they might struggle to score goals.
That's why they should look for a backup striker in the summer transfer window. A young player with similar characteristics to Lewandowski would be ideal, capable of taking the place of the 31 year old Polish forward, once he moves away from the Allianz Arena.
We would be inclined to advise Bayern to see for Victor Osimhen, who we pointed to be one of the top talents to look out in Ligue 1 and the best Nigerian player right now. Osimhen is tall and fast and could learn a thing or two from a figure such as Robert.
Food for thought Bayern, but adding another striker could increase their chances of getting the desired Champions League trophy.
Nonetheless, Lewandowski's goal machine will be eager to continue next season and we wouldn't be surprised if he becomes a contender for the Ballon D'Or…
Final thoughts
There you have it, the 5 key figures that SoccerAntenna.com considers the most crucial for Bayern's 8th Bundesliga title.
However, we would also like to underline that yesterday was also a day to celebrate in Berlin. Union Berlin, who debuted in the Bundesliga this season, secured that they will have another season in the top flight.
A 1×0 win against relegation contenders Paderborn made sure they will continue playing with the big boys. Well done to Union Berlin and to their amazing fans!