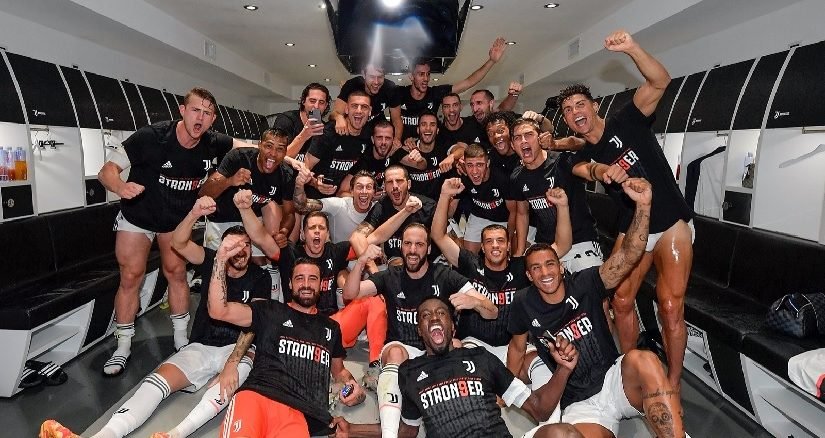 For the 9th season in a row, Juventus have topped the Serie A table. Their victory over Sampdoria, this Sunday, secured another Scudetto, the 36th in the history of the 'Vecchia Signora'.
Juventus could have celebrated on Wednesday against Udinese, but a late goal from Fofana postponed the celebrations. Then, they saw Atalanta drop 2 points against AC Milan and they knew a draw would be enough to confirm the title.
The victory over Sampdoria puts them 7 points clear of second placed team (who is now Inter) with 2 games still left.
Cristiano Ronaldo bagged another goal and is currently Juventus' top scorer, with 32 goals. He still trails behind Lazio's Ciro Immobile (34), who scored a hat-trick versus Hellas Verona.
How did Juventus became such a dominant team in Serie A?
Since 2011-12, Juventus won every single edition of Serie A. Bear in mind that the last champion before Juve's 9th titles was AC Milan (2010/11).
To put it in perspective, most of the players in AC Milan's usual starting XI that season have already retired. From that squad, only 5 players are still in playing activity.

Ibrahimovic (who returned to AC Milan), Robinho (İstanbul Başakşehir) and Thiago Silva (leaving PSG this Summer) are still playing professional football. Finally, Kevin Prince Boateng is in Besiktas and Alexandre Pato is playing for São Paulo in Brazil.
In fact, some of these players already became managers, like Seedorf, Inzaghi and the most successful one Gattuso.
Gattuso is now at SC Napoli after a spell managing the 'Rossoneri'. And yet, Juventus continues topping the table, no matter how the squad or managerial changes over the years.
No other European team in the top 5 leagues has had such a long consecutive run of titles, with Bundesliga champions Bayern Munich coming close with 8.
Yet, despite absolute dominance internally, Juventus fails to win a Champions League title since 1996. They have lost a total of 5 Champions League finals ever since, the last one in 2017 (4×1 against Real Madrid).
Right now their situation does not look favorable, as they need to overturn a first-leg defeat to Lyon. So, why does Juventus triumph in Serie A but can't achieve recognition in the biggest stage of all?