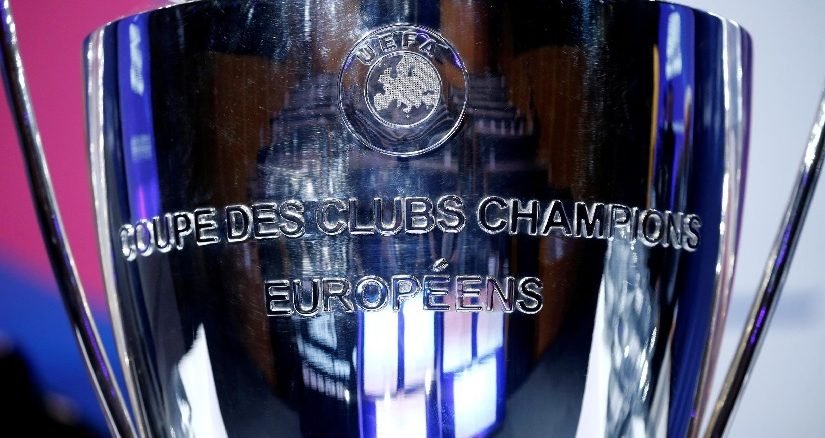 It's the biggest club competition in world soccer but even the Champions League is not immune from the pandemic that is coronavirus.
Thankfully, UEFA has confirmed that the tournament will be finished meaning someone will be named the kings of Europe.
That said, it won't be wrapped up in normal fashion. To start up with the final scheduled for Istambul was postponed to 2021.
This year the final, semifinals and quarterfinals will happen in Lisbon, at the home grounds of Liga NOS table teams Sporting CP and Benfica. The last game is supposed to happen at Estadio da Luz, on the 23rd of August.
Here is the complete draw of the competition:

Man.City/Real Madrid x Juventus/Lyon
Barcelona/Napoli x Bayern/Chelsea
RB Leipzig x Atletico
Atalanta x Paris Saint Germain
Where did we get to?
The first thing that needs addressing is what stage the Champions League was at before things ground to a halt. The answer is that some teams had only played the first leg of the round of 16 knockouts. This means the ties still need to be settled before genuine fairness can be restored.
The reason we say that is because those who were at home in the first leg have enjoyed a home advantage. Their stadium, familiar surroundings, and their fans.
This week UEFA has decided on the following: 'the remaining UEFA Champions League and UEFA Europa League Round of 16 second-leg matches will be played at the home teams' stadiums'.
So Real Madrid will host Manchester City in the Spanish capital, while Juventus receives Lyon (both European powerhouses trying to overcome first leg defeats).
Meanwhile, Barcelona and Bayern take Napoli and Chelsea, respectively, holding on to an advantage achieved in the first match.
The other factor sees the potential strengthening of squads over the period between first and second legs; take Barcelona for example. Napoli earned a 1-1 draw in the first leg but anyone can see that the return to fitness of Luis Suarez is a huge plus for the Spanish giants.
These small details can play a big role in the outcome.
Who has qualified and who will join them?
Let's cover who has already made it to the quarter-finals. Atletico Madrid turned in arguably the result of the last 16 to eliminate the holders (and now Premier League champions) Liverpool.
Another English side, Tottenham, were swatted aside by an impressive RB Leipzig 4-0 on aggregate. Now Simeone will have to test his defensive approach against an eagerly attacking Leipzig side.
Werner will want to leave a mark on his last competitive appearance for Leipzig, before moving to London.
Atalanta beat Valencia 4-1 and 3-4 to breeze through with an 8-4 aggregate scoreline. The only other team to know their fate for sure is Paris Saint Germain who overturned an away defeat to Borussia Dortmund to make it through.
The French champions will take the Italian side of the moment who scored 93 goals so far. Although they should be fairly rested as Ligue 1 never resumed, the lack of competitive football might influence it in favor of the underdogs.
The final 4 quarterfinalists
On the other side of the bracket, it is all to play for. The four ties still to be settled are all very much in the balance with the exception of Bayern Munich versus Chelsea.
The German side won 3-0 at Stamford Bridge meaning only a miracle will prevent them from progressing.
As mentioned earlier, Barcelona and Napoli are locked level. Neither side is in sparkling form since their respective leagues restarted, although Gattuso's influence has seen Napoli's game quality improve. Take your pick.
That leaves Real Madrid versus Manchester City with Zinedine Zidane's trailing 2-1 and Lyon versus Juventus. The Lyonnais take a somewhat surprise 1-0 lead into the second leg.
Despite trailing, you would be a brave man to bet too much against either Real or Juve coming back from such a narrow deficit. That said, Cristiano Ronaldo and co are more likely to turn things around compared to Real who will have their work cut out against a strong City side.
Don't take anything away from Real Madrid though: they have been in stellar form since the competition returned. Besides being ready to clinch the La Liga title, their captain Sergio Ramos is been having one of his best seasons (10 goals in 33 games for the center back).
The format explained
Where do we start with the revamped Champions League format? Well, once the outstanding second legs are sorted then it becomes much clearer. It is wildly different from usual though.
First of all, rather than having games staggered across a number of weeks and months the quarter-finals, semi-finals, and final will be played between the 12th and 23rd August. Whilst a complete change to what we're used to, most fans cannot wait for what should be a feast of top-class soccer.
When it comes to playing the games, they will all be one-off games in a straight knockout format (as opposed to two legs). All of the games will be played between two venues – Estadio do Sport Lisboa e Benfica and Estadio Jose Alvalade – in Portugal.
The first QF will be played on 12th August with the four ties played over consecutive days. After two days off, the semi-finals get underway. The first will be played on Tuesday 18th with the second semi played the next day. Then comes the grand finale, which will be played at Benfica's home ground on the 23rd.
What else has changed?
It's not just the schedule that has changed but don't worry. The other alterations are really just minor tweaks. Firstly, teams will now be permitted to make five subs during play compared to the usual three.
A further sub – taking the total to six – will be allowed during extra-time. It cannot be used as a time-wasting tactic though with the rules specifying that changes can only be made a maximum of three times (excluding the extra-time sub). A team would need to make more than one sub at a time to use the full quota.
On top of that, the matchday squads will increase from 18 to 23. This isn't unheard of in the usual Champions League format but is only exercised for the final in ordinary circumstances.
The other change allows teams to change their list of registered players. It's not a free for all though, there is still a limit on the number of players they can list and all players had to be registered domestically as of 3rd February. They are also only able to add a maximum of three new names.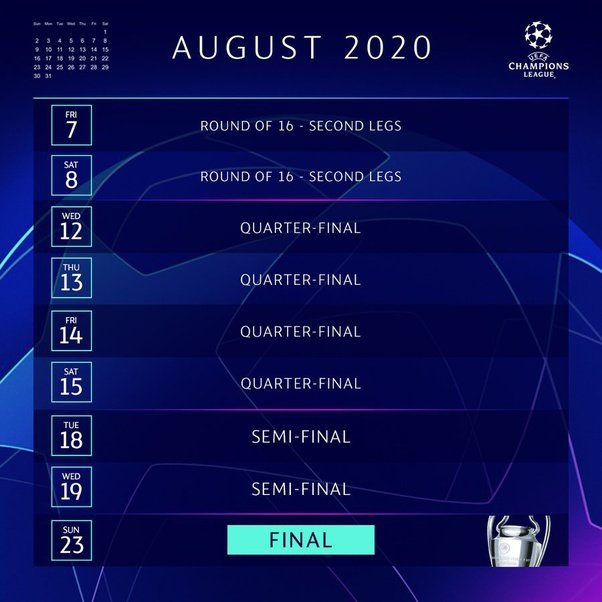 Who are the Champions League favourites?
If you look at the bookmaker odds then Manchester City and Bayern are fairly level pegging at the top of the odds. Barcelona and PSG are next on the list with odds then drifting out.
Take into consideration that neither Barca nor City is anywhere close to guaranteed to make it into the quarter-finals. PSG will only have played one competitive game – the Coupe de France final. So, by the time things get up and running then we suggest Bayern are the team to beat.
We mentioned in this article how Hansi Flick turned their season around and if Lewandowski goes all the way he might have a chance at the Ballon d'Or. However, Bayern has been put on the hardest side of the bracket.
We can say that a surprise Atalanta run to the final is not out of the equation. Although we believe Atletico Madrid will be the other challenger present in the final. A semifinal Atalanta vs Atletico would be a joy to watch: attack vs defense, an endless debate amongst pundits could be settled here.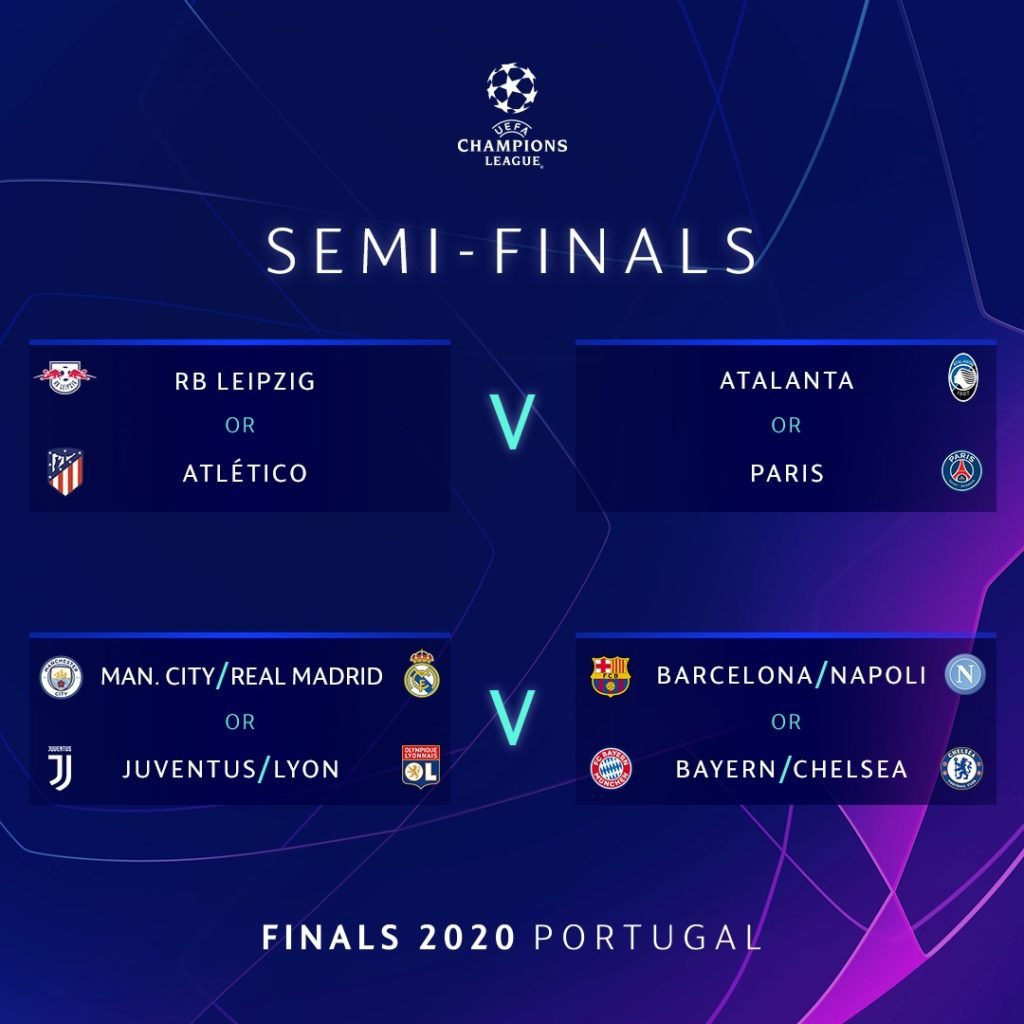 Even if you're not enamored with the new-look Champions League format, I think it's fair to say it will be one ride you won't want to miss.
Finally: what about the Europa League?
Do not worry if you are a Manchester United or Inter Milan fan, UEFA has not forgotten about the Europa League.
The draw was also made on the 10th of July and the final 8 teams will face in Germany, in a similar format as the Champions League. The remaining games from the previous round will be played on the teams's home ground behind closed doors.
Europa League final that was supposed to take place in Gdansk will take place in RheinEnergieStadion in Cologne. Duisburg, Gelsenkirchen and Dusseldorf will also host some of the competition's matches.
Are you excited for an August full of European football? Who you fancy to win each of the competitions? Who will disappoint? Comment below and subscribe to SoccerAntenna.com for weekly updates on soccer!