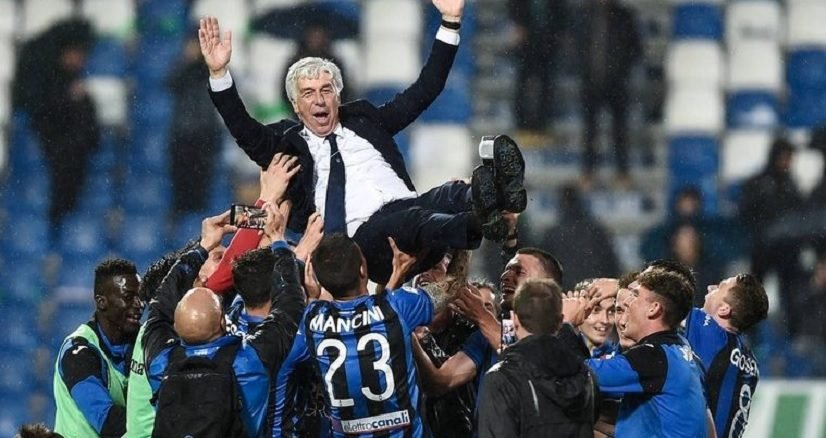 They are a joy to watch and every neutral fan's new Serie A team. Atalanta is currently runners-up in Serie A table and mathematically still capable of winning the Scudetto. They are are also in the Champions League quarterfinals, with a duel booked against PSG in August.
However, contrary to other one-season wonder teams (like the incredibly 2015/16 Leicester City season or Ajax's run to the Champions League semifinal), Atalanta has been consistently practicing the best football in Italy.
They finished in the top 6 for 3 seasons in a row, with Gasperini managing to finish 3rd last season and getting the team into the first UCL group stage presence ever.
Atalanta Bergamasca Calcio was founded 112 years ago, but so far their only piece of silverware is a Coppa Italia in 1963. They have been in the Serie A 59 times, with their last relegation happening in 2010.
Right now, Atalanta not only is second placed in Serie A, but they have a staggering mark of 93 goals in 33 games (an average of 2.8 goals per game). They have the second-best attack in Europe, just below Bayern's 100 goal mark (but the Serie A schedule hasn't finished yet!).
Nonetheless, their team is only valued in the 7th place among Serie A's teams, with a total market value of €266.50m. Just by comparison, Juventus tops the list with a team value 4 times higher (€620.70m).
In this article, we look under the sheet to uncover the secrets of success to this team. How they managed to producer a goal-scoring factory and how their project remains still, without the need to make huge sales or make expensive signings.
The coach: Gian Piero Gasperini
The biggest secret for Atalanta's uprise has been their coach, Gian Piero Gasperini. The former midfielder, who enjoyed his longest playing spells in Palermo and Pescara is behind the technical evolution not only of Atalanta but of the whole Italian Serie A.
Years ago italian football (il calcio), was mostly known for being overly pragmatic, closed, tactic. Results mattered more than exhibitions and although sometimes boring for the neutral viewer, it would bring some joy to fans.
Italy won the World Cup 2006 suffering only one goal in the whole tournament. They are home to some of the best defenders in the history of the game, such as Maldini, Nesta, Zanetti, and the only center-back ever winning the Ballon D'Or: Fabio Cannavaro.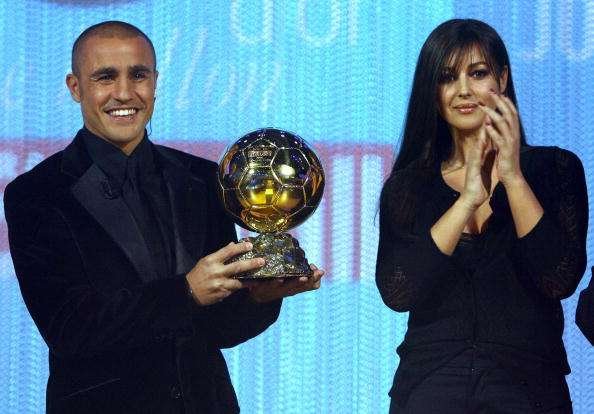 Nowadays, Serie A has changed and is more attacking minded. Teams like Atalanta, but also Simone Inzaghi's Lazio, have incredible dynamics and score on average more than 3 goals per game. The fans are delighted and so are the casual viewers looking for some excitement and attacking football.
Who is Gasperini?
Gasperini coached Inter Milan, Palermo and Genoa before he was assigned Atalanta's coach in 2006. His previous jobs did not go so well, with his time in Inter lasting 4 months (June to September).
However, since taking charge of Atalanta, he finished 4th, 6th, 3rd and it is currently in 2nd. Last season he won the Panchina D'Oro, that rewards the best coach of Serie A.
Meanwhile he took the Bergamo team to their first Champions League group stage presence, getting them all the way to the quarter finals (so far).
When asked about magical formulas, Gasperini said it was all about mental work. It's important to make the players believe that they can go beyond their limits and overcome teams who are chronically favorites in Serie A (Juventus, Napoli, Inter, AC Milan).
'Players who are not used to working hard scare', he said, during an interview by The Guardian.
Atalanta tactics explained
Gasperini's tactics involve a 3-4-3 where the midfielders overlap with the attackers, using a highly attacking targeted strategy. It's high risk and creates space whenever there is a mistake in the engine, but Gasperini managed to make it more and more perfect and reduce the number of errors by intensive training the routines.
Atalanta's game flows through the creation of many diamonds simultaneously through both flanks, from the defense to the attack. The midfielders need to be versatile to fit onto this tactic, as they make several positional changes throughout the game, confusing the opponent.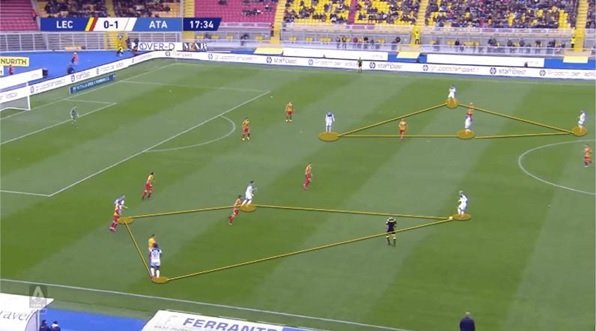 It makes man-marking, for example, nearly impossible as doing so would open space for another player to rush through.
Also, Gasperini allows one of the 3 defenders in the backline to join the attack often, creating a higher number of players in the attack, surrounding the opposition's box. That's why most of Atalanta's defenders have scored already this season: Toloi (2), Palomino (2), and Djimsiti (2).

The team based in Bergamo has a ball possession average per match of 58.09%, which is second in Serie A just below Napoli (58.91%). However, Atalanta has the highest chances per game created (average of 19), while Napoli is below with 18.3.
They are the team that creates more goals from open play (63) with the second one (Sassuolo) having only 47.
Atalanta plays with a high-risk offensive press and a very quick reaction to ball dispossession, through man-marking, with players covering empty spaces.
However, it is not the usual man-marking who leaves wide gaps behind, as we pointed out before. Instead, this individual marking ensures the players avoid being left on numerical disadvantage in situations, tracking back quickly when they don't have ball possession.
Key players in Atalanta
There aren't many singles highlights in this Atalanta team, as they function as a whole more than through individual qualities. It's the work ethic that Gasperini demands from his players that makes the difference.
Despite this, his tactical approach and technical intelligence would probably be wasted in a team without solid locker room veterans and inspiring figures.
The average age on the Italian side is 26.8, which comprises a perfect combination of experienced players and young talents. Josip Ilicic (32) and Papu Gomez (32) are perfect examples of that experience.
With discreet careers before their spell in the Bergamo team, the Slovenian and the Argentinian have 21 goals and 24 assists between them.
Papu Gomez
The captain Alejandro 'Papu' Gomez arrived in Atalanta in 2014 and became a cult hero for Atalanta fans ever since. Before he had spent 3 seasons in Catania and one in Ukrainian team Metalist Kharkiv.
The 1,68m Argentinian wizard 'Papu', as he is nicknamed, has an incredible influence in Atalanta's game. His stats this season: 1.8 successful dribbles per match, 2.6 key passes (including 2.1 successful through balls), and 2.5 shots on target.
His influence is not a one-season wonder thing, as he got awarded for most assists already in the 2018/19 season in Serie A. Possessing an incredible dribbling ability and shot finesse, 'Papu's versatility makes him the perfect player for Gasperini. He can play in midfield and attack and he is not afraid to track back and help the defense.
Josep Ilicic
The Slovenian attacking midfielder is one of those players who some would call underrated. Looking at his stats and consistent performances, you might be wondering why the sharks of European football are not hunting for him.
Perhaps, the fact that he is 32 years old is the sole reason. Kind of a late bloomer, Ilicic found his talent recognized in Atalanta, following 3 seasons in Palermo and 5 seasons in Fiorentina.
He finished as the Viola top scorer in 2014-15, but Atalanta was the only club smart enough to pay €5.5 million for the player in 2017. He has been nothing but brilliant ever since, scoring 49 goals in 111 appearances for the club.
Considering he plays as a midfielder or a backup for the striker, his goalscoring abilities are remarkable.
Contrary to his teammate 'Papu' Gomez he is quite tall (1.90m). Still, his height is not his biggest advantage as he only wins 0.2 aerial duels. His dribbling though is something else: 2.4 completed dribbles per match, 2.9 shots on target and 2 key passes per game.
Another player high huge versatility, this late bloomer has an incredible physical presence and ball control, which ended up with him scoring 21 goals so far (15 in Serie A). This makes him the 3rd goal scorer in the team, just under strikers Muriel and Duvan Zapata.
Mario Pašalić
Part of the extensive list of loan stars from Chelsea academy, 25-year-old Pašalić impressed so much in Atalanta that he already got a permanent contract.
The Croatian had signed for Chelsea in 2014, but he made absolute 0 appearances for the Blues. Instead, he was doing a trip around Europe, with loans to Elche, Monaco, AC Milan, Spartak, and finally Atalanta in 2018.
Under Gasperini's orders, Pašalić has scored 19 goals in 82 appearances. He also produced 13 assists, proving that maybe Chelsea overlooked his talent.
Besides scoring plenty of goals for Atalanta, Pasalic is another example of versatility in the team members. He makes 1.3 tackles per game and due to his height (1,89cm) he wins 1.5 aerial duels.
He also makes 1.3 key passes and 1.7 shots on target, even though he is a midfielder. With a passing accuracy of 87%, it is easy to see why he became one of the favorites for Atalanta's manager.
There you go, these are the reasons for Atalanta to be on a consistent impressive form, both on Serie A and Champions League. What else did we miss? Let us know in the comments below.
And for more information on Atalanta's tactics check out this video from Tifo Football: