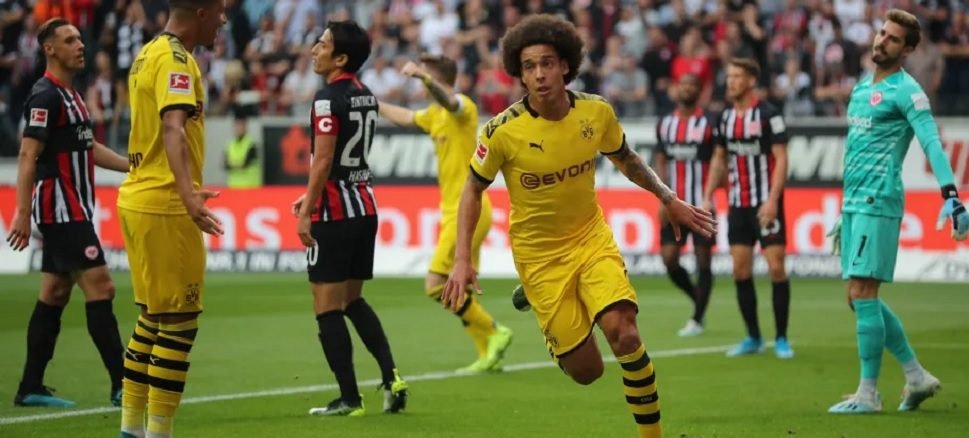 After the midweek Champions League and Europa League games, Bundesliga returned to action this weekend. Leipzig, who resisted to Bayern in the last match, continued their impressive form by getting 3 more points.
Meanwhile, Bayern did their duty and smashed Koln, while Dortmund allowed a draw at Frankfurt. Wolfsburg keeps unbeaten and Hertha ran away from the relegation places.
These and much more in the latest Bundesliga round-up.
Late own goal takes 3 points from Dortmund
Dortmund had a powerful display when they hosted Barcelona midweek for the Champions League group stages. Besides the 0-0 draw, they seemed like the strongest side in the match.
However, they did not show the same desire in their Bundesliga campaign and they were guilty of clumsy defensive mistakes. Eintracht Frankfurt, who were thumped by Arsenal on Europa League, Thursday evening, found themselves behind with just 10 minutes on the clock.
Axel Witsel enjoyed a through pass by Thorgan Hazard, in a Belgian combo, that resulted in a goal. Frankfurt showed they were not going to be the over welcoming host once again and they fought back until Andre Silva found the equalizer.
The former Sevilla and AC Milan striker scored his first goal for the Germans.
Dortmund came to the second half more dangerous and after a misplaced free-kick, Witsel squared to Jadon Sancho put the 'Yellow Wall' back on the lead.
However, in the dying minutes of the game, Danish international Thomas Delaney deflected a cross into his own net and split the points. Dortmund sits now 3rd, with 10 points, 3 points away from 1st place. Frankfurt is 9th.
10-men Leipzig continue in the lead
On Tuesday Leipzig went to Lisbon to win 1-2 to Benfica, confirming their current form is not only a national thing. They faced Werder Bremen away this weekend and they categorically won 0-3.
Hungarian international Willi Orban got Leipzig to a flying start by making it 1-0 with 13 minutes on the clock. Sabitzer would make the advantage by 2 before the break, scoring from a direct free-kick.
In the second half, Leipzig would become reduced to 10-men after Laimer received a double yellow and got sent off. Still, they did not seem affected and ended Werder Bremen's misery, with Saracchi placing the final goal. 0-3, 4 wins and 1 draw in 5 games.
Nagelsmann continues to show the same talent as one of the world's elite young coaches. After a tremendous work at Hoffenheim, the German seems like the right choice from Leipzig to guide their young squad.
Bayern give no chances to Koln
It might seem strange that we did not start by Bayern, but the Bavarians smashing it week in and week out it is merely a formality. So it is no surprise that by week 5 they already have the highest number of goals scored, although still trailing to Leipzig for 2 points.
In the Allianz Arena, it took 3 minutes for the usual suspect to score the first. Robert Lewandowski received a delightful pass by Kimmich and chipped it in.
It took until after the interval to make it 2-0 with the Polish striker once again. Like copy-paste, Kimmich with the assist and Lewa with the goal, answering to a corner.
A red card of Ezhibue made it even harder for Koln to comeback from the disadvantage. The aggressive foul of the Dutch left-back also resulted in a penalty kick, converted by Barcelona loanee Coutinho, who scored his first goal for Bayern.
Another loaned player, Perisic, who is on loan from Inter, scored the final goal. 4-0 and Bayern remain in 2nd place in Bundesliga.
Wolfsburg remain unbeaten in Bundesliga
Along with Leipzig and Bayern, there is only one team who keeps unbeaten after 5 Bundesliga matchdays. It is Wolfsburg, who drew against Hoffenheim this Monday evening, in the closing fixture of the weekend.
It was a tough match for Wolfsburg to keep their status, though, as Sebastian Rudy put the visitors ahead after 6 minutes.
However, the home side would tie the match before the break with Admir Mehmedi scoring, after an assist of Wolfsburg's man of the moment Weghorst.
3 goals and 2 assists show that the Dutch striker is one of the players to watch in this season. The game finished 1-1, with Wolfsburg now 8th, with 3 draws and 2 wins, while Hoffenheim is 11th.
Wins for Hertha and Mönchengladbach
Gladbach's 4-0 defeat on Thursday in Europa League group stages, to Austrian side Wolfsberg came as a surprise. Borussia Monchengladbach probably thought their bad luck came to stay as they found themselves trailing again, against Fortuna Dusseldorf.
6 minutes on the clock and Kasim Adams put Dusseldorf ahead. A tough blow for Gladbach who had to wait until the last quarter of the match to come back into the game.
It was Gladbach's new signing, the son of Lilian Thuram, Marcus who turned the tables. The young forward, signed from Guingamp this Summer, scored a brace in 15 minutes to give the 3 points and the 6th place to Gladbach: 2-1.
Meanwhile, Hertha triumphed for the same scoreline: 2-1. The Berliners escaped the relegation places, with a win over bottom side Paderborn.
Javairo Dilrosun scores his first goal this season for Hertha at the minute 10 and after halftime, Marcus Wolf made it 2-0. Paderborn reduced by Zolinski, but it wasn't enough and they continue in the last place with a single point.
Freiburg continues impressive season start
3 wins, 1 lost and 1 draw and currently in 4th place, tied in points with Dortmund. Freiburg continues an impressive start of the season and they are not battling relegation as usual.
This time they drew their match, in the reception to Augsburg. Freiburg stroke first, by Lucas Holer at the 23 minutes. However, minutes later Augsburg would put the score leveled, by Niederlechner.
1-1 and it will be interesting to see for how long Freiburg remains in the top places of the league.
Meanwhile, Augsburg is climbing steadily after a slow start of the season. Niederlechner is the man of the moment, with 3 goals in 5 games.
Harit gets 3 points for Schalke
Schalke 04 had to suffer to beat Mainz 05, who are in the last places of the Bundesliga table.
They started well, with defender Suat Serdar scoring for the second match in a row. But, Mainz would put the game equal in the 74 minutes, Karim Onisiwo being the author of the goal.
Mainz was fancying getting 1 point from this game until Moroccan midfielder Amine Harit settled the win for Schalke. A sensational volley with the outside of the foot: 2-1 and Schalke grab the 5th place.
Leverkusen defeat Union Berlin 2-0
The Bundesliga debutants Union Berlin already had a night to remember when they beat Borussia Dortmund, but this weekend they had one to forget. Bayer Leverkusen, coming from a 1-2 loss over Lokomotiv Moscow for group stages of Champions League, took vengeance on the Berliners and won comfortably.
Lucas Alario and Kevin Volland scored the goals for the home side early in the first half and sentenced the match. Later on, Sebastian Polter would get a direct red card and it would all get sour for Union Berlin.
They escaped a thumping though, with the final result being 2-0. Leverkusen is 7th, while Union Berlin is 14th.
Bundesliga schedule comes back next weekend, with leaders Leipzig having a tough test against Schalke 04.