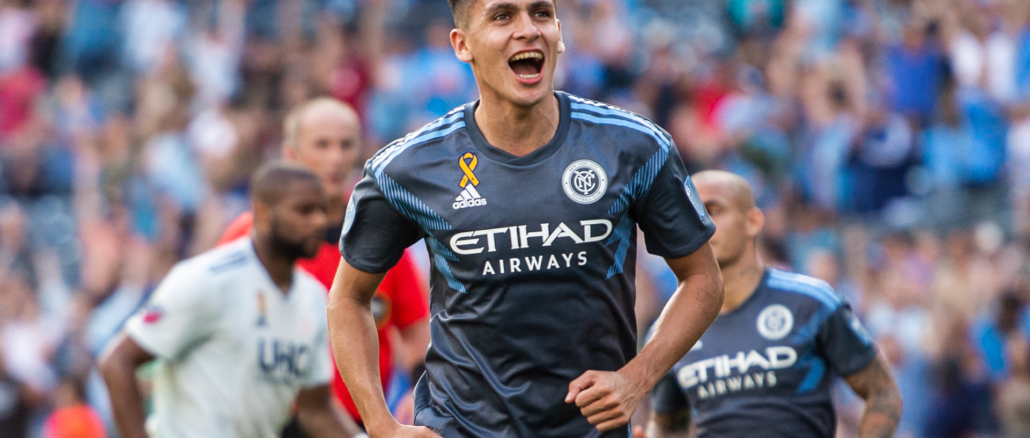 Although a short week for the MLS table regular season, many of the league's players are having little to no rest. Team US faced Mexico in an international friendly on Saturday (ending in a 3-0 win to Mexico) and Canada won 6-0 over Cuba in the Concacaf National League last Sunday.
This coming Wednesday, the second match between Cuba and Canada is scheduled back to back with US-facing Uruguay in another international friendly.
So not all of the spotlight was taken by the MLS schedule regular season this week, but as always, the MLS sure produced some great excitement all around.
New York City FC 2 – 1 New England Revolution
NYCFC hosted in Yankee Stadium the New England Revolution. The guests stunned with an early goal, with Revs' Andrew Farrell picking up a clearance and passing to Juan Fernando Caicedo. The Columbian forward picked up the ball and forced his way into the box passed NYC's defender Sebastien Ibeagha, and scored to give his visiting team a dream start (2').
Sadly for New England, that dream was short lived. Antonio Mlinar Delmea was shown a red card a few minutes later for denial of a goal scoring opportunity (9'), leaving the guests with 10 men for the rest of the match.
New England revolution did manage to defend and impressively hold their ground for most of the night. After an hour with a man advantage, NYCFC finally broke the Revolution's resistance. Anton Tinnerholm sent a great ball from the right wing with Alexander Ring assisting, picked up by Jesús Medina who put it into the guests' net (70').
Going into stoppage time, New York City FC were still not in the clear despite of the home and man advantage. The winning goal came after a tired New England's unneeded tackle which gave New York a penalty kick that Median converted skilfully in the last minute of the game (90+6'), giving NYCFC the win.
New York now sit on top of the MLS Eastern Conference table, and New England Revolution is ranked in seventh place, missing a chance to move atop the New York Red Bulls to be ranked fifth in the Eastern Conference.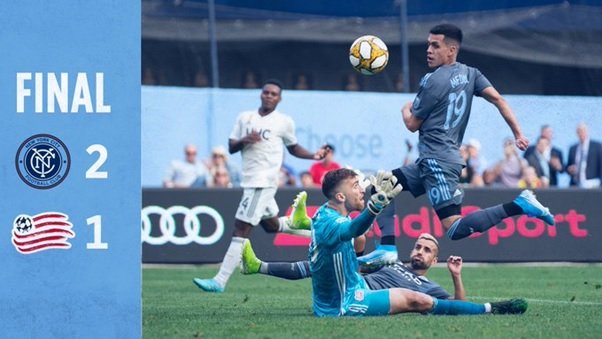 FC Cincinnati 1 – 5 Toronto FC
Canadian side Toronto FC moved deeper into the playoff zone in the MLS Eastern Conference, after going to Cincinnati FC's Neppert Stadium on Sunday. Cincinnati lost their last four matches, and this defeat to Toronto extends their winless streak to nine games.
The Canadian guests got an early lead with Patrick Mullins getting a pass that was deflected off Marky Delgado outside of the box. With an impressive finish from the edge of the box, Mullins kicked the first goal of the match past Cincinnati's goalkeeper Przemyslaw Tyton (10').
Visitors' Nick DeLeon doubled Toronto's lead when getting a corner kick clearance and shooting an impressive volley from the right top of the box (21').
Toronto's celebration continued through the first half, with Marco Delgado scoring his second goal of the season, and third for his team that night, heading from the center of the box a ball that was skilfully curled by teammate Alejandro Pozuelo (28').
Coming back from halftime, it was Toronto's Michael Bradley turn to put a point on the board, scoring from the center of the box a ball that was nicely worked to him by Tsubasa Endoh, Alejandro Pozuelo.  And to finish off Toronto's night out, Nicolas Benezet picks up a deflection off Cincinnati's defense and scores again from the top of the 18 (85').
The hosts did manage to score one lonely goal in stoppage time, with Emmanuel Ledesma converting a penalty kick for Cincinnati FC (90+2'), but that was too little, too late.
Orlando City SC 2 – 2 Los Angeles FC
Los Angeles traveled to Orlando's Exploria Stadium on Sunday on the back of their first loss since July 19th and first defeat at home (a 2-0 loss to Minnesota United last Sunday), to face Orlando that scored just three goals in their past five matches, and lost 3-0 to San Jose Earthquakes last Saturday.
Both teams came to prove something, and it showed early in the game, with both sides almost scoring the first few minutes. The first point of the night went to the visitors when LA's Adrien Pérez scoring a ball that was assisted into Orlando's net with a few deflections off the Orlando defensive line (12').
A minute later, Orlando City's Nani equalized with his tenth goal for Orlando City SC. The former Manchester United Legend came up with a brilliant finish and chipped the ball into the LA's net over LA's Tyler Miller (13').
Still, in the first half, hosts' Ruan cooks a brilliant assist with the help of Christian Higuita, to find Benji Michel in the center. Michal slid past the goal area and doubled Orlando's score (20').
Orlando SC held the lead for quite some time thereafter, but LA's Diego Rossi orchestrated a great give-and-go play with teammate Adama Diomande, giving the ball to Diomande and taking it back after cutting right through the center of the box, scoring for LAFC the equalizer (78'). This was Rossi's fifteenth goal of the season.
Neither side managed to create an opportunity that will lead to a winning goal in the remaining game time, nor during the five minutes of stoppage time.
Colorado Rapids 2- 0 Seattle Sounders
Seattle Sounders traveled to Colorado Rapids Dick's Sporting Goods Park on Sunday, looking build on the momentum from their last wild 4-3 win against LA Galaxy on Sunday, and to nail a third straight win. The Colorado Rapids also came on the back of a 2-0 win against the New York Red Bulls at Red Bull Arena last Saturday. This was the second faceoff between the two sides this year, with Seattle winning 2-0 at CenturyLink Field back in March.
Following a pretty quiet first half, Colorado's rookie Andre Shinyashiki received a ball from Midfielder Jonathan Lewis and tucked it into the top left corner from a tight angle (41'). The Brazilian forward then doubled his count and the hosts lead by tapping into the Sounders' net, a cross from Keegan Rosenberry (70').
On Wednesday Colorado will be facing LA Galaxy, and Seattle will be playing the New York Red Bulls on Sunday.
Portland Timbers 2 – 1 Sporting Kansas City
The Portland Timbers hosted on Sunday Sporting Kansas City in Providence Park and managed to avoid an embarrassment at home, even though it did seem that things are going the Kansas City way at times.
After a goalless hour, Benny Feilhaber curled a ball from outside the top-right corner of the box, and it beautifully sailed across into the top-left corner of the Timbers' goal (65').
The Kansas guests looked better and kept creating opportunities, but Jeremy Ebobisse managed to score a late equalizer for the Timbers from close range (83').
The drama ended with Portland's Brian Fernández nodding in a winning header that came from a left-corner shot by Diego Valeri (90+4') sending the crowds at the Timbers' home field wild.
This was a disappointing night for Sporting Kansas City, as a win would have given it six points it badly needs right now to climb across the playoff line in the Western Conference.