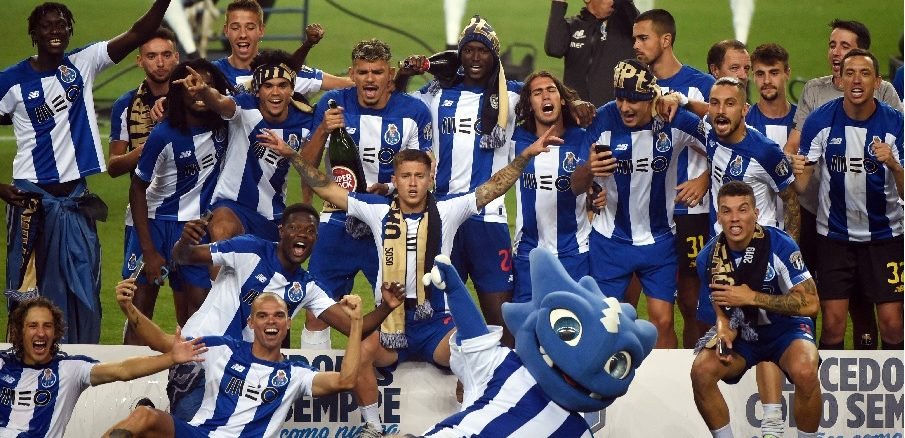 After a season that lasted 11 months, FC Porto are officially the Liga NOS table champions. Despite two matches still, on hand, Porto's 8 point lead over second-placed Benfica makes them mathematically the winners.
The matchpoint was the Classic fixture of Liga NOS schedule against Sporting CP, Portugal's third biggest team (in terms of popularity). Porto had already left victorious the last time the two teams faced this season (1-2 win in Lisbon: goals from Acuña for Sporting, Marega, and Tiquinho for Porto).
This time, needing only one point to be declared champions, Porto confirmed again their favorite status and they defeat the Green and White team 2×0 at home.
The goals arrived in the second half. First, it was the captain Danilo Pereira, with a fine header following a corner kick. And in the last minutes of the game, Marega scored the second with a brilliant lob over Sporting's keeper.
This is the 29th Primeira Liga (or Liga NOS) title for F.C. Porto. The Portuguese team might still add the Portuguese Cup to its season's trophy case. In that game, scheduled to be played on the 1st of August, Porto will face their rivals Benfica.
How did Porto win the title?
Contrary to our prediction a month and a half ago, when the Liga NOS returned, Benfica completely went off the rails. They only won 3 of their games since the return, losing unexpectedly against Santa Clara and Maritimo. They also got 3 draws.
During this period, the situation escalated between fans and Benfica administration and the board decided to let go of their coach Bruno Lage. The sacking came after the defeat against Maritimo and Lage was replaced by interim manager Nuno Verissimo.
To aggravate the off-field situation, Benfica saw its name involved in some corruption scandals, correlated to their president Luis Filipe Vieira. The climate was so tense that fans turned against their own players with unfortunate episodes of violence.
Meanwhile, Porto did not restart the league in the best way possible, as they lost against Famalicao 2×1. Then, despite a draw against already relegated team Desportivo das Aves, Porto won all its games, conceding only one goal in 7 games.
Porto used their many injuries and absences on their squad due to bookings, as a motivation and an opportunity to give a chance to the youngsters.
It is fair to say also that Porto won both matches against their two closest opponents (Benfica and Sporting). So it is hard to argue, even if you are the most relentless Benfica fan, that Porto was a deserving champion during this season.
Who were the key players for Porto?
You might be fast to say Porto's title is more due to Benfica's absolute crash after January, than to their own merit. Yes, it is true that the Eagles lost their 7 point advantage and when Porto slipped a couple times, Benfica rarely took their chances.
Still, it is unfair to remove all credit to Porto's players and manager. Sergio Conceição has been criticized over and over, specially when he lost the League Cup to SC Braga in January and when Porto crashed out of Europa League (courtesy of Bayer Leverkusen).
Yet, the manager had an essential job of keeping the team united and focused on its objective and his resilience was rewarded. Even though the team was plagued with injuries, specifically the absence of usual started Marcano in defense, Sergio was able to find solutions.
Eventually, he took a gamble into the academy players and it proved like a wise move. Here are our top 3 picks for key Porto players in this 29th title.
Alex Telles
Set for a move next Summer, Alex Telles was seen in tears after he was substituted in the last minutes of the match against Sporting. Telles arrived in Porto in 2016 and he became one of the favorite players for the Dragons, as the fullback completed 189 games for the club.
Even though he is a defensive player, playing as left back, Telles was one of the top scorers of the club this season. Maybe due to the inaccuracy of the team's strikers, Alex stepped in many times when the team needed, netting 10 goals this season so far. He also produced 7 assists.
Below you can see one of the most memorable ones, an 87min winner against Portimonense, with a powerful shot outside the box.
The Brazilian is a versatile player, quick on the ball and tracking back throughout the 90 minutes with ease. He averaged 1.1 tackles per game this season, 1.7 interceptions, and 1.2 clearances. Despite being only 1,81m, he wins 1,7 aerials per match. Offensively, Telles makes 1.8 key passes per game, with an average of 2 crosses and 1.5 through balls.
These stats show why Alex Telles was such a crucial player for Porto's expectations to win the title and to keep the momentum when needed. In the game he missed, against Famalicao, it was notorious his absence. On the pitch, both due to his talent and as a charismatic leader to his teammates.
If the move to PSG or Chelsea becomes a reality, Porto will have a challenging mission. Replacing one of the key players who contributed to their last 2 titles won't be easy.
Agustin Marchesin
It's not easy to fill the gloves of a legendary World Cup and Champions League winner keeper like Iker Casillas. The Spanish keeper had to retire prematurely from competition after a sudden heart problem in May 2019.
To its place, Porto recruited an experienced goalkeeper, 32-year-old Agustin Marchesin. Although he is an Argentina international, Marchesin had never spent any season in Europe.
His previous team was Liga MX's Club America, which he represented for 3 seasons. Before he had been in Santos Laguna, before 5 years representing Lanus in Argentina.
For being a late bloomer arriving in Europe, Porto fans were doubtful that Marchesin would be capable of keeping their goal safe. The Argentinian proved his worth almost immediately, delivering incredible game-saving saves and keeping an impressive record of clean sheets.
In 32 games, Marchesin kept 19 clean sheets (a record of 58%). And, despite a blunder in the game against Famalicao, Marchesin only suffered 1 goal since that defeat (7 games).
Check out in the video below some of the best saves from Marchesin this season. This is why we believe he was an essential piece for Porto's title.
Youth Academy Products
The third key player is not an individual one. It's a collective appreciation for Porto finally turning their academy players into first-team choices.
Last season (2018/19), FC Porto conquered UEFA's Youth League competition, destined to under-19 graduates of European teams. They defeated Chelsea in the final 3-1.
From the starting XI team who played that final game versus Chelsea, 7 players were regular choices throughout this season. Plus Vitor Ferreira (substitute that wasn't used in that match), makes it a total of 8 academy players who got their first taste of professional football.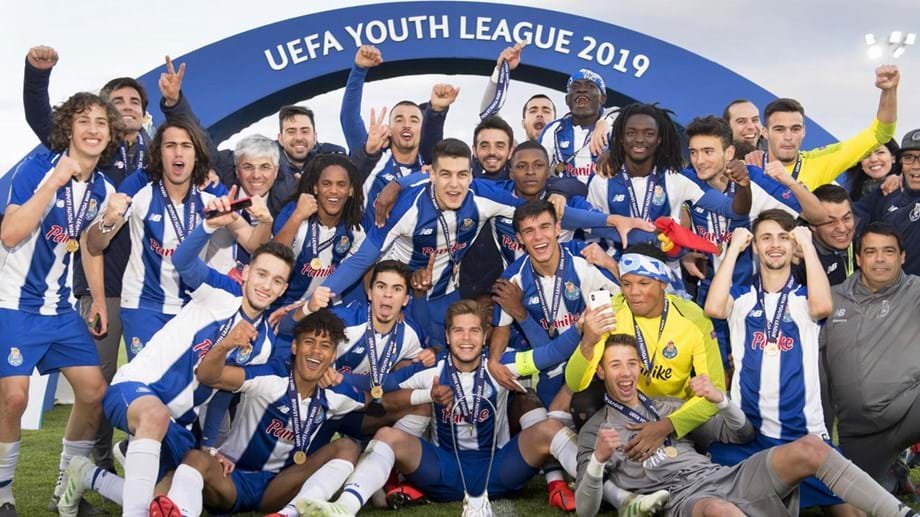 The latest was midfielder Joao Mario, who got his debut on the last 10 minutes of the game against Sporting. The 5 substitutes rule change did help to give more opportunities to these players, but take no merit from Sergio Conceição's bet on youth.
If we need to highlight one of the youngsters we will choose Fábio Vieira. Mainly due to his 2 goals in 2 consecutive games, including a free-kick versus Boavista, but also on how he gave a man of the match performance against Sporting yesterday.
The 20 year old attacking midfielder proved he might be the creative Porto needed, following the departures of Brahimi and Oliver Torres.
What's next for Porto?
We chose to highlight these players, but it would be unfair to not mention the importance of Jesus Corona and Chancel Mbemba.
The Mexican winger, who played as fullback many times this season, completed 13 assists and scored 4 goals in 2019/20.
His dribble and capacity to fool the opponent's defense with his trickster skills were undeniably essential for Porto's success.
Finally, Chancel Mbemba for being the backbone of Porto's defense once the league returned. The DR Congo international and former Newcastle's center back took the place of injured Marcano and delivered consistent Man of the Match performances.
Porto is now going to prepare for the Cup final in the 1st of August. Plus, expect a season full of transfers and new faces arriving, with Telles, Corona and Marega allegedly on their way out.