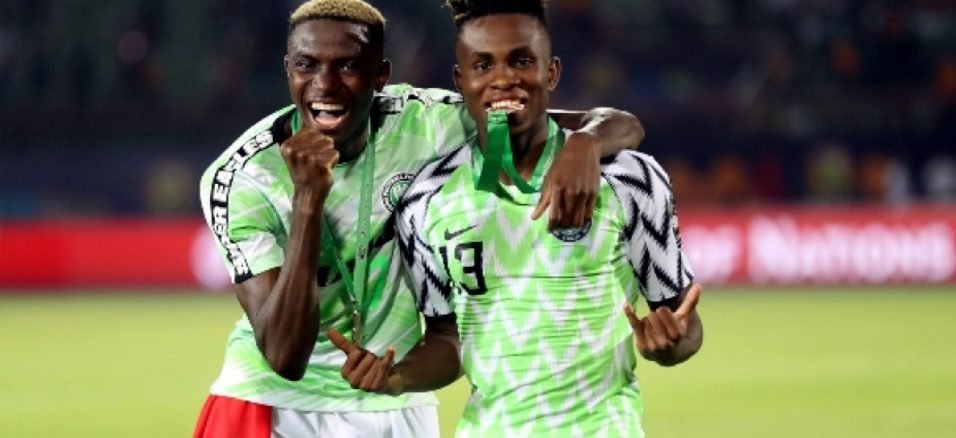 Last updated: 4th August 2020
Nigeria is well known for producing some top-class football talent. You may remember Nwankwo Kanu, who was part of the Invincibles squad of Arsenal and also won the FA Cup with Portsmouth. What about Jay-Jay Okocha, who was a key figure in Bolton Wanderers during the first decade of this century?
Besides producing some amazing talent, Nigeria has also been a usual presence in the last editions of the World Cups. In 2018 they were eliminated in the group stages, but in 2014 they made it past a group with Argentina, Bosnia, and Iran, only to be humbled on a 2×0 defeat to France. Nigeria won the African Cup of Nations 3 times, the last one was in 2013.
So, we thought to take a look at the current roster of Nigerian players roaming around in Europe. We are looking at players floating under the radar and who deserve to give the jump to better clubs or leagues. To back up our top 5 we take a look at the stats provided by WhoScored.com.
5. Wilfred Ndidi
Let's release the obvious name immediately, as Wilfred Ndidi is by far one of the best midfielders in the Premier League this season.
The Nigerian anchorman has been a key part of Brendan Rodgers Leicester City, who has defied the odds once again and is competing with Chelsea for a place in the top 4.
Ndidi is no stranger to Premier League table fans since he has been giving consistent performances after he joined the Foxes in 2017.
since he has been giving consistent performances after he joined the Foxes in 2017.
He is just 23 years old and, not taking credit from Leicester, we wouldn't be surprised if he gets snatched by a team with higher aspirations.
The Lagos born defensive midfielder arrived in Leicester after a brief passage in Genk. £17 was how much Leicester City paid for Wilfred and looking at how he delivered it seems like it was a bargain.
His stats are actually insane: he averages 4 tackles per game, 2.7 interceptions, and 2 clearances. The Eagles international also has a pass success of 84% and has already scored twice in the Premier League this season.
According to Squawka, Ndidi ranks 3rd on the players with most tackles won in the Premier League: just below Wan-Bissaka and teammate Ricardo Pereira.
Ndidi might be the most obvious name when you think of current Nigerian football talent, but he should not be underappreciated for a moment.
4. Samuel Chukwueze
Villarreal winger Chukwueze has been on the radar of many Premier League teams, including Liverpool, Chelsea, and Arsenal. It is easy to understand why, as he combines a tremendous pace and dribbling abilities.
Last season for the La Liga table team, Chukwueze scored 5 and assisted 2, numbers that were quite impressive for a 19-year-old. However, in the current season, he has not shown much growth, scoring 3 and assisting 1.
Former Cameroon and African legend Samuel Eto claimed Chukwueze should score more often. And the Villarreal forward agreed and admitted he needs to weigh his decisions better in front of goal.
Nonetheless, Chukwueze is actually shooting on goal more often (1.4, compared to 0.8 last season). He makes 1.7 successful dribbles and has 72% pass accuracy.
Being just 21 years old, it might be more suitable to stay in Villarreal one more season. A jump on the Premier League spotlight might be too soon for him (see the likes of Nicolas Pepe, for example).
Still, Samuel has shown an immense character and willingness to develop and we are sure he will soon get the transfer he deserves.
3. Moses Simon
Although Nantes had a very average season, finishing in the 13th place, one player who was under the spotlight was Moses Simon. The 24-year-old winger was loaned to Ligue 1 side from Levante after he disappointed on his La Liga spell.
He seems to have delighted the fans of the historical French club, with 5 goals and 5 assists. Nantes decided to make the loan deal permanent this Monday, signing Simon for $5.6 million.
Simon can play in the left or right-wing and also in the midfield. Besides his versatility, he boasts an incredible pace. Moses has 1.7 shots on goal per game and 1.4 successful dribbles. He also makes 1.4 key passes per game.
A product of Ajax's academy, the Nigerian moved to Slovakian side Trencin and then to the Belgian league with Gent. He scored 21 goals in 108 matches, winning the Jupiler top division in 2014/15. Levante signed him in 2018, but he only scored once in 19 matches.
Football fans and Nigerians specifically will be keen to see his development in Nantes next season. If he has similar individual performances as he had this season, we might see the young Eagle flying away to the Premier League soon.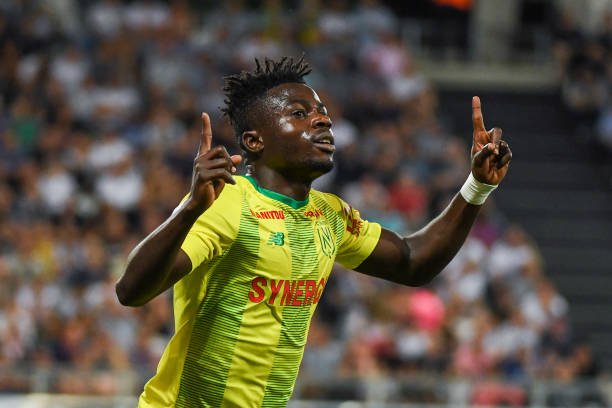 2. Ola Aina
A product of Chelsea's youth academy, Ola Aina is having his breakthrough season in Torino. Aina arrived in Torino last season and the Italian side decided to make his deal permanent after he impressed under the 'Toro'.
They paid €9.8 million to Chelsea to make the move permanent, but Aina has not started as much as he would probably like to. With 15 starts in 26 games, the right-back has scored once this campaign (against Udinese).
Although technically gifted and fast, Aina's stats for a defensive player might not be enough to allow him to jump higher than Torino.
A total of 1.4 tackles and 1.7 interceptions are, nevertheless, decent stats, considering that Torino has one of the worst defenses in Serie A table (45 goals conceded).
The Nigerian international, born in Southwark (London) has much more to give and would probably be more appreciated in a team that values his skills.
Where could he move?
He has been tipped with a move to Newcastle, but perhaps a move to the Portuguese league table would make more sense. Benfica or Porto from Liga NOS have a lack of fullbacks and the fact that Aina can play on both left and right sides could be an important factor.
This could be a smart move for a player who still has to grow and establish himself as a starter in a team competing for titles. Both teams mentioned also play in European competitions, something that Aina probably keen on experiencing.
Food for thought if Aina (or his agent) is reading this. We are sure, however, that Aina has a brilliant future ahead and he is still young enough to get his career back on track.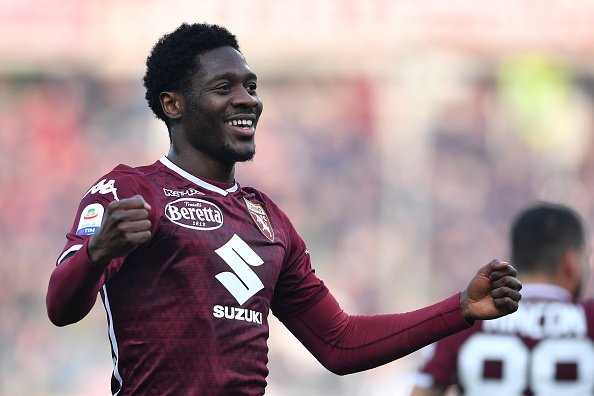 1. Victor Osimhen
No surprise on the player who tops our list, as Osimhen is not only one of Nigerians top talents, but also one of the strikers who Europe is talking about. The 21-year-old was already featured here when we talked about top 5 talents to watch in Ligue 1.
His first time under the spotlight was during the Under-17 World Cup in 2015, that Nigeria won. Osimhen was awarded the Golden Boot for being the top scorer of the tournament, losing the title of the best player of the tournament to teammate Nwakali.
Osimhen's first experience in Europe was in Wolfsburg, where he failed to hit the net. A loan in Belgian side Charleroi would prove fruitful, as the striker netted 19 in 34 appearances.
The Jupiler League table team decided to sign the youngster permanently, just to sell him immediately to Lille. He impressed immediately, scoring in consecutive matches and finishing the season (that ended abruptly due to COVID-19) with 13 goals in 25 appearances.
It might not seem like an outstanding goal tally, but even though the youngster was ruled out for a couple of games due to injury, he still finished as the team's top scorer.
A move to the Premier League this Summer?
Victor Osimhen has been rumored to be on the radar of Tottenham. We believe the striker would fit well as a backup or partner to Harry Kane.
With 1,86m, incredible speed, and deadly accuracy in front of goal, Osimhen seems like a dream signing. Any team craving for a proper striker would be lucky to have him.
Lille failed to qualify for next season's Champions League. So, Osimhen might be looking forward to moving to a team where he can play the competition.
He averages 3.2 shots on goal per game and has also provided 4 assists, proving he not only has an eye for the goal but also for reading the game.
Due to his height, he also wins 4.4 aerials per match, an impressive feat that would match him to strikers such as Romelu Lukaku (on combining speed and aerial power).
Whether or not he moves away from Lille this season, if Victor continues his uprising Nigeria has a forward to lead their attack for the next decade.
Updated on 8/4/2020: Victor Osimhen became the most expensive signing of Serie A table Napoli. The young Nigerian transferred for a fee of €70M. Read more here.
Honorable mentions
There you have it, our top 5 picks for Nigerian players to watch next season. These 5 players might be on the move soon or have space to grow in their current teams.
Honorable mentions go to Chidozie, who plays in Leganes and Onyekuru, Galatasaray. Chidozie has not been having the best season under relegation-threatened Leganes. Although he might be used wrongly in the center back position, instead of the left-back where he thrives.
Meanwhile, Henry Onyekuru after having a stellar season with Galatasaray has gone stale. He was signed by Monaco last Summer, where he failed to hit the net. Onyekuru moved back to Turkey where he scored 1 goal in 9 appearances.
We hope Henry gets back on form. He is a talented player and Nigeria could use his pace and finish on the wings.
Who else did not make the list? What Nigerian youngsters you believe are under the radar?