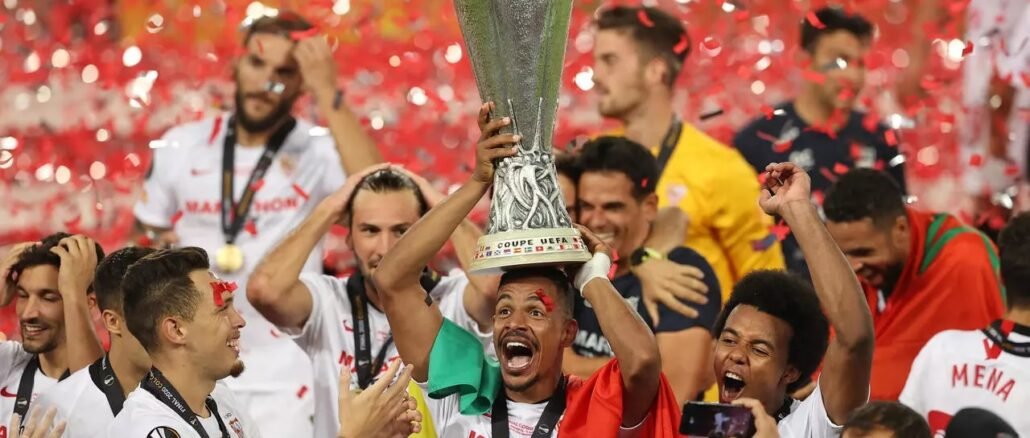 The first European trophy of this year was attributed to Sevilla, after the La Liga table side defeated Internazionale Milano on Friday, at the RheinEnergieStadion, in Cologne (Germany). The Andalusians conquered their 6th Europa League title, following a 3×2 result against the Italians.
An intense first half saw Sevilla trailing behind on the first minutes, following a penalty, due to a foul of center back Diego Carlos. Lukaku converted it but the 'Nerazzurri' didn't have much time to celebrate.
Just 10 minutes later, Luuk De Jong equalized, following a cross from Jesus Navas. De Jong would score again later to make it 2×1 for Sevilla, profiting from a deflected free-kick from Ever Banega.
Inter still equalized again, with Diego Godin taking advantage of another free kick ritual on the other side of the pitch. Brozovic was the one with the assist.
On the second half, a twist of fate. Lukaku and Diego Carlos switched roles to give the winner to Sevilla. The Brazilian center back answering to a loose ball with a bicycle kick and the Belgian trying to clear it ended up putting in into his own net.
The trophy was the 6th in Sevilla's history (they had won previously in 2006, 2007, 2014, 2015, 2016). It was also the first major club trophy for Julen Lopetegui.
After the coach had unsuccessful spells in Real Madrid and in Liga NOS table current champions FC Porto, he apparently has found a club where he could settle.
How did Sevilla get to the final?
Sevilla finished 6th last season, so they had to go through the group stages of the competition. They finished 1st of a group that had APOEL (Cyprus), Qarabag (Azerbaijan) and Dudelange (Luxembourg).
They got through in first place with 5 wins and 1 draw, at a time when their goalscorer was current LA Galaxy frontman Chicharito Hernandez.
At the round of 16, with Chicharito already gone to MLS table duty, they faced Cluj from Romania. They drew 1×1 on their away game and following a 0x0 result at home, they went through on away goals.
Next, they had to face AS Roma, a match that was postponed for 4 months due to the COVID-19 pandemic. Finally, it was played on a one-leg fixture and the Romans lost 2×0, with goals from winter signing El-Nesyri and Sergio Reguilon.
Then it was Wolverhampton, again on a one-leg fixture. A late goal by Ocampos sent the Wolves packing their bags home and Sevilla booked a meeting with Manchester United on the semifinals.
Although Manchester United was tipped as favorite by some (not at all biased) commentators, Sevilla proved their experience on this competition.
Despite starting on the wrong foot, due to a penalty converted by Bruno Fernandes, Julen Lopetegui's men turned it around with goals from Suso and Luuk de Jong.
Then, as already mentioned the final battle with Antonio Conte. Sevilla proved they are a hard cookie to crack and they once again sealed their name on the Europa trophy.
Sevilla has a meeting with Bayern Munich now on the 24th of September for the UEFA SuperCup. The tournament between the Europa League and Champions League winner will be decided in the Puskas Arena, in Budapest (Hungary).